NordVPN
NordVPN is rock solid. It delivers excellent speeds both up and down on an incredibly secure network of over 5000 servers across 60 countries. It's able to unblock a vast amount of international streaming services commonly accessed by Australians.

It has local servers in 5 major Australian cities making it the perfect VPN for Australians who want to maintain as much speed as possible. The only downsides are an expensive 1-month plan, however, their 2-year plan is one of the best value plans around.
User-friendliness & Accessibility
9.1
Positive
Large Server Network
Unblock a lot of restricted content
City-level Australian servers
Excellent value for money on long-term plans
Negatives
The 1-month plan is expensive
2018 Security breach
Is NordVPN a suitable VPN choice for Australians?
NordVPN Review Summary
NordVPN is one of the most well-known VPNs globally and in Australia. From its inception NordVPN has maintained excellence across all of the key categories we take into account in our reviews and therefore has maintained a top 3 position in our list of best VPNs.
NordVPN is safe, secure, has a strict no-logs policy protecting customers to the highest possible degree. It must be noted that one of their servers was hacked in 2018, but no sensitive data was collected nor was their VPN service compromised at all. Since then, NordVPN has dramatically increased its security protocols.
It's able to access a wide range of international media libraries, deliver very high VPN speeds, and all at a very reasonable market rate. For value for money, it's hard to beat.
This NordVPN review covers everything you need to know when considering using a VPN in Australia. Use the contents section to skip to a specific section of this NordVPN review if you're short on time.
Key Stats:
There's a lot of good stuff under the hood!
NordVPN ticks every single box when it comes to its technology and specifications. Key things to look for with any good VPN are a no-log logging policy (check), situated in Privacy Haven like Panama (check), a highly secure VPN protocol (check), and unlimited data caps (check).
| | |
| --- | --- |
| Logging Policy | No Logging |
| Location | Panama (Privacy Sanctuary) |
| Security Incidents | 1 (no sensitive data leaked) |
| No. of Servers | 5,343 |
| No. of IP Addresses | More than5,343 |
| Countries | 60 |
| Supported VPN Protocol | OpenVPN, IKEv2/IPSec, Wireguard |
| Torrenting | Yes |
| Access International Media |   |
|   |   |
|   |   |
Streaming: 9.4/10
Get a Bigger Streaming Library
NordVPN is arguably the best VPN for streaming. If you're Australian and want to watch American Netflix or other international media libraries then you should consider NordVPN.
This is a very fast VPN (93Mpbs) so if you can usually stream Netflix without any issues then you'll be able to do the same through NordVPN.
NordVPN also provides 5343 servers across 60 different countries. Not all country-level servers are able to access certain libraries as they have been blocked, but because NordVPN offers so many, you are able to access an incredible range.
Access 11+ International Netflix Libraries:
Our tests conclude that NordVPN can access the following international libraries from Australia:
United States
United Kingdom
Canada
Japan
Germany
France
Italy
Spain
India
Netherlands
NordVPN works flawlessly with American Netflix from any of the US Servers offered by Nord. Other libraries work with many of the local country servers but not all of them. Try a few different ones and you should be OK, if not visit NordVPN's site for specific guides.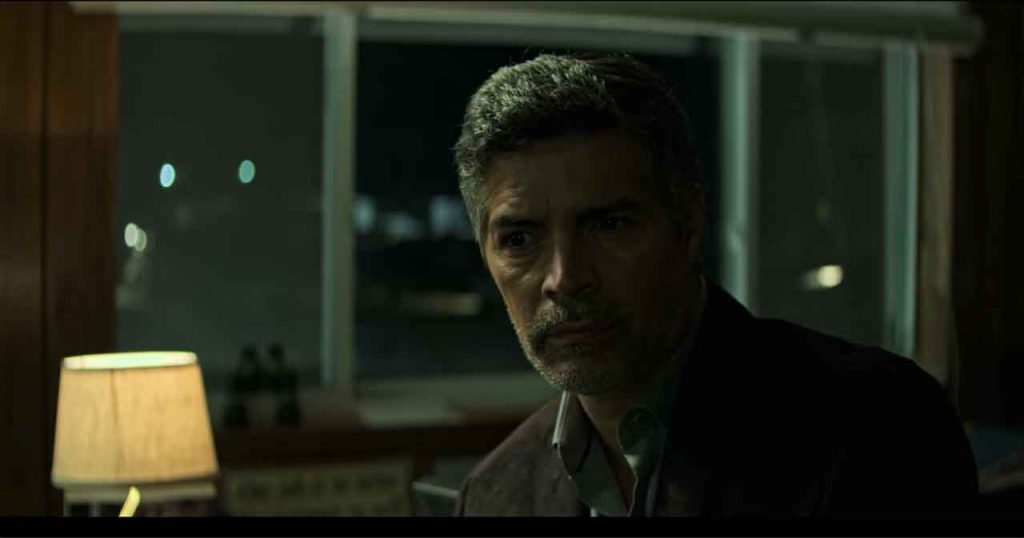 Does NordVPN Work With Popular Streaming Services Accessed from Australia?
It's not just Netflix that NordVPN can access, you'll be able to access other popular streaming platforms from around the world, including:
iPlayer
Amazon Prime Video
Apple TV+
Disney+
Hotstar
ITV Digital
+ many more
Unlike Netflix US, there is a little bit of trial and error accessing these libraries. Test a few different country-level servers and you will be able to access the content.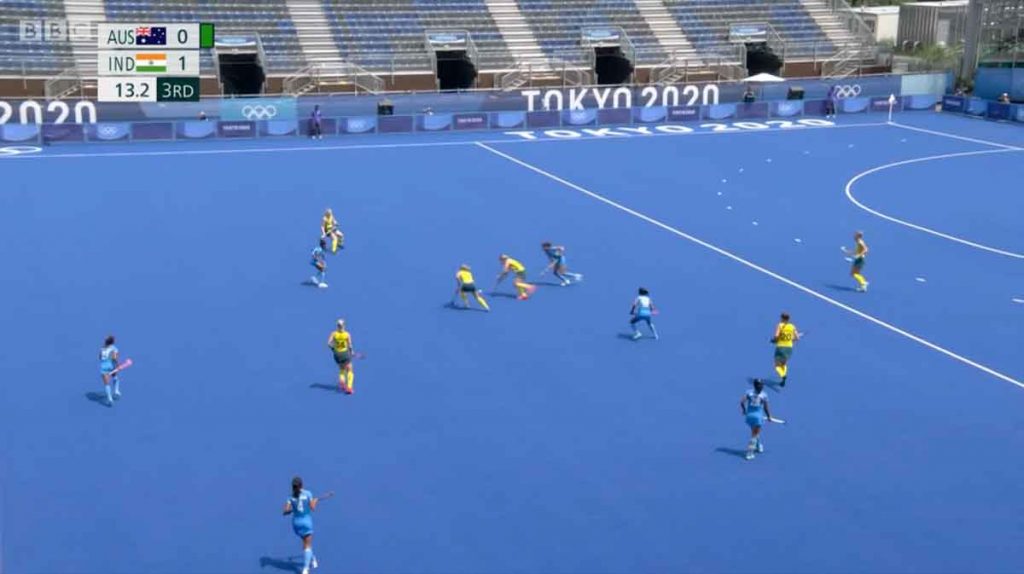 It must be noted that NordVPN accessed BBC iPlayer very easily in comparison to other major VPN services. The BBC does a good job of fencing off their content from international markets where they often license out their content library.
Torrenting: 9.4
Complete Anonymity
Torrenting anonymously is easy and fast with NordVPNs plethora of P2P-optimised servers designed with torrenting in mind. NordVPN sits as one of the fastest VPNs for torrents, but not the fastest. Our tests showed an average bit rate of 12.5 MiB/s for NordVPN, which puts it as the 5th fastest. For perspective, IPVanish average bit rate is 15.4 MiB/s.
For the vast majority of users, this disparity won't make much of a meaningful impact on your day-to-day usage, but if you plan on downloading a lot of data and want to do it as quickly as possible then there are better options than NordVPN.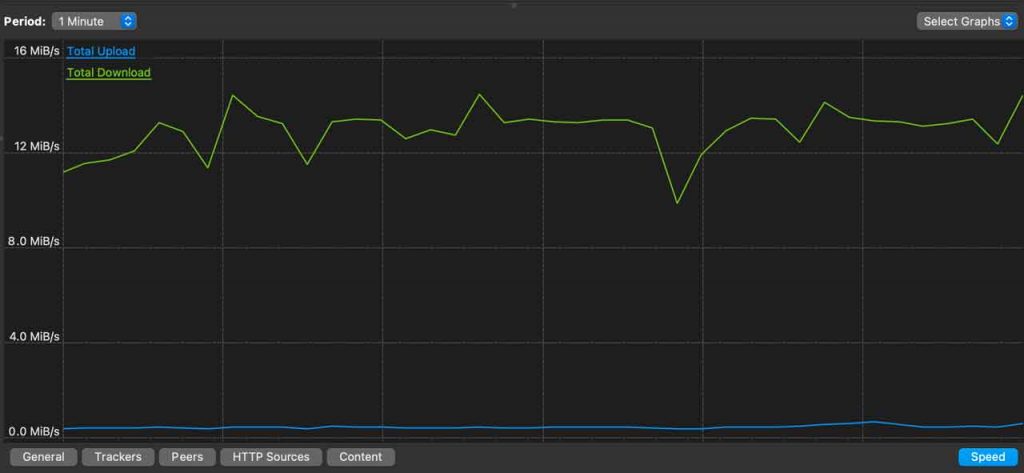 Not only is NordVPN one of the fastest VPNs for torrenting it's also arguably the most secure. Its no logs policy ensures that no information about your torrenting is stored anywhere. There's also the Kill Switch which is activated if their VPN service drops out, protecting you from snooping ISPs in a worst-case scenario.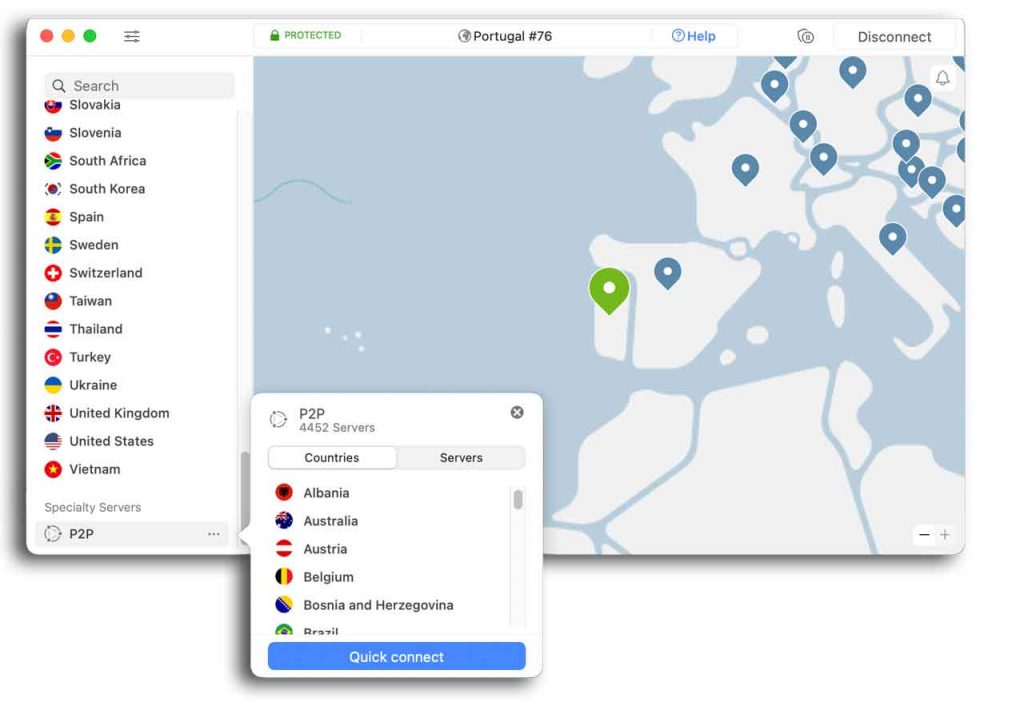 If speed is of the utmost importance NordVPN supports SOCKS5 proxy which is quicker, but less secure. Instead of a fully protected connection, the IP is instead spoofed. This is still more secure than torrenting without any protections but much less secure than using a VPN.
Speed Tests: 8.7/10
NordVPN is One of the Fastest VPNs for Australians
NordVPN has shown in testing to be one of the fasted VPNs with a minimal reduction in speed both up and down. This is true whether you're connecting to one of NordVPN's local Australian servers or to a distant international server.
Local Speed Test Results
There is minimal impact on the download speed when using NordVPN but a much larger impact on the upload speed. A VPN with a good local speed capability is useful for general browsing in your local country but with the added protection VPNs offer.
Typically, download speeds are much more important for local browsing and typical internet-related activities, which is where NordVPN excels. However, if there is a need to maintain optimal upload speeds Nord VPN may not be the best option.
Using NordVPN showed a 4.7% reduction in download speed but a much more significant 50.33% reduction for the upload speed. This reduction is significant, but 8.99 Mbps is still relatively quick.
Internet Speed Test (NordVPN Australia Server):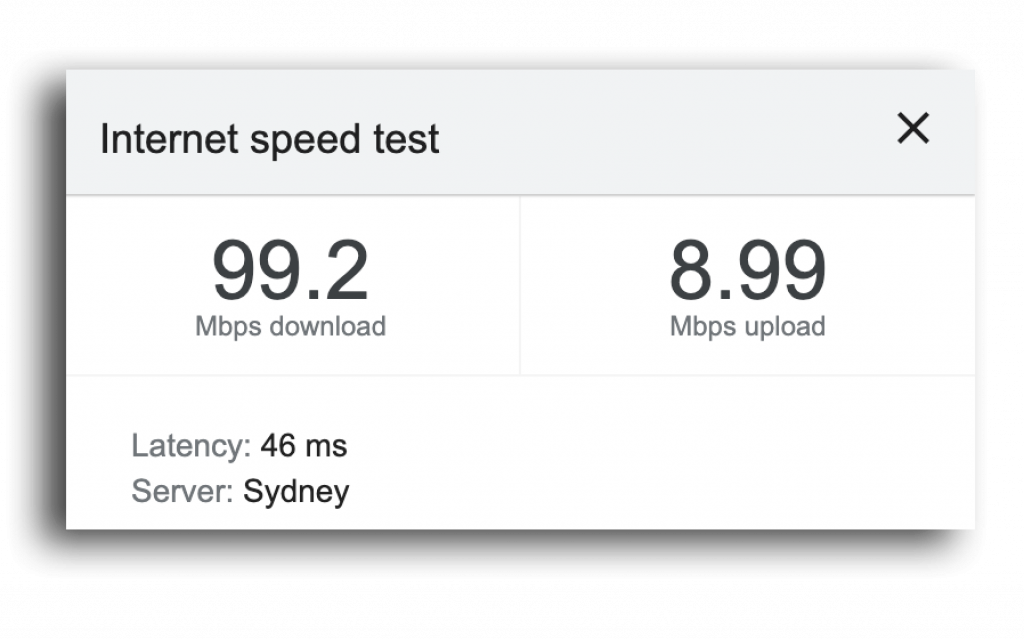 Internet Speed Test (No VPN):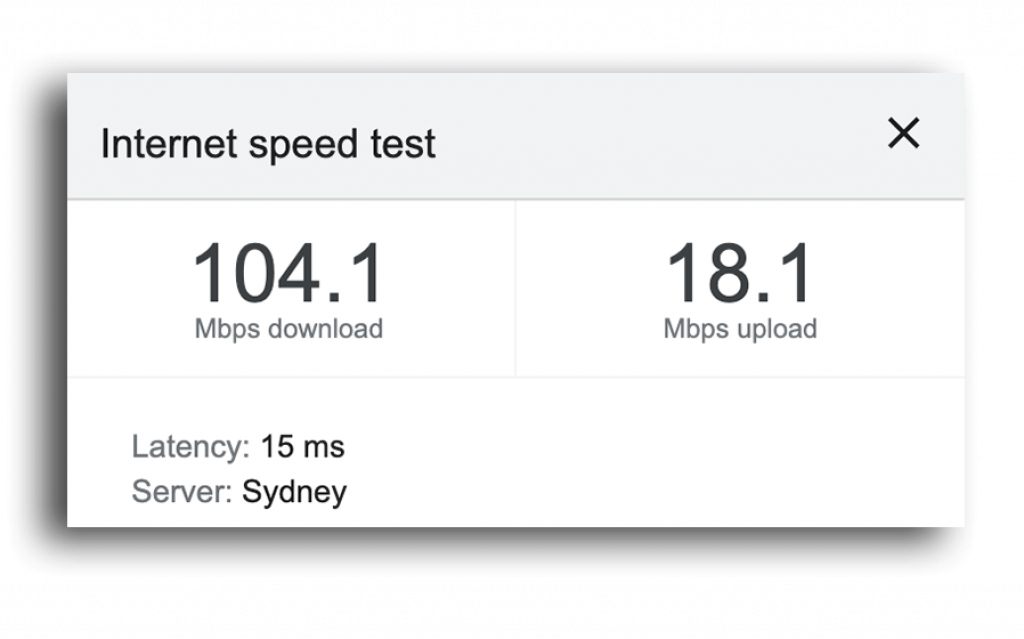 The speeds measured above are more than suitable for streaming HD or even 4K content. The upload reduction is significant though and could cause some issues depending on the requirement of the user.
| | | | |
| --- | --- | --- | --- |
|  VPN |  Download (Mbps) |  Upload (Mbps) |  Ping |
|  Using NordVPN |  99.2 |  8.99 |  46 ms |
|  No VPN |  104.1 |  18.1 |  15 ms |
| % Differene | -4.7% | – 50.33% | – 67.39% |
Speed difference: upload/download when on and off the VPN, with the percentage difference.
It's important to take stock of the increase in ping time. The 15ms is typical when connecting to Sydney server from Melbourne without a VPN and is more than fine when playing online games. However, 46 ms could be noticeable for some gamers, especially in competitive games where were milliseconds can make a big impact.
International Speed Test Results
This VPN performs excellently while connected to international services from Australia. Below are tests from Australia to commonly visited international servers by Australians.
| | | | | |
| --- | --- | --- | --- | --- |
| Country |  Download (Mbps) |  Upload (Mbps) | % Difference (Download) | % Difference (Upload) |
|  USA |  85.7 |  5.25 | -13.61% | -41.6% |
|  United Kingdon |  80.2 |  7.6 | -19.15% | -15.4% |
|  India |  19.1 |  1.35 | -80.75% | -84.98% |
| Brazil | 73.8 | 3.59 | -25.6% | -60.07% |
| South Africa | 55.0 | 3.94 | -44.56% | -56.17% |
NordVPN international speed tests connecting to multiple countries from Australia.
NordVPN's download speeds remain relatively fast in the majority of countries tested with the exception of India. The uploads speeds are dramatically reduced in most cases, with just the United Kingdom maintaining a respectable upload speed.
It must be noted though, that quick upload speeds are rarely required for the vast majority of VPN-related tasks, especially when connecting to international servers.
How Does NordVPN Compare to Other Major VPNs from Australia?
Overall this VPN has excellent speeds across a range of distant international servers. Iy's better than every other VPN and has an average speed loss of just 25%.Overall this VPN has excellent speeds across a range of distant international servers. IT's better than every other VPN and has an average speed loss of just 25%.
ADD A CHART ERE USING GRAPHINA COMPARING DIFFERENT SPEEDS
As you can see this VPN outperforms the other most popular VPN services.As you can see this VPN outperforms the other most popular VPN services.As you can see this VPN outperforms the other most popular VPN services.As you can see this VPN outperforms the other most popular VPN services.
Logging Policy History: 9.2/10
The Highest Degree of User Privacy
NordVPN maintains the highest level of user privacy by storing zero logs. This is backed up by two independent audits from PricewaterhouseCoopers (PWC). Click here for more information on the audit.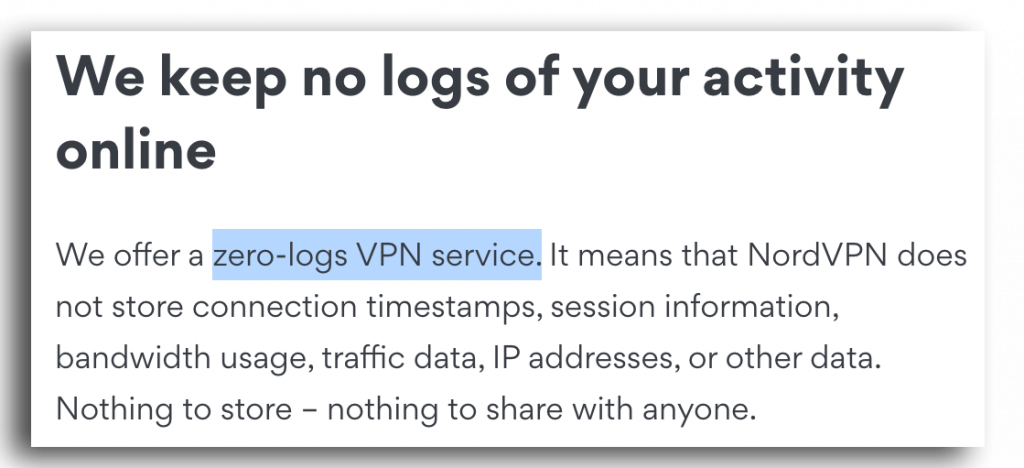 The first study was conducted in 2018, with the second one conducted in 2020. Both audits showed that the claims made by NordVPN are true.
NordVPN's no-logging policy ensures that only the bare minimum data is collected from each customer. The information NordVPN collects is:
Email Address
Required to create and manage the user account.
Payment Info
The minimum amount of data is stored to facilitate payment and refinds. Crypto payments are accepted for more anonymous means of payments
Timestamps of last session
To enforce the maximum limit of 6 concurrent sessions, NordVPN monitors the username and timestamps of the last ssession. All data is deleted every 15 minutes.
Customer Service Info
NordVPN will store chat logs to help offer a better standard of customer care.
NordVPN.com Cookies
NordVPN uses cookies to collect the following information:

– Google Analytics data
– Affiliate cookies to correct attribute which affiliate partner referred the customer
– Cookies used to help personalise NordVPN.com content.

Who Owns NordVPN & Where Is it Located?
NordVPN's ownership structure isn't completely straightforward. Different aspects of the business are registered in different locations under different company names. The brand NordVPN is owned by Tefincom, which is located in the privacy haven Panama. The directors listed for Tefincom are situated in Cyprus. The day-to-day operations are run from Lithuania through companies called NordSec and Tesonet.
The important thing to know for customers is that NordVPN is under the legal jurisdiction of Panama which has excellent privacy laws that offer the highest degree of legal protection globally. Panama is not part of any global surveillance programs such as the 5 Eyes or 14 Eyes.
Any History of Data Leaks or Violations?
NordVPN reported a significant security breach in 2019 which prompted a thorough and swift security overhaul, including a bug bounty program and multiple independent audits.
In Late 2019 an app security audit was commission and performed by highly regarded cybersecurity consulting firm VerSprite. The audit concluded that some vulnerabilities were present in the app but they were promptly fixed as a result.
An audit of NorPass, NordVPN's password management, tool was commissioned and performed by cybersecurity firm Cure53. Numerous potential vulnerabilities were discovered and promptly fixed.
Security Analysis: 8.9/10
Highest Level of Security
The table below details the high standards that NordVPN implements across its VPN service.
 Protocols
 
IKEv2/IPSec
OpenVPN (TCP/UDP)
WireGuard
 Security
DNS Leak Blocking
First-party DNS
Supports TCP Port 443
VPN Kill Switch
WebRTC Leak Blocking
 Encryption
 AES-256
 Advanced features
Double VPN
Smart DNS
SOCKS
TOR via VPN Server
NordVPN's security standards and protocols.
NordVPN rates incredibly highly out of the VPNs reviewed not just because of its speed or privacy features but also because of its market-leading security infrastructure. Each feature is designed to maximise customer and data security at every touchpoint and use case.
AES-256 Encryption Standard
NordVPN utilises AES (Advanced Encryption Standard) with 256-bit keys. This is the highest standard and is recommended by the NSA as the standard for securing even government-level TOP SECRET files.
AES-256 is currently unbreakable by any known attack and theoretically would require hardware far beyond anything that can be built by humanity. Even if an advanced supercomputer was built it would take billions of years to brute force the encryption key.
There are just too many potential keys generated using this encryption standard. The number of potential keys is too long to include in this NordVPN review, but it has 78 digits, which is an inconceivably large number.
Three Different VPN Protocols
NordVPN creates a private tunnel for the data you send and receive to transmit through. Depending on the type of data being transmitted, NordVPN will use one of three different VPN protocols:
IKEv2/IPsec
IPsec or Internet protocol security utilises the latest IKEv2 for cutting-edge cryptographic algorithms that produce unbreakable keys.
OpenVPN
OpenVPN is an open-source security protocol used by the global cybersecurity community. Every player in cybersecurity has a stake in OpenVPN and contributes reviews and modifications.

OpenVPN can function on both UDP and TCP ports meaning it's very flexible and can facilitate a plethora of internet-based activities including gaming, streaming and browsing.
NordLynx
NordLynx is a proprietary protocol developed by NordVPN to improved upon the already highly-regarded WireGuard. NordVPN recognised a limitation with how WireGuard handles user privacy. NordLynx fixes this by implementing a double NAT system at its core.

NordVPN claims NordLynx is the fastest and most secure protocol available.
Our own tests have shown that NordLynx does, in fact, outperform the WireGuard protocol.
Kill Switch
In the event that your connection with NordVPN drops out during an internet activity, the built-in kill switch will block your connection preventing any sensitive data from passing over to the ISP.
There are two different versions of the kill switch, one for internet connections and one for apps connecting to the internet. The internet kill switch is a blanket switch that will activate no matter what you are doing on the internet outside of using apps. The app kill switch offers more customisability and allows you to designate which apps the kill switch should activate in the event of a dropped VPN connection.
For maximum privacy, it is highly recommended to use the internet kill switch since it is much more comprehensive.
Split Tunneling
Split tunneling allows users to customise which applications and sites will be passed through the protected VPN tunnel, and which sites should not. This is a useful feature for internet banking that requires your real IP. For example, it is very difficult to use Commbank internet banking services with a blanket VPN.
Double VPN
A double VPN is essentially double encryption by passing your connection through two different VPN servers and encrypting the data twice. There is no real need for this other than complete peace of mind. Due to the additional workload and distance traveled the speeds are significantly slower.
DNS Leak Protection
A DNS leak will provide sensitive information to your ISP or DNS provider. This can happen for various reasons out of your control. NordVPN prevents this from happening by owning and operating their own DNS servers and routing user traffic through the VPN tunnels to their DNS servers.
Onion over VPN
Onion over VPN is a feature that creates a VPN tunnel when using the Tor Network. The Tor network is often used in countries where VPNs are not permitted. Onion over VPN adds an additional layer of protection when using the Tor network.
NordVPN CyberSec
CyberSec offers malware protection to NordVPN users by blocking sites known for their malicious activity. It does this by comparing the address of the website visited against an enormous list of blacklisted sites. If the site requested is matched against any on the blacklist, Cybersec will automatically step in and block access.
Access in Heavily Censored Countries: 8.9/10
NordVPN is a strong choice.
Censorship is of growing concern globally and in particular, a handful of countries have made VPN usage either illegal or very difficult to use. NordVPN does a good job of being able to deliver their service in most countries but there are some exceptions.
China
Previously, NordVPN was able to unblock restricted content in China but this is no longer the case. NordVPN has done and will continue to do as much as possible to deliver a successful service.
There is a dedicated app available for Windows and Android that utilises obfuscated servers through the OpenVPN protocol. It must be noted, that contrary to common sense, you must connect to a server outside of China, such as Thailand or other surrounding countries.
This is because in 2017 the Chinese government implemented new cybersecurity laws which required all internet companies (including VPN companies) to comply with government data requests. This means if you see a VPN service provider with a server in China, it is very likely that your information is at risk of being shared with the local authorities.
Make sure you download the NordVPN app before you enter China since nordvpn.com is blocked in China and it will be difficult to access.
Turkey
Turkey has a history of making VPN usage discouraged and difficult – but not illegal. However, accessing blocked sites in Turkey is risky and can result in trouble.
NordVPN does work in Turkey using obfuscated servers which will mask your connection as a standard connection rather than a VPN connection. Again, make sure NordVPN is installed on all of the devices you're taking (NordVPN supports up to 6 devices concurrently from a single account) before you arrive in the country.
United Arab Emirates
The UAE is notorious for blocking VPN usage due to the government's heavy involvement in the telecoms industry and the loss of income VPNs can cause by bypassing paid VOIP services offered by Etisalat.
NordVPN is an excellent choice for accessing restricted content in the UAE. It is recommended to use the obfuscated servers for extra protection and having everything installed and set up prior to entering the country.
Server Network
Over 5000 Server Location Around the World
NordVPN has one of the best server infrastructures of any VPN service with 5,343 servers across 60 different countries. This put NordVPN in 3rd for the total number of servers behind Cyberghost (6,900) and Private Internet Access (35,900). To the vast majority of users, there is no meaningful benefit having access to 10's of thousands of servers rather than just thousands.
Again, 60 countries aren't market-leading but it is more than enough for 99% of VPN users. Other VPNs do offer more with Express VPN (94), CyberGhost (91), Surfshark (66), and Private Internet Access (77) all offering more.
NordVPN has servers in all frequently visited countries like US, Canada, India, etc (the UK is an exception), as well as countries like Finland, Georgia, and Moldovia.
City-level Server Locations
NordVPN has a good network of city-level servers in many popular countries, including Australia, and commonly visited cities access VPNs from Australia. City-level servers are great for users who want a quick, local VPN-protected connection in their local city, but also for people who want access to websites hosted in that city.
| | | |
| --- | --- | --- |
| Country | City | Number of Servers |
| Australia | Sydney, Melbourne, Brisbane, Perth, Adelaide | 197 |
| Germany | Berlin, Frankfurt | 218 |
| France | Paris, Marseille | 199 |
| USA | 15 including LA, New York, San Francisco | 1584 |
| India | Chennai, Mumbai | 40 |
| Canada | Montreal, Toronto, Vancouver | 393 |
A strong selection of city-level servers.
It's easy to choose a city-level server, just find the country you would like to access, then click the three dots to see which cities NordVPN has servers in. Below is an example of the available cities in Australia: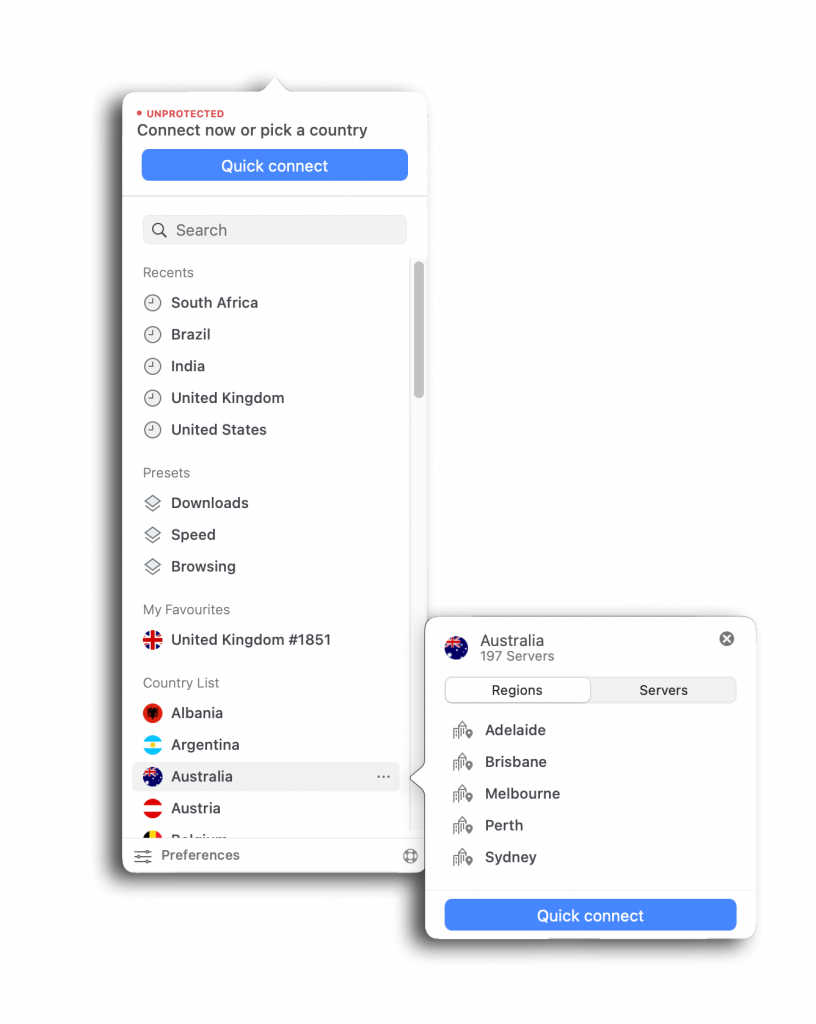 Server Types
Unlike many other VPN services, NordVPN's server network is entirely physical with the server itself actually situated in the country you are accessing. This is surprisingly rare as a large majority of VPN companies operate to some degree on virtual servers.
It should be noted that many of the servers NordVPN uses are not owned by NordVPN themselves and are actually rented from local companies. NordVPN is phasing this out over time and moving towards an entirely self-owned network of servers which would give them full autonomy.
Device, App and Router Compatibility: 9.1/10
Almost Full Compatibility
NordVPN has a comprehensive suite of dedicated apps across all major devices, operating systems, and even TVs. NordVPN's applications are widely recognised for their ease of use and ease-of-setup, while still maintaining excellent levels of customisation.
NordVPN allows up to 6 devices access to the VPN service from one subscription, so NordVPN is an excellent choice if you plan on protecting all of your devices. For protection on your home wi-fi network, you can install NordVPN on the home router to protect all connected devices while only using one of the 6 permitted devices.
NordVPN Apps
| | |
| --- | --- |
| Windows |   Yes |
|  Mac |   Yes |
|  iOS |   Yes |
|  Android |   Yes |
|  Linux |   Yes |
|  Router |   Yes |
Table with all of the apps and if they're compatible with NordVPN.
All of the download files for the above apps are available on NordVPN's site for download when a subscription is purchased. Please note that there are links to download the Android app from the Play Store and to download the iOS app from the App Store. More importantly, please note that the 30-day money-back guarantee is not valid when a subscription is purchased on the App Store.
Protecting Devices Without an App
NordVPN can protect almost every type of device even if there is no native application:
AppleTV
Nintendo Switch
Smart TVs
Amazon Fire TV
Playstation
Xbox
Chromecast
Raspberry Pie
NordVPN has an installation guide for all of the above devices, which can be read here.
Browser Extensions
In addition to a suite of native applications, NordVPN has two browser extensions, one for Chrome and one for Firefox. These extensions are widely adopted with over 1,000,000 installations on Chrome and just under 100,000 on Firefox.
It must be noted the extensions don't actually function as a true VPN and instead use proxies. A proxy is only effective for browser-related activities and won't encrypt and data from apps or torrents.
Customer Support: 8.7/10
Easily contactable & informed.
NordVPN offers excellent customer service that is surprisingly easy to access and genuinely useful. There is a 24/7 live chat with informed customer service representatives as well as a chatbot that can quickly retrieve key information.
| | |
| --- | --- |
|  Live Chat (human representative) |  Yes – very good |
|  Chatbot |  Yes – very good |
|  Phone | No |
| Email | Yes |
| Online Resources |  Yes – very good |
Different methods of customer service.
Chatbot
Unlike many chatbots, NordVPNs is surprisingly useful and is happy to put you through to a human with a simple request. It's able to answer questions quickly and accurately as well as provide additional information related to the query.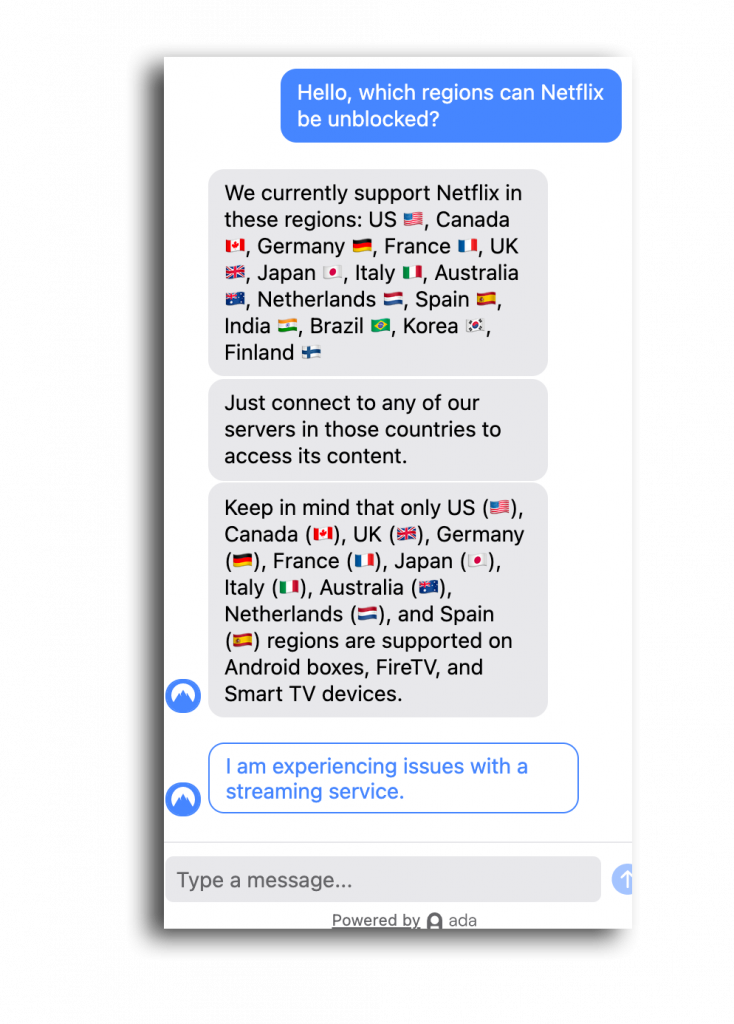 Live Chat (Human Representitive)
If a human is required to solve an issue simply ask the chatbot to speak with a human and a transfer will happen almost immediately. The human representatives are informed, quick and polite. No query was answered with anything less than a comprehensive and quick answer.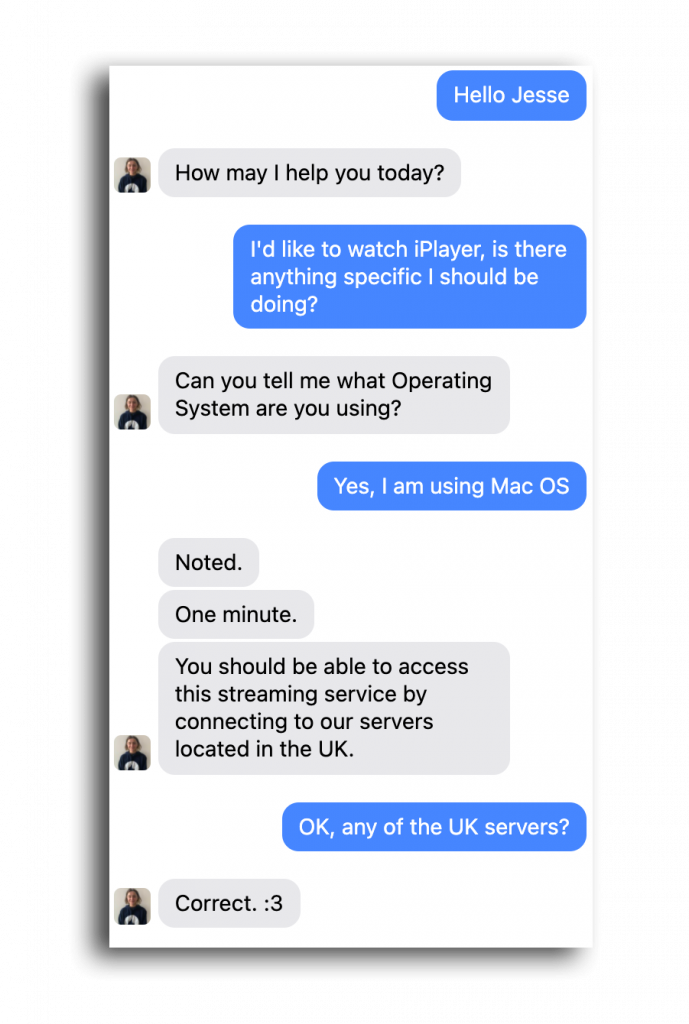 The Verdict
This is our highest rated VPN for Australia
NordVPN is an excellent all-around VPN that is easy to recommend to anyone who wants to improve their data privacy, access more content, and do it with confidence.
NordVPN employs market-leading security infrastructure alongside 3rd-party audits to confirm their claims. Since their breach in 2018, NordVPN has taken measurable and impactful steps to improve its security protocols and this shows in the infrastructure developed and the protocols followed.
Access to international streaming libraries is a breeze in almost all countries and the reliable high-speeds delivered means buffering won't be a problem.
Overall NordVPN is rated as the best VPN for Australians, beating out stiff competition from ExpressVPN and CyberGhost.
NordVPN Subscription Packages
NordVPN offers excellent value for money across each of its three different subscriptions. Each plan includes the exact same features just at a different cost. As with almost all VPN services, there are huge savings to be made when agreeing to a longer-term subscription.
The 1-month plan isn't good value for money when compared to the other plans, but this is to be expected. The 1-year plan is good value, but the 2-year plan is absolutely fantastic value for money at just US $3.67/month.
NordVPN offers a 30-day money-back guarantee on all subscriptions.

US $3.67 / month +3 months FREE. Save 69%
30-day money-back guarantee.

US $4.92 / month. Save 58%
30-day money-back guarantee.

US $11.95 / month. Save 0%
30-day money-back guarantee.
Payment Options
NordVPN accepts a good selection of payment methods, with Paypal being one notable exception:
Credit, Debit & Pre-paid Cards
This is the simplest and most convenient payment method offered but it does have drawbacks. These types of payments are incredibly easy to trace so if you're purchasing a VPN for privacy this isn't a good choice.
Cryptocurrencies
Cryptocurrency payments are less convenient for the average person but they do offer complete anonymity. NordVPN accepts the following cryptocurrencies:

– Bitcoin (BTC)
– Bitcoin Cash (BCH)
– BitTorrent (BTT)
– Litecoin (LTC)
– Dash (DASH)
– Etherium (ETH)
– Tronix (TRN)
– Monero (XMR)
– ZCash (ZEC)
– Ripple (XRP)

Google Pay & Amazon Pay
Both Google Pay and Amazon Pay are similar to credit, debit and pre-paid cards in that they offer very little privacy. They are of course convenient to those who use those payment methods.
Alipay for Chinese Users
Despite VPNs typically being blocked in China, NordVPN can breach the great firewall through its obfuscated servers. NordVPN tries to make purchasing their VPN as easy as possible for Chinese customers by accepting Alipay.
NordVPN has a 30-day money-back guarantee for users who are unsatisfied with the service. This is only applicable to payment options where refunds are possible. For example, payments made through prepaid cards are unable to be credited. It's also important to note the 30-day money-back guarantee is not applicable for any subscriptions paid for through the App store.
VPN Pro Compared to Other High-rated VPNs
Lowest Monthly Price
Logging Policy
Download SPeed
US NEtflix

NordVPN
Check Prices
Lowest Monthly Price
$3.67
Download SPeed
u003cmeta charset=u0022utf-8u0022u003eYes
US NEtflix
u003cmeta charset=u0022utf-8u0022u003eYes

ExpressVPN
Check Prices
Lowest Monthly Price
u003cmeta charset=u0022utf-8u0022u003eYes
Logging Policy
u003cmeta charset=u0022utf-8u0022u003eYes
Download SPeed
u003cmeta charset=u0022utf-8u0022u003eYes
US NEtflix
u003cmeta charset=u0022utf-8u0022u003eYes

CyberGhost
Check Prices
Lowest Monthly Price
u003cmeta charset=u0022utf-8u0022u003eYes
Logging Policy
u003cmeta charset=u0022utf-8u0022u003eYes
Download SPeed
u003cmeta charset=u0022utf-8u0022u003eYes
US NEtflix
u003cmeta charset=u0022utf-8u0022u003eYes