ProtonVPN Review Summary
Coming in, you'd kind of expect ProtonVPN to pour much of its focus into security, given how that's the way ProtonMail made a name for itself. What we didn't expect was to stumble onto a VPN service with exceptional local and international upload and download speeds, excellent geo-block bypassing potential, and a streamlined user interface that's friendly towards both newbies and VPN veterans.

It's not perfect, by any means. Its server count is relatively low and there are a lot of VPNs out there with far better worldwide reach. But if you can't seem to find a VPN service that gives you just the right mix of speed, protection, and intuitiveness, then you should certainly give ProtonVPN a go.
 
Positives
Good speeds
Good user interface
Good security features
Cheap
Is ProtonVPN a suitable VPN service for Australians?
ProtonVPN Review Intro.
ProtonVPN is a VPN service that made its debut back in 2017 and if its name sounds familiar, that's because it was launched by the same company behind ProtonMail – a webmail service known for its superb encryption. With security like that, it was just a matter of time before they decided to venture into the realm of VPNs.
With that said, it comes as no surprise that ProtonVPN is geared more towards unflinching security and complete anonymity. It doesn't stop there though. Its creators made sure that the VPN's user interface was developed with ease and simplicity in mind, making it more accessible to the average user. Its connections are quite speedy too, which is always a good thing. The question remains, does a company known for creating a tough-to-crack email platform really have the know-how to design a competent VPN? We're looking to shed some light on the matter, in this ProtonVPN review.
Once you look past the VPN's excellent security, streamlined UI, and solid speeds, its flaws become increasingly apparent. Its payment plans are confusing, the customer support is lacking, and it'll cost a pretty penny if you want access to all of ProtonVPN's bells and whistles.
Luckily enough, it's pretty competent in other areas that are sought-after when choosing a VPN. For one thing, it's rather adept at bypassing geo-restrictions, allowing you to access a healthy repertoire of streaming platforms, such as Netflix, Amazon Prime Video, and a whole lot more.
It's a bit lacklustre when it comes to its worldwide reach, offering servers in just 55 countries around the globe. That number isn't low by any stretch, but it lags behind the likes of ExpressVPN (94) and CyberGhost (91) by quite a bit. It sits pretty close to NordVPN (60), so you can't really judge a VPN based on country reach alone, given how amazing of a service NordVPN is.
ProtonVPN did surprisingly well when we tested its speed. It consistently racked up a score of 92 Mbps, which places it among the faster VPNs we've had the opportunity of testing. Private Internet Access (98 Mbps) still reigns king, while Windscribe Premium (95 Mbps) and PrivateVPN (94) aren't too far behind.
This VPN has a pretty serious privacy policy that's thoroughly explained in eight parts and several subsections. However, it's worth noting that while Astrill claims to be log-free, it does temporarily save certain pieces of information about your connection, some of which seemed rather alarming. We also ran into some issues when trying to procure said data for ourselves.
This VPN service is headquartered in Switzerland, a country that happens to be one of the most privacy-friendly places on the planet. This bodes well for ProtonVPN's privacy policy, which is unsurprisingly strictly "no logs". No 14-Eyes Alliance members are going to chase you over here. It still would've been nice if they implemented regular third-party audits to keep the policy constantly in check.
Key Stats:
A Lot of Positives.
ProtonVPN has a lot going its way. It's fast, secure, and really easy to use, not to mention how good it is at helping you watch those shows you love so much that you can access where you're from. Here are some of the VPNs most important statistics:
Logging Policy
Anonymous Server Usage Data
Location
Switzerland (Privacy Haven)
Security Incidents
Minor
No. of Servers
1,326+
No. of IP Addresses
1,326+
Countries
63
Supported VPN Protocol
IIKEv2/IPSec
OpenVPN (TCP/UDP)
Torrenting
Permitted
Access International Media
Yes
ProtonVPN Specs.
Streaming:
Can Help You Access Some of The More Popular Streaming Services.
ProtonVPN does a stellar job at getting past geo-blocks, allowing you to watch your shows and documentaries without much hassle. It got through Netflix's restrictions with the majority of servers we used – an impressive feat considering how tough of a nut to crack the platform can sometimes be. We also got to access other streaming services that are known to give VPNs trouble, like BBC iPlayer and Amazon Prime Video.
Does ProtonVPN Work With Popular Streaming Services Accessed from Australia?
We put ProtonVPN to the test as we attempted to access various popular streaming sites using a bunch of different country servers. Streaming fans will be glad to know that most of the servers we tried had no trouble accessing a lot of the big names we tried out, including:
Netflix
Hulu
Disney+
Amazon Prime Video
BBC iPlayer
ProtonVPN easily got through the blocks of some of the tougher streaming sites to get through, meaning it'll likely slip right past a lot of the sites you have in mind as well. If you're big on streaming, you'll want to keep an eye on this service.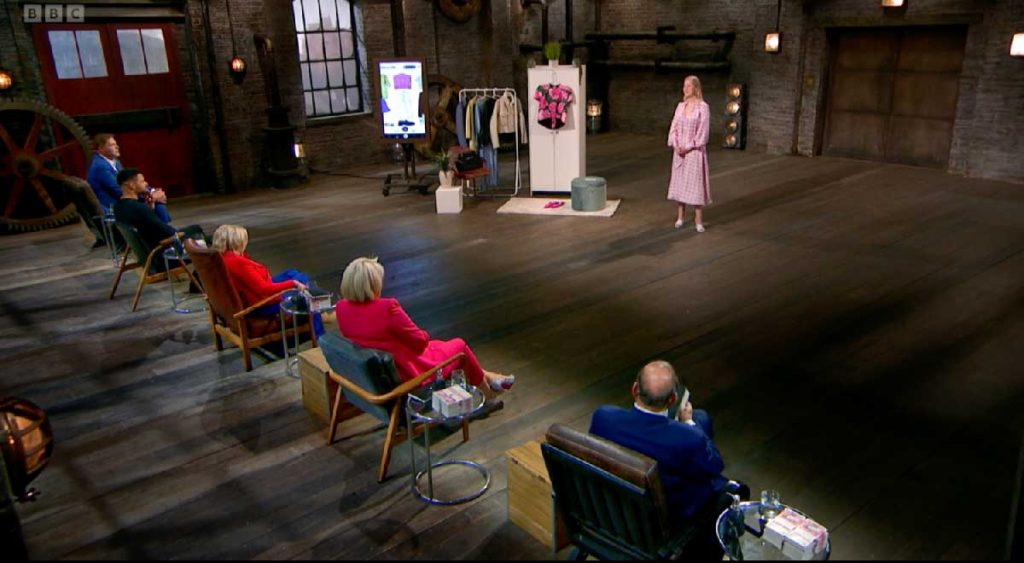 Torrenting:
A Torrent-Friendly VPN With Great Speeds.
The VPN's penchant for privacy and security, mixed with its unwavering "no logs" privacy policy, make it a perfect candidate for some serious torrenting. It even has plenty of peer-to-peer friendly servers as well, from which you can expect some pretty decent speeds.
When we tried torrenting using ProtonVPN, we actually ended up getting the most impressive bitrate we've recorded so far for any VPN. The service recorded an exceptional average bitrate of 13.2 MiB/s, putting it ahead of a lot of the bigger names in the market, like ExpressVPN (11.8 MiB/s), NordVPN (12.5 MiB/s), and Surfshark (13.1 MiB/s). That's a spectacular group of VPNs to beat.

All things considered, ProtonVPN's dedication towards user security and anonymity, along with its blazing fast speeds and torrent-friendly servers, make it an awesome VPN to use for torrenting your days away safely.
Speed
A Surprisingly Speedy Service.
With ProtonVPN turning in superb numbers in torrenting and average speed, you can't help but expect it to do just as well when it comes to download and upload speed reduction while connected to both local and international servers. Well. it definitely didn't disappoint. While it wasn't able to tally the best numbers we've ever seen, ProtonVPN certainly gave us amazing stats across the board, even when connected to servers that normally give VPNs a really tough time.
Local Speed Test Results
Users residing in Australia will be glad to know that ProtonVPN performs fantastically when connected to the local Australian servers. In fact, it's among the better ones we've ever tried, as it gave us a mere 8.87% reduction in download speeds and just a 6.25% reduction when it came to upload speeds.
In comparison, it may not have been enough to beat NordVPN's 4.71% download speed reduction or CyberGhost's 5.82% upload decrease, but it came pretty damn close nonetheless. TEST RESULTS HERE


| | | |
| --- | --- | --- |
| VPN | Download (Mbps) | Upload (Mbps) |
| No VPN | 108.54 | 18.55 |
| Proton VPN | 98.91 | 17.39 |
| % Difference | -8.87% | -6.25% |
Speed difference: upload/download when on and off ProtonVPN in Australia, with the percentage difference.
All things considered, ProtonVPN is one of the better VPNs when you're on Australian servers thanks to speeds that put it right up there with the best of them.
International Speed Test Results
Fortunately for ProtonVPN, it's not just a one-server wonder. The VPN performed marvelously when tested with some of the more popular VPN server locations that Australians are likely to connect to, including the UK, US, and India. Actually, it logged the fastest speeds for any VPN when connected to UK and Brazilian servers, and it came in second place when we tried it on Indian servers.
| | | | | |
| --- | --- | --- | --- | --- |
| Country | Download (Mbps) | Upload (Mbps) | % Difference (Download) | % Difference (Upload) |
| USA | 88 | 17.71 | -23.34% | -4.52% |
| United Kingdom | 89.51 | 12.23 | -21.26% | -34.07% |
| India | 84.64 | 15.52 | -28.24% | -16.33% |
| Brazil | 88.97 | 13.19 | -22% | -28.89% |
| South Africa | 27.86 | 5.74 | -74.33% | -69.06% |
ProtonVPN Premium international speed tests connecting to multiple countries from Australia.
How Does Astrill VPN compare to Other Major VPNs from Australia?
ProtonVPN boasted speeds that are good enough to put it in the same company as some of the best VPNs in the industry. It wasn't just the download speeds either, as the upload speeds were equally as impressive. And to top it all off, ProtonVPN maintained its awesome speeds when we tried it out on several servers that are popular among Australians.
Speed definitely turned out to be one of ProtonVPN's strong points, more so than we could've expected, actually. Whether we're talking about local or international servers, this VPN puts on a good show and is definitely worth picking up if you're in the market for a speed demon.
Data Privacy:
Log-Free And Comprehensive.
ProtonVPN's privacy policy starts off pretty rigid, like the beginning paragraph in your everyday legal document. Get past that and it's a relatively easy read, with most of the major points being enumerated or bulleted for easier digestion. Including the date the policy was last updated on the top of the page is a nice touch, giving users a glimpse of how often changes are made to the write-up.
As with most VPNs, ProtonVPN is pretty adamant in stating that it's log-free. They've also gone out of their way to make it clear that they don't store any information pertaining to their users' internet traffic, nor do they "discriminate against devices, protocols, or applications". Throttling Internet connections is also a big no-no in their books.
A particularly informative section is the part where they discuss the types of information they DO collect, as well as disclosing the reason as to why they collect it. This includes support ticket information when you run into issues with the service and payment information for when you're renewing your subscription.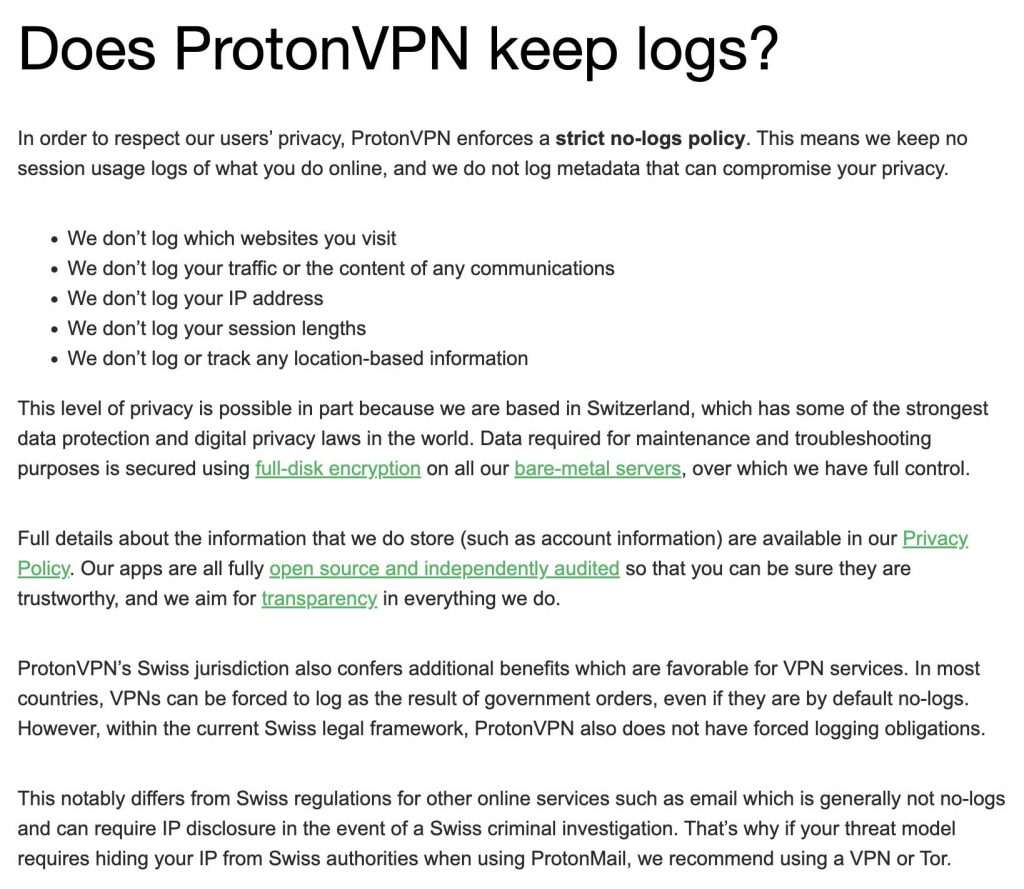 Honestly, the policy looks rock solid. The only thing that could've possibly improved it was the inclusion of consistent independent audits to ensure that the policy remains on the up and up as time goes by.
Who Owns ProtonVPN & Where Is it Located?
ProtonVPN was launched around four years ago by a Swiss company called Proton Technologies AG – the same guys who founded ProtonMail a year prior (we're sensing a naming theme here). The VPN's headquarters is stationed in Switzerland, a safe haven for privacy-based companies on account of the country's respect towards people's personal information.
Swiss laws actually dictate that companies don't need to store any information regarding internet connections, IP addresses, or online activities. Definitely good news for companies that make their money off of anonymity. That being said, even if demanded by law to give up information for whatever reason, ProtonVPN won't have anything to show.
Any History of Data Leaks or Violations?
According to a post by security researchers dating back around three years ago, ProtonVPN had a few desktop vulnerabilities that left it open to possible attacks from malicious users. The VPN service fixed the vulnerability soon after it was discovered, with no reported casualties resulting from the issue. It seems to be a minor incident from ProtonVPN's earlier days – one that never resurfaced moving forward.
Security Analysis:
Lives Up To The Proton Name.
Given how known ProtonMail is for its privacy and encryption, there are some heavy expectations on ProtonVPN's shoulders as far as security is concerned. At a glance, there's nothing particularly fancy about what the VPN has to offer, but the developers certainly made sure to include the most important parts of a successful security system.
Protocols
IKEv2/IPSec
OpenVPN (TCP/UDP)
Security
DNS Leak Blocking
IPV6 Leak Blocking
VPN Kill Switch
First-party DNS
Encryption
AES-256
Advanced features
Ad Blocker
Split Tunneling
Tor Over VPN
ProtonVPN's security standards and protocols.
ProtonVPN may not have planned third-party audits for their privacy policy, but they made sure to start having them for the VPN's security. It's a step in the right direction, that's for sure, and one that'll definitely inspire confidence in their user base.
Top-Tier Encryption
ProtonVPN utilizes AES-256 encryption which is the standard among VPNs nowadays. It's the standard for a reason, however, and that's because it's the best that's currently available and it's all but impossible to breakthrough. If the most advanced tech companies in the world confidently use it, then it's sure as heck good enough for us.
Two Types of Protocols
Most VPNs feature two, three, or sometimes even four types of encryption protocols to choose from. Astrill goes a few steps further and offers seven, giving you a wider selection to meet your needs.
IKEv2/IPSec
This fan-favourite encryption protocol is preferred by many on account of its excellent speeds. You're better off choosing the closest server to your physical location when using this protocol, but it does perfectly fine if you plan on connecting to a more distant one. IKEv2/IPSec has a particularly useful auto-connect feature for smartphone users that stops information leakage when you move from a mobile connection to Wi-Fi.
OpenVPN (TCP/UDP)
If you don't mind taking a bit of a cut in speed in exchange for some extra security, then OpenVPN is your guy. This open-source protocol is a favourite among security experts, given how often it gets improved and updated. Among its two versions, UDP and TCP, UDP is the one that's a tad faster while TCP focuses more on stability.
Ad Blocker
As its name suggests, Ad Blocker is a feature usually present in VPNs that prevent annoying ads from popping up on your screen, though it also does a good job of keeping away malicious links and programs. ProtonVPN's version of Ad Blocker is called NetShield and it allows you to choose between three protection levels. Depending on which you choose, NetShield can block out ads, trackers, and malware, or it can just prevent malware alone. The final setting just stops the feature from blocking anything at all.
Split Tunnelling
This feature gives you the ability to allow a program through your VPN connection without having to switch off your VPN entirely. This is perfect for apps and websites that don't function well unless they're connected to your regular internet connection, the most common example of which is online banking sites. Using split tunnelling, you'll be able to bank without having to stop your steams.
VPN Kill Switch
Scared that some of your internet traffic will leak through if your VPN gives out all of sudden? Worry not, because that's exactly what kill switches are for. This feature switches off your internet if it ever senses that your VPN is down and you'll remain offline until the VPN connection is restored. That way, you can rest assured that your privacy is always optimal, even when ProtonVPN runs into an unexpected halt.
Tor Over VPN
Tor stands for The Onion Router and is a form of software that's used for completely anonymous communication. To utilize the Tor network, you'd normally need to use a Tor browser. What Tor over VPN does is usher your internet traffic through the ToR network instead of the usual VPN one, making your online presence even more anonymous. And the best part is you won't need a Tor browser to do it.
Access in Heavily Censored Countries:
Great Firewall? Not A Problem.
The governments of certain countries around the world have implemented strict censorship laws on their citizens, restricting internet consumption as they see fit. In a desperate attempt to access blocked sites or content, people living in these areas look to VPNs to help them bypass these restrictions.
China
China has some of the tougher restrictions in place, as its "Great Firewall" blocks out VPN traffic entirely. Even some of the best VPNs on the market struggle to reliably bypass this firewall. ProtonVPN happens to be one of the VPNs that are better suited for getting through China's censorship and it has a decent number of servers surrounding the country so you can expect solid speeds.
United Arab Emirates
While not quite as aggressive as China in its restrictions, the UAE has also been restricting its country's internet content and has banned the use of VPNs entirely. Fortunately, these restrictions aren't too tough to get by and ProtonVPN can bypass them quite easily using OpenVPN.
Server Network:
A Decent Number of Servers in a Relatively Limited Narrow Range of Countries.
ProtonVPN has 1,326 servers under its belt across 65 different countries worldwide. While this certainly isn't the fewest number of servers we've encountered in a VPN service, it definitely isn't impressive. Private Internet Access, for example, boasts 35,900 servers worldwide and CyberGhost has 6,900. That being said, the number of servers a VPN has doesn't necessarily dictate how well the service performs.
The service's server availability in 63 countries isn't that great either. It falls behind some of the more prominent VPNs out there, including ExpressVPN (94), CyberGhost (91), Surfshark (65), and NordVPN (60). On the plus side, ProtonVPN has servers in the countries Australians often connect to, which is good.
All ProtonVPN's server locations
City-level Server Locations
Given its lower server count, ProtonVPN doesn't have as many city-level servers as some of the bigger VPNs, but it does have servers in a good range of cities, whether it's in Australia or internationally.
| | |
| --- | --- |
| Country | City |
| Australia | Adelaide, Brisbane, Perth, Sydney |
| Germany | Berlin, Frankfurt |
| France | Paris |
| USA | Manassas, San Jose, Dallas, Los Angeles, Seattle, Phoenix, many many more. |
| India | Mumbai, Pune |
| Canada | Montréal, Toronto, Vancouver |
| UK | London, Manchester |
ProtonVPN's City-level Server Locations
Server Types
ProtonVPN says that they use "bare metal" servers, which leads us to believe that all of their servers are exclusively physical. One of the bigger upsides to physical servers include better performance thanks to a smaller loss in internet speed. This is probably part of the reason this VPN has been able to hit solid speeds across most servers we tested.
Device and Router Compatibility:
ProtonVPN Accepts All.
Astrill VPN Apps
| | |
| --- | --- |
| Windows | Yes |
| Mac | Yes |
| iOS | Yes |
| Android | Yes |
| Linux | Yes |
| Chrome OS | Yes |
| Router | Yes |
| Amazon Fire Stick | No |
ProtonVPN Apps
ProtonVPN works natively with any platform that supports it, including Windows, macOS, Android, iOS, and even Linux, though the latter platform will take a bit of configuring for the service to work properly. There's an app for ChromeOS as well, which is a platform that not a lot of VPNs work with. Downloading the app is simple enough, though you will have to sign up for the service on their website, even for the free version.
Protecting Devices Without an App
Same as other VPN services, you can install ProtonVPN directly on your router in order to cater to devices without native VPN support. That way, you can connect to as many gadgets as you want regardless of how many your subscription tier allows since it'll appear as if you're using just one – your router. And all the devices connected to your router will automatically receive VPN protection, such as:
Nintendo Switch
Xbox One / Series X|S
Playstation 4/5
Any kind of Smart TV
Fire TV
Browser Extensions
Most VPNs offer mini versions of their VPN service in the form of browser extensions – usually for Chrome and Firefox. These extensions usually offer protection strictly for the activities that are done with the browsers they're installed on. Unfortunately, ProtonVPN does not feature such browser extensions.
Customer Support
No Excuse Not To Have Live Chat.
Customer support is one of ProtonVPN's weaker areas but that has more to do with accessibility rather than quality. Every VPN service we've tested so far has a live chat on their website where you can reach out to a person to get immediate assistance regarding any issues or questions you might have. Regrettably, ProtonVPN has no such option and rely solely on direct emails or support tickets to answer your queries.
On the plus side, the website is pretty and it's easy to access all the resources which can be found along the bottom part of the website. Still, it's 2022 ProtonVPN. Get yourself a live chat feature.
| | |
| --- | --- |
| Live Chat (human representative) | No |
| Chat Bot | No |
| Phone | No |
| Email | Yes |
| Online Resources | Yes – excellent |
Different methods of Contacting ProtonVPN Support Team
Email
The only way to get any support from the ProtonVPN support team is to either shoot them an email or lodge a ticket. You can pull up their email address by clicking the "Show Details" link next to "Support" at the bottom of their webpage. A pop-up will appear showing the email address you can use, as well as a button that leads you to the form you need to fill out in order to submit a ticket.
The good news is the answers you'll receive are almost always incredibly comprehensive and very helpful. On the other hand, it'll take them a day or two to get back to you. This can be pretty frustrating for users who are looking for a simple answer to a simple question.
The Verdict:
A Superb VPN Service That Greatly Exceeded Our Expectations.
ProtonVPN is a rather interesting VPN service that gave us some surprising results in areas we did not expect. Its overall speeds, for one, were very impressive whether it came to upload and download speed reduction or even torrenting bitrate. It's able to bypass geo-restrictions in streaming libraries quite easily, including Netflix and Amazon Prime Video – two platforms known for giving VPN services massive headaches.
It's even good at getting through internet and VPN restrictions in highly censored countries, despite not having any dedicated features to do so, like a stealth or camouflage mode. Its security and privacy policy are both top-notch and it's highly compatible with most devices you're likely to use – even Chromebooks.
The VPN has its weaknesses, of course, including its relatively low server count and worldwide reach, as well as its lack of third-party auditing when it comes to its privacy policy. There's also the matter of the absence of a live chat feature on ProtonVPN's website that's just baffling.
Missteps aside, though, ProtonVPN definitely turned out to be a pleasant surprise and a highly capable VPN service, all things considered. If you're looking for a VPN service that performs just as well as the best market yet keeps things nice and simple in terms of functionality and design, then ProtonVPN more than deserves a try.
ProtonVPN Subscription Packages
Here's where things get a bit confusing. ProtonVPN offers four plans to choose from, three of which can be paid monthly, yearly, or every two years. The free package, of course, requires no form of payment but you will have to sign up for an account nonetheless. You'll also be limited to just 23 servers in three countries and you can only have one VPN connection active at any given time. Expect speeds to be fairly slower with this tier.
The Basic plan offers 350+ servers in 40+ countries, allows two VPN connections at a time, and has better speeds than the free tier. Subscribing for the Plus plan nets you all the servers in all the countries, as well as up to 10 VPN connections and the best speeds. Finally, the Visionary plan boasts all the features of the Plus plan but throws in a ProtonMail Visionary account as well.
We have highlighted the plans from the Plus Plan, which we feel offers the best value for money.

US $4.99/month. Save 33%. Billed Every 24 Months.
30-day money-back guarantee.

US $5.99/month. Save 20%. Billed Every 12 Months.
30-day money-back guarantee.

30-day money-back guarantee.
Payment Options
Credit and Debit cards
Easy, convenient, and instant. A very tempting payment method that's increasingly attractive to the less tech-savvy and those who don't care for the hassle of logging into your online wallet to send a payment through. The downside is credit cards are fairly easy to monitor and are prone to be stolen, with other payment methods nowadays being far more secure.
Paypal
One of the frontrunners in the online wallet industry, Paypal is one of the more secure payment methods on account of its encrypted platform and their customer service team take refund requests and chargeback concerns very seriously.
Bitcoin
Cryptocurrencies are becoming exceedingly more popular as a payment method these days, with Bitcoin, of course, being the most common. They're anonymous, fast, and they'll save you on fees. Why wouldn't they be popular?
Cash
We have yet to come across a VPN service that accepts cash as a payment method. Until ProtonVPN, that is. Paying cash has its obvious advantages. You can be dead sure your money goes where you intend it to, but the hassle of having to go outside your house just to make a payment probably makes this payment method one of the least popular.