PrivateVPN Review Summary
PrivateVPN is one of the older VPNs around but one that never bothered attempting to dethrone the bigger players in the scene. Its download speeds are below what we'd like but it makes up for them with some pretty decent upload stats. Its 200+ servers seem minuscule when compared to other VPNs out there, but its availability in 63 countries is nothing to scoff at. It's also great for bypassing geo-blocks for streaming sites and its Stealth VPN can even beat out the "Great Firewall" which is something.

The VPN offers enough local servers to make Australians look in its direction, but the performance on those servers was mediocre at best in our experience. It's also missing independent audits on its privacy policy, security system, and software which is a shame. PrivateVPN has its fair share of flaws, but it does enough things right to justify its modest price. If you're in the market for a VPN specifically for streaming shows or bypassing restrictions, PrivateVPN can help you out.
User-friendliness and Accessibility
9.1
Positives
Unblocks many streaming platforms
Bypasses censorship
Good security features
Cheap
Negatives
Limited Server Network
Slow Speeds
Should Aussies Use PrivateVPN ?
PrivateVPN Review Introduction.
PrivateVPN has been part of the VPN scene for a while now, having provided quality service for the past 12 years. But instead of trying to dominate the market with out-of-the-box features and an insane number of servers, PrivateVPN opted to focus on simplicity, offering some of the most user-friendly UIs we've ever tried and a level of security you can trust. 
Plus, it's pretty friendly on the wallet across all subscription plans, so you're not forced to commit to a ridiculously lengthy plan just to save a buck. Is a no-nonsense VPN the best choice for you? Or should you splurge a little for something with a bit more under the hood? Let's break down the good and the bad, in this PrivateVPN review.
Streaming fans will be glad to know that bypassing geo-restrictions is one of this VPN's specialties, particularly if you're planning on accessing Netflix libraries from various different countries. Aside from that, it has stellar security, a trustworthy privacy policy, and some decent torrenting capabilities. 
PrivateVPN has servers located in 63 countries, which is relatively modest compared to some of the other VPN services on the market, like HideMyAss (190), ExpressVPN (94), and CyberGhost (91). It does, however, manage to beat out NordVPN (60), which is a testament to the fact that you don't need widespread global reach to be an excellent VPN. 
When it comes to speed, PrivateVPN managed to hit the 94 Mbps mark, ranking it among the best that we've ever tested. That may not be quite as high as Private Internet Access (98 Mbps) but it does leave ExpressVPN (89 Mbps) and Surfshark (85 Mbps) in the dust. While this might make PrivateVPN seem like the obvious choice on paper, it isn't at all indicative of its speed performance when connected to different servers.
Its privacy policy is straightforward and easy to understand, with the service maintaining a strict "no logs" rule towards all of its users. That being said, they do collect some personal data, particularly regarding your email and billing information, though these are fairly common practices for VPNs. 
One thing that's worth noting, however, is that PrivateVPN has yet to implement any form of third-party audits for their platform, forcing users to take the VPN's word for all of its claims. Now, we're not saying that PrivateVPN is overselling its security or lying about its policies, but independent audits go a long way in bolstering a VPN's reputation and putting a user's mind at ease.
Key Stats
An Easy to UseVPN That Excels At Bypassing Restrictions.
PrivateVPN's best features are its no-nonsense UI, its ability to bypass geo-blocks for video streaming platforms, and its adeptness at functioning in VPN-restricted countries. It also has some solid security features to boot. Here are some of the VPN's main characteristics: 
Logging Policy
No Logs
Location
Sweden (14-Eyes Member)  
Security Incidents
No
No. of Servers
200+
No. of IP Addresses
7,000+
Countries
63
Supported VPN Protocol
IKEv2/IPSec
OpenVPN (TCP/UDP)
Torrenting
Unlimited
Access International Media
Yes
PrivateVPN's Specs.
PrivateVPN is a basic VPN with just two different VPN protocols and a limited number of servers. It's also worth noting that PrivateVPN is located in Sweden, which is a 14-Eyes member.
Streaming
Get Ready For More Netflix Content.
Where most VPNs make half-assed promises of accessing your favourite streaming sites, PrivateVPN actually puts its money where its mouth is. It's especially adept at unblocking Netflix in a variety of locations, which is known for being one of the more stubborn sites to get through.
As a cool bonus, the VPN was developed to be streaming-friendly, with servers being clearly labeled for their ability to access specific streaming platforms. It's not just for show, either. During our testing, the servers without labels struggled to get through Netflix's restrictions, while the ones that did have a label got through effortlessly.
Access over 30 International Netflix Libraries:
PrivateVPN unlocks one of the most international of all of the VPNs we have tested. Below is a list of some of the more popular libraries that PrivateVPN unlocks.
United States
United Kingdom
Canada
Brazil
India
Japan
Singapore
Canada
Germany
Italy
Netherlands
South Korea
France
+ more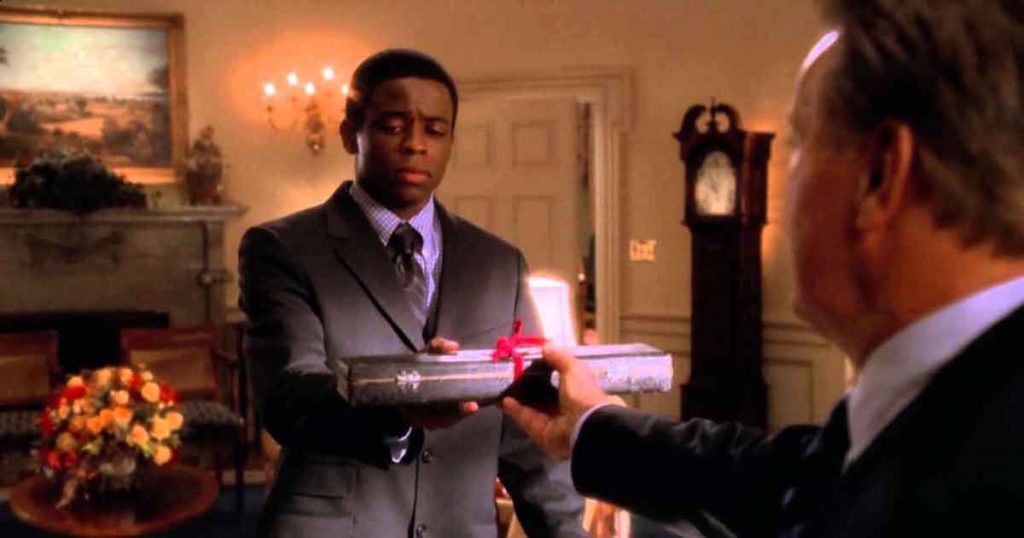 Accessing international Netflix libraries couldn't have been easier. Simply select a server in a country you want to watch content from, sign in to Netflix, and voila! This is the best VPN for watching Netflix.
Does PrivateVPN Work With Popular Streaming Services Accessed from Australia?
The VPN has specialized servers that are capable of accessing more than 10 different streaming platforms. We tested all of them and they made good on their promise, even for sites that are notorious for blocking out VPNs, such as Amazon Prime Video, Netflix, and iPlayer. Here are a few of the websites that you'll be able to access:
Amazon Prime Video
Disney+
HBO Max/Go
Hulu
DAZN
Sky
RTE Player
SVT Play
NBC
+ more
PrivateVPN doesn't overreach by promising to unblock all the video streaming sites in existence like other VPNs do. This leaves it a little limited when it comes to choices, sure, but the VPN does offer the most popular ones and makes sure that it can unblock them as advertised with little-to-no effort. The VPN gave Netflix a lot of extra love, offering up dedicated servers for the streaming giant in various different countries, including the US, Canada, UK, Italy, Germany, and Peru.
Does PrivateVPN Unblock BBC iPlayer?
Yes, IPVanish does unblock BBC iPlayer consistently while maintaining good speeds for HD streaming. We tried all of the UK-based servers and found that they all unblocked BBC iPlayer.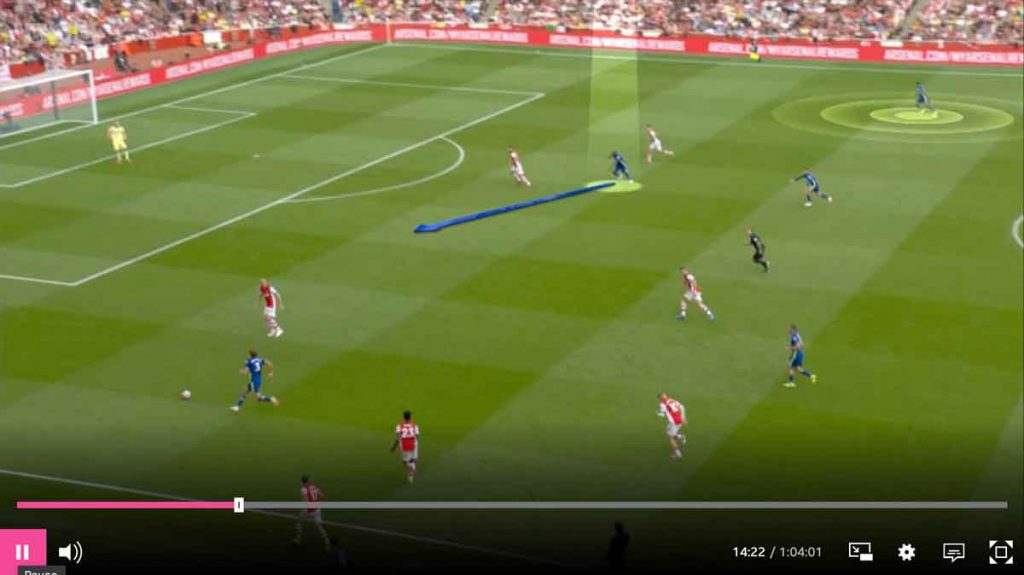 Overall, PrivateVPN is one of the best VPNs for streaming. It unlocks over 30+ Netflix libraries, BBC iPlayer, and a plethora of other popular streaming platforms.
Torrenting
Great Features, Disappointing Bitrate.
As far as torrenting is concerned, PrivateVPN is as friendly as they come. You've got no cap on your peer-to-peer file sharing, no restrictions on your bandwidth, and a "no logs" policy to maintain your anonymity and security. It even allows port-forwarding on some of its servers, which is a feature lacking from most VPNs currently on the market. 
Some of the benefits of port-forwarding in VPNs include an uptick in download and seeding speeds for torrents, better performance when hosting online games, and allowing for remote access to some of your gadgets at home. On the flip side, port-forwarding can leave you at risk for attacks from malicious users, which is why a lot of VPNs don't have the feature to begin with.
While PrivateVPN has all the right tools and features to make it a great torrenting VPN, unfortunately, it didn't have the speedy torrent bitrate to go along with it – in our experience, at least. It clocked in at a dismal average bitrate of 4.2 MiB/, which is the slowest in our books by far. To give you a better idea, our current frontrunner is Proton VPN with a 13.2 MiB/s bitrate, whereas the second-worst performance (behind this one) is from IPVanish with 6.2 MiB/s.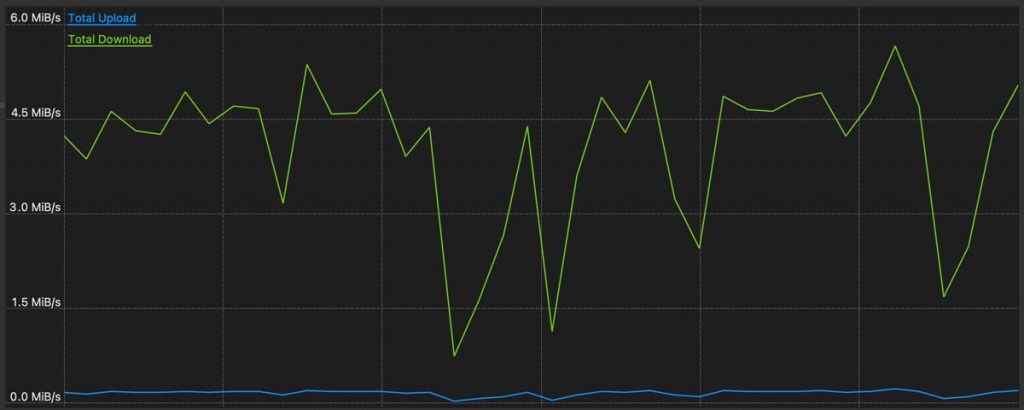 Don't get us wrong, PrivateVPN's torrent-specific features are great and a port-forwarding option is sure to be loved by many, but if you're on the lookout for a VPN particularly, then you're probably better off looking elsewhere. An odd torrent or two here and there should be fine, but the mediocre bitrate means that it just isn't the right pick for torrent-heavy users.
Speed
Disappointing Speeds Both Locally and Internationally.
When testing for speed, PrivateVPN turned in a fairly subpar performance overall, with high download and upload reduction numbers both on local and international servers. Download speeds were particularly affected, as we recorded some of the lowest numbers we had ever come across, especially when it came to Brazil and South Africa – two servers Australian users are known to frequent. All things considered, PrivateVPN managed to perform a bit better than Private Internet Access VPN, albeit not by all that much.
Local Speed Test Results
Despite PrivateVPN managing to stay off the bottom of our list, when testing on Australian servers the service gave us download speeds that were significantly lower than those we got from the more prominent names in the industry. Uploading was a lot more serviceable but nothing to write home about.
During our test runs, we logged a 33.87% reduction in download speed on average when connecting to a local Sydney server, while upload speed reduction was a lot better at 18.56%. In comparison, NordVPN gave us an average download speed reduction of 4.71%, while CyberGhost had an average upload speed reduction of just 5.82%. 
For Australian residents looking for a VPN that can offer blazing fast download speeds, PrivateVPN may not be the best service for you. Though it does perform a lot better on the uploading front, there are still a lot of other VPNs out there that do a better job speed-wise.
| | | |
| --- | --- | --- |
|  VPN |  Download (Mbps) |  Upload (Mbps) |
| No VPN | 108.73 | 18.70 |
| PrivateVPN | 71.90 | 15.23 |
| % Difference | -33.87% | -18.56% |
Speed difference: upload/download when on and off PrivateVPN in Australia, with the percentage difference.
International Speed Test Results
Regrettably, PrivateVPN didn't do much better on some of the international servers we tested it on. When connected to a US server, for example, we got download and upload speed reductions of 61.39% and 29.36% respectively, and that was actually the best of all the international servers that we tried out. PrivateVPN did particularly poorly when we connected to South African or Brazilian servers.
| | | | | |
| --- | --- | --- | --- | --- |
| Country |  Download (Mbps) |  Upload (Mbps) | % Difference (Download) | % Difference (Upload) |
|  USA | 41.98 | 13.21 | -61.39% | -29.36% |
|  United Kingdom | 37.17 | 9.41 | -65.81% | -49.68% |
|  India | 32.90 | 8.39 | -69.74% | -55.13% |
| Brazil | 15.78 | 13.54 | -85.49% | -27.59% |
| South Africa | 14.31 | 9.76 | -86.84% | -47.81% |
PrivateVPN international speed tests connecting to multiple countries from Australia.
How Does Surfshark compare to Other Major VPNs from Australia?
When connected to Australian servers, PrivateVPN was among the slowest VPNs we had ever tested as far as downloading was concerned. It did a lot better when it came to uploading but there are still a lot of other services that came out ahead on that end. PrivateVPN also struggled quite a bit on international servers that Australians often visit, such as the US, India, Brazil, and the UK. 
The bottom line is that speed isn't PrivateVPN's strong suit, with its download speeds being particularly low compared to most other popular VPNs out there. Whether it's locally or internationally, if high-speed is on the top of your list of VPN characteristics, then you might want to skip this one.
Data Privacy
Thorough and Easily Digestible Privacy Policy but Lacking Independent Audits.
PrivateVPN's privacy policy is easily accessible from the "About Us" section of the website which can be found at the very bottom of every page. It's a pretty straightforward document that's a few pages long and what it basically boils down to is that the VPN follows a strict "no logs" practice. 
This means that the service does not store or save any information when it comes to "browsing history, traffic destination, connection time stamps, DNS queries, IP addresses, data content, or bandwidth". They do, however, save minimal information in the form of your email address, password, and billing information, but that's not out of the ordinary for most VPN services.
Despite the first line of the policy being overly legal-sounding, it's pretty easy to read and very thorough when it comes to what you should and shouldn't expect

It is worth noting that PrivateVPN completely lacks independent third-party audits, which is something a lot of the more popular VPNs are implementing these days. It's a great practice that instills confidence in the user by letting them know that the service's policies and software have been tried and tested by professionals. PrivateVPN should definitely consider doing so themselves.
Who Owns PrivateVPN & What Jurisdiction Is it Under?
PrivateVPN was established back in 2009 and is owned by a company known as Privat Kommunikation Sverige AB. Its headquarters is located in Sweden which happens to be under the jurisdiction of the 14-Eyes alliance.
This is a group of 14 countries that have signed an agreement to share surveillance information with one another, meaning if legally required then PrivateVPN will have to give up whatever minimal information they have pertaining to their users.
To their defence, however, PrivateVPN has stated in their privacy policy that they would only give up information pertaining to a user "if the country to which the personal data will be transferred has been granted a European Commission adequacy decision" or if they're allowed to put proper safeguards on the information depending on the particular situation.
Any History of Data Leaks or Violations?
PrivateVPN has experienced no major data leaks or significant violations since it was founded, which is great news considering how long it's been around. 
Security Analysis
A Solid Security System That Could Use Some Extra Features.
We've already mentioned that PrivateVPN hasn't set up regular audits for their privacy policy but they've also neglected to do so when it comes to their security and software. On the plus side, they've had no major incidents regarding leaks and security breaches since the VPN was released.
 Protocols
IIIKEv2/IPSec
OpenVPN (TCP/UDP)
L2TP
PPTP 
 Security
DNS Leak Blocking
First-party DNS
IPV6 Leak Blocking
Supports TCP Port 443
VPN Kill Switch
 Encryption
 AES-256
 Advanced features
Stealth VPN
PrivateVPNs's security standards and protocols.
Most VPNs at least have independent audits in place for certain aspects of their security as well as their app, with a privacy policy check being the nice cherry on top. It would be in PrivateVPN's best interest if they adopted a similar approach to their service. That way that can give their users some peace of mind while always staying on top of their policies and security features.
The Safest Encryption Around
PrivateVPN uses an AES-256 encryption method which is pretty much the best that's currently available and the one that's utilized by the vast majority of successful VPNs on the market. The 256-bit key ensures that all of your information is secured by a level of encryption so complex that it's nigh impossible to hack or bypass. If it's good enough for the biggest companies and governments in the world, then it's definitely good enough for you.
Four VPN Protocols
PrivateVPN has four protocols to choose from in order to maintain your safety and anonymity. Two are the standard protocols that are available on most VPN services, while the others are less known and offer niche uses. 
PPTP
Think of this as the upgraded version of PPTP, utilizing a faster transport system and better encryption. This makes it the safer choice than its predecessor and it's generally easier to set up with most firewalls. On the flip side, L2TP doesn't work well with certain firewalls, as its method of encapsulating information twice can bog down speeds quite significantly. It also eats up more CPU processing power than others.
IKEv2/IPSec
You'd be hard-pressed to find a modern VPN that doesn't offer IKEv2/IPSec. It's often the fastest choice and generally works best when connected to a server that's physically closest to you. But that's not to say that it doesn't work great with servers that are further away. It's also the optimum protocol when you're connecting to your network via mobile phone since its auto-connect feature prevents data leakage when switching from mobile data to a Wi-fi connection. 
L2TP
Think of this as the upgraded version of PPTP, utilizing a faster transport system and better encryption. This makes it the safer choice than its predecessor and it's generally easier to set up with most firewalls. On the flip side, L2TP doesn't work well with certain firewalls, as its method of encapsulating information twice can bog down speeds quite significantly. It also eats up more CPU processing power than others.
OpenVPN
This is another mainstream protocol that can be found in most VPNs and it's the go-to choice when you're looking for some added security. It's open-source, which allows it to be constantly improved on, making it a favourite for security experts. You can choose between two versions, TCP and UDP. The latter is the faster of the two while the former is usually a bit more stable. Overall, it's slower than the IKEv2 protocol but its security is where it shines.

Supports TCP Port 443
Unlike regular HTTP that's unsecured and travels on port 80, HTTPS is a more secure protocol that encrypts information and utilizes port 443. This gives you an added layer of security and prevents malicious users from monitoring and potentially stealing your valuable personal information.
VPN Kill Switch
This is a common feature found in most VPNs. It automatically cuts all traffic to and from your IP in case your VPN goes down unexpectedly. The external traffic will remain blocked until your device is able to reconnect to the VPN server once more.
Stealth VPN
Different VPNs have different names for this feature, but it all boils down to the same thing. It's a mode that makes it seem as if you're not using a VPN, allowing you to get through some tough restrictions in case you're staying in a country with stiff censorship systems in place. PrivateVPN is a bit stingy about exactly how this feature works, really. But it did help us get through some nasty blocks.
Access in Heavily Censored Countries
One of The Better VPNs at Bypassing Censorship.
People residing in countries with heavy internet censorship laws have no choice but to look towards a decent VPN to help them bypass web restrictions. Luckily enough, PrivateVPN is no slouch when it comes to bypassing restrictions.
China
The Chinese "Great Firewall" is among the toughest internet restriction systems in the world, almost completely blocking all traffic that seems to come from a VPN connection. PrivateVPN's Stealth VPN mode, however, is fully capable of bypassing this, making it a great choice for users residing in China. You might have to stay off the OpenVPN protocol, though, as those connections are the most likely to be caught by the firewall. L2TP seems to be the protocol of choice if you're trying to get through Chinese internet restrictions.
United Arab Emirates
The United Arab Emirates blocks many sites that the government decides is not allowed, such as adult websites and VOIP services like Skype and Viber. They've also banned anything that helps you access such sites, including VPNs. Fortunately, PrivateVPN's Stealth VPN can get through the blocks relatively easily without much tweaking needed.
Features That Help PrivateVPN Bypass Restrictions
Similar to Surfshark's Camouflage mode, PrivateVPN's Stealth VPN lets you hide the fact that you're using a VPN service by making it appear as though you're utilizing a regular connection. In doing so, the government will be unable to restrict your internet activity since they will have no idea that you're using a VPN in the first place.
Server Network
200+ Servers WorldWide.
PrivateVPN offers 200 servers spread throughout the world, which really isn't all that much compared to the likes of Private Internet Access' 35,900 or even ExpressVPN's 3,000. While server count is by no means indicative of how good a VPN is, 200 still remains awfully low by any standards. 
On the plus side, it has servers in 63 different countries, allowing it to narrowly beat out NordVPN (60) and IPVanish (57). The VPN also happens to have servers in countries Australians were found most likely to tap, including the US, India, the UK, and Brazil.
All PrivateVPN's server locations
City-level Server Locations
Unlike most popular VPNs, PrivateVPN features only one server per city. Luckily enough, it offers a decent variety of cities among the countries that Australian residents are likely to browse content from.
| | | |
| --- | --- | --- |
| Country | City | No. of Servers |
| Australia | Sydney, Melbourne, Brisbane, Perth | 4 |
| Germany | Berlin, Frankfurt | 2 |
| France | Paris | 1 |
| USA | Atlanta, Buffalo, Chicago, Dallas, Denver, Las Vegas, Los Angeles, Miami, New Jersey, New York, Phoenix, Seattle | 12 |
| India | Bangalore | 1 |
| Canada | Montréal, Toronto, Vancouver | 3 |
| UK | London, Manchester |   |
A limited number of servers in popular cities.
Server Types
The vast majority of PrivateVPN's servers are physical, meaning they actually reside in the countries they access. Only 1/10 servers in its list are virtual, the kind that accesses traffic from a certain country but is located elsewhere. The upside of physical servers is that their close proximity to the country they're accessing allows for minimal loss in internet speed.
Device Compatibility
Highly Compatible With The Majority of Devices.
IPVanish has native app support for all major devices and operating systems, and even a native app for some routers.
PrivateVPN Apps
| | |
| --- | --- |
| Windows |   Yes |
|  Mac |   Yes |
|  iOS |   Yes |
|  Android |   Yes |
|  Linux |   Yes |
| Chrome OS | No |
|  Router |   Yes |
| Amazon Fire Stick | No |
PrivateVPN Apps.
Compatibility might just be PrivateVPN's strongest suit, as the service's software is a breeze to set up whether it's on Windows, macOS, Linux, Kodi, or Android and iOS smartphones. Downloading the app is as easy as navigating to their official website and clicking the "Download" link at the bottom left corner of the page. You'll find it under the "PrivateVPN" column. From there, you just have to select your platform of choice and follow the installation instructions.
Protecting Devices Without an App
PrivateVPN also allows you to set up the service directly on the router, allowing you to use it with devices that don't necessarily offer native VPN support. Some of those devices include:
PlayStation 4 /5
Chromebooks
Smart TVs
Apple TV
Nintendo Switch
+ more
Browser Extensions
Another feature that's noticeably lacking from PrivateVPN's repertoire is browser extensions. Other VPNs like Surfshark and CyberGhost have developed "lite" versions of their software that you can install on your web browser as an add-on or extension. They allow basic VPN functionality strictly on the browser that you're using, but they're very useful nonetheless. Unfortunately, PrivateVPN is missing them.
Customer Support
Customer Support – Fantastic Customer Service, Limited Hours.
PrivateVPN's customer support team appeared well-trained and quicker to respond, offering insightful answers and solutions to whatever we threw their way. And it only took us a minute or two to get connected with a live representative. The service's online resources can all be found at the bottom of the page, making them exceedingly easy to navigate. They even have a nice blog portion that hasn't received many updates as of late.
| | |
| --- | --- |
|  Live Chat (human representative) |  Yes – very good |
| Chat Bot | No |
|  Phone | No |
| Email | Yes |
| Online Resources |  Yes – excellent |
Different methods of PrivateVPN customer service.
Live Chat (Human Representative)
The website is completely missing a chatbot or anything of the sort. You have a button that pops up on the bottom-right corner of the screen that asks for some personal information before connecting you directly to a human representative.
While they did provide us with some top-notch customer service, what we didn't know was that the team adhered to some form of office hours that wasn't properly advertised on the chatbox or anywhere else on the site for that matter. If you attempted to chat them up outside of those hours, you'd be greeted by a message telling you to shoot them an email instead.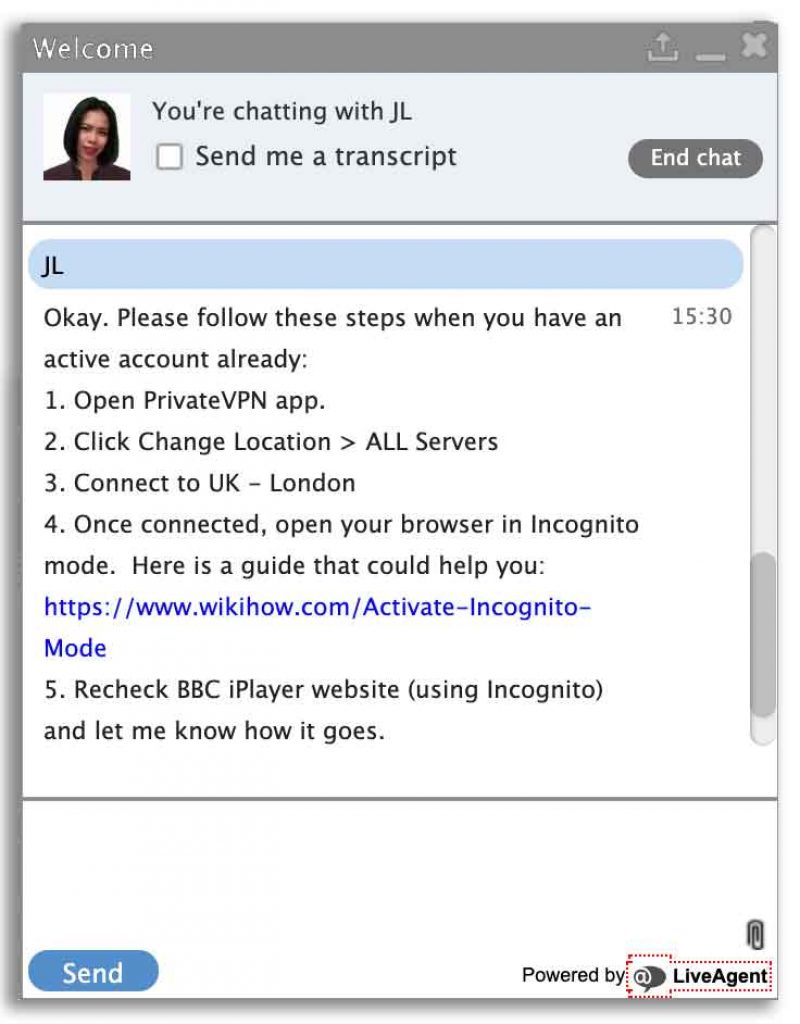 Email
Speaking of email, the email address you can use to send them inquiries is noticeably absent from their "Contact Us" page. Instead, you can find it in their Privacy Policy section, which we found kind of weird.
The Verdict
A Decent VPN Service That Has Its Shortcomings.
While Private VPN doesn't exactly rank in our top five list, it's a competent service that gets the job done. Its strongest features include its streamlined UI that's exceedingly easy to use, along with its Stealth VPN mode that lets you mask your internet activity to make it seem as if you aren't using a VPN at all. This allows it to get through some of the stricter restrictions around, including the firewalls and blocks put up by China and the UAE. It's also great at accessing Netflix and is pretty affordable which is always a plus.
The service has a lot to work on, however. Its download speeds were among the slowest we've recorded on the servers we tested, and it's a little bareboned as far as features are concerned. Not to mention the absence of browser extensions and the lack of any form of independent audits to keep the VPN's privacy policy, security, and software in check.
All things considered, it's a fine VPN that's great for bypassing geo-restrictions in streaming sites and is fully capable of getting through blocks in countries that are known for their censorship. It has enough security features that you'll feel safe and anonymous while browsing and it won't hurt your wallet as much as some of the other VPNs out there. If you're looking for a no-nonsense VPN that does its job just fine, PrivateVPN has you covered.
 
PrivateVPN Subscription Packages
PrivateVPN offers one of the cheapest monthly services around, perfect for people who don't enjoy committing to year-long subscriptions plans. It also has a 3-month plan which is fairly uncommon since most services jump straight to 6 months.
It's significantly cheaper than the monthly subscription too. And for users who like to buy in bulk, their 2-year plan is by far the cheapest and is priced in the same range as CyberGhost and Surfshark.

US $2.50/month. | Save 77%
30-day money-back guarantee.

30-day money-back guarantee.
30-day money-back guarantee.
Payment Options
This VPN allows payment via the more common channels, though their acceptance of bitcoin as a payment method is a nice plus.
Credit and Debit cards
This payment method is often considered convenience over safety, as it is extremely accessible but fairly risky since tracing it back to you is a simple process and you're always at risk of having your information stolen.
 
Paypal
Paypal is a relatively safe payment method that's quick and easy to access. It's pretty safe as well, on account of how the platform encrypts its information.
 
Bitcoin
The newest and perhaps the most secure payment method on the list, bitcoins are anonymous, quick to send, and often incur fewer fees than other channels.
PrivateVPN Compared to Other High-rated VPNs
Lowest Monthly Price
Logging Policy
Download SPeed
US NEtflix