Surfshark Review Summary
Surfshark is a newcomer in the world of VPNs but it has proven itself a capable service nonetheless. It offers some of the overall better download and upload speeds that we've tested and its 3,200 servers across 65 are more than enough for the average user. The VPN has no trouble at all bypassing geo-restrictions for the majority of streaming platforms but its strongest characteristics are its features that allow you to use the service even in countries with heavy internet censorship. 

Surfshark has local servers in five major Australian cities which is just as impressive as the fantastic ExpressVPN. Speed-wise, the VPN performed well enough on local servers but there are a few other services out there that can do significantly better. Another downside is its lack of third-party auditing when it comes to its privacy policy and app, which could've been a great way to provide their users with a little bit of extra assurance regarding the VPNs effectiveness. Either way, if you're looking for a VPN to use in restricted countries, Surfshark is your guy.

User-friendliness and Accessibility
9.1
Positives
Fast Local Speeds
Good Australian Server Network
Good for Torrenting
Fairly-priced
Negatives
Unblocks Limited Streaming Platforms
Cannot Bypass Censorship
Should Aussies Use Surfshark?
Surfshark Review Introduction
Surfshark is a relatively new entry to VPN game, offering some solid features and impressive speeds at a fairly reasonable price – as long as you're willing to commit long-term, that is. It has all the right bells and whistles to stand next to the leaders in the industry and a respectable amount of servers spread across a decent number of countries.
But does the new guy have enough under the hood to rival the best in the biz? Or are you better off sticking to VPNs that are a little more tried and tested? Let's find out, in this Surfshark review.
Fans of content streaming are in for a treat, as Surfshark is exceedingly adept at bypassing geo-blocks for the majority of popular streaming sites. It also sports some excellent security features and comes with a strong privacy policy to boot, making the VPN a good choice for torrenting as well.
Its servers are spread across 65 countries, which may be a fair bit behind the likes of HideMyAss (190), ExpressVPN (94), and CyberGhost (91), but it still manages to stay ahead of popular picks NordVPN (60) and IPVanish (57). Surfshark manages to clock in some great performance at an average speed of 84 Mbps, making it just a tad slower than ExpressVPN and CyberGhost – both exceptional VPNs in terms of speed.
It has servers located in an impressive 91 countries, which may not be nearly as much as HideMyAss (190) but it's only a step behind ExpressVPN (94) and thoroughly trounces NordVPN (60). During our tests, CyberGhost clocked in at an average speed of 89Mbps, putting it on par with the excellent ExpressVPN – one of the faster services we've had the opportunity of trying out. 
When it comes to privacy, Surfshark is remarkably transparent about its policy, promising a strict "no logs" rule that's well-explained on the VPNs website. They do, however, collect a bit of information regarding your email address, password, and payment information, though that's not particularly surprising. The VPN also requests your permission to collect diagnostics and analytics data, but you can opt out of that whenever you want.
Unfortunately, just like CyberGhost, Surfshark still hasn't hopped on the independent audits bandwagon that an increasing number of VPNs are becoming a part of, which is a great way to put the minds of users at ease when it comes to the safety of their personal information. On the plus side, the privacy and security audits of the VPN's browser extensions have all been clean thus far, and there have been no major breaches or other incidents since Surfshark's release.
Key Stats:
Everything You Would Expect from a Top-tier VPN.
Surfshark's strengths lie in its nominal speed reduction, sturdy security system, and easy-to-navigate interface, making it effortless to navigate your usual sites and stream your favourite content safely and anonymously. Here are some of the VPN's highlights:
Logging Policy
Anonymous Server Usage Data  
Location
British Virgin Islands (Privacy Haven)  
Security Incidents
No
No. of Servers
3,200+
No. of IP Addresses
3,200+
Countries
65
Supported VPN Protocol
IKEv2/IPSec
OpenVPN (TCP/UDP)
WireGuard
Torrenting
Permitted
Access International Media
Yes
Surfshark VPN's Specs.
Surshark has everything that we would expect from one of the best VPNs out there. There is a solid server network across 65 different countries, leading VPN protocols, and a no-logs policy.
Streaming
Perfect for Binge-Streaming.
Surfshark does an amazing job of bypassing geo-restrictions when it comes to streaming platforms, easily unlocking most popular sites, such as Netflix, BBC iPlayer, HBO Max, Disney+, and a whole lot more. It even allowed us to get through Amazon Prime Video's blocks – a site known for giving most VPNs a lot of trouble. If you use VPNs mainly to watch various content from around the globe, then Surfshark has lots to love.
Access over 25 International Netflix Libraries:
Surshark does a stellar job unblocking Netflix in over 25 different countries including US Netflix.
United States
United Kingdom
Canada
Brazil
India
Japan
Singapore
Canada
Germany
Italy
Netherlands
South Korea
France
And more
It was incredibly quick and easy to unblock US Netflix using Surfshark. There are no servers dedicated to streaming, but every single US server tried was able to access The US Netflix library.
Surfshark is certainly one of the best VPNs for unblocking Netflix in the US. It does it consistently and the speeds when connecting to the US servers from Australia are more than capable of streaming even 4K content.
Does Surfshark Work With Popular Streaming Services Accessed from Australia?
We tested Surfshark's geo-unblocking capabilities as rigorously as we could and we managed to get through to more than 20 streaming services throughout the 50 different servers we tried out. Here are some of the more famous ones you can look forward to:
Netflix
Hulu
HBO Max/Go
Disney+
Peacock TV
BBC iPlayer
ESPN & ESPN+
Amazon Prime Video
Crunchyroll
More
Surfshark may not have the expansive streaming repertoire that CyberGhost has to offer, but it has an excellent list nonetheless, with its Netflix performance being especially notable.
As most streaming fans would know, Netflix is notorious for working tirelessly to thwart the efforts of VPNs in unblocking their content, which usually leads to a lot of the VPN's servers simply failing to bypass the site's restrictions.
Luckily enough, Surfshark has shown no such trouble, easily managing to access Netflix's library both locally in Australia, as well as the US, Canada, Brazil, Netherlands, Philippines, and even Turkey, just to name a few.
Does Surfshark Unblock BBC iPlayer?
Yes, Surfshark easily unblocks BBC iPlayer. We tested all server locations based in the United Kingdom successfully unblocked BBC iPlayer. Surfshark also maintains high speeds when connecting to these servers from Australia.
Overall, Surfshark proves itself to be one of the best VPNs for streaming. It easily unblocks almost all popular streaming services, including Netflix US. BBC iPlayer, and Disney+. It streams these services without buffering due to the high speeds maintained when connecting to international servers.
Torrenting
Exceptional Performance and Security,
If You Know What You're Doing.
Another main reason people use VPNs is for torrenting and Surfshark performs really well in that regard. But while all of its servers are torrent-capable, figuring out which ones are particularly optimized for P2P (Peer-to-peer) activities can be a bit of a pain. Unlike most VPNs that simply offer you a list of torrent-friendly servers to choose from, Surfshark automatically selects one for you, which is incredibly convenient for the average user who just wants to get their downloads going.
Problem is, the auto-selected server may not be the optimal choice for your connection. After some testing, it seems that manually selecting a P2P-friendly server closest to your physical location results in a notable difference in speed. If we just left it all up the VPN, we'd have wasted some pretty serious bandwidth. Luckily enough, finding these optimized servers is a breeze on account of the VPN's intuitive UI.

When it comes to bitrate, Surfshark does an excellent job, clocking in an average speed of 13.1 MiB/s during our test runs. To put this into perspective, that's just a tiny bit slower than our reigning champion – ProtonVPN (13.2 MiB/s) – and it beats out fan-favourites ExpressVPN (11.8 MiB/s) and NordVPN (12.5 MiB/s) by a decent margin. 
Minor misstep aside, Surfshark's no-nonsense "no logs" policy combined with its iron-clad encryption, excellent security features, and lack of any significant privacy breaches make it a fantastic choice for your p2p tasks.
Speed: 9.1
Great Speeds, Particularly on International Servers.
Speedwise, Surfshark turned in a solid performance overall, offering users speedy connections for both downloads and uploads. It performed better than most on its Australian server, outperforming the likes of ExpressVPN and IPVanish during our test rounds.
Moreover, the VPN managed to maintain its stellar speeds across other popular servers Australians are known to visit, including the US, UK, and Brazil. It struggled a bit when it came to Indian and South African servers, but to its credit, most VPNs have a tough time with those regions.
Local Speed Test Results
While it may not have performed quite as well as CyberGhost or NordVPN, Surfshark still turned in a strong performance when we tried it out on its Australian servers, though the dip in download speed was fairly noticeable. Upload speed, on the other hand, was among the best we've ever tested.
In our tests, Surfshark ended up with an average download speed reduction of 17.52% when connected to the local Sydney server, which is significantly higher than NordVPN (4.71%) but still a fair bit better than IPVanish's (23%).
In contrast, this VPN turned in an average upload speed reduction of just 5.16% – a much better performance than NordVPN (50.33%) and even outdoing the remarkable scores of CyberGhost (5.82%).


For Australian users looking for anonymity and security during their online activities, Surfshark offers some solid download speeds, though there are other VPNs that perform better by a decent margin. Its upload speeds on local servers, however, proved to be quite impressive, beating out most top VPNs.
| | | |
| --- | --- | --- |
|  VPN |  Download (Mbps) |  Upload(Mbps) |
| No VPN | 107.88 | 18.40 |
| Surfshark | 88.98 | 17.45 |
| % Difference | -17.52% | -5.16% |
Speed difference: upload/download when on and off Surfshark in Australa, with the percentage difference.
International Speed Test Results
While Surfshark's overall speeds were just all right on Australian servers, it was a completely different story when we tested them on some of the more popular international servers.
US servers were particularly impressive, with download and upload speed reductions of just 8.68% and 7.12% respectively.
UK and Brazil server performances were also fantastic, making Surfshare an awesome choice if you're planning to utilize IP addresses from abroad.
| | | | | |
| --- | --- | --- | --- | --- |
| Country |  Download (Mbps) |  Upload (Mbps) | % Difference (Download) | % Difference (Upload) |
|  USA | 98.52 | 17.09 | -8.67% | -7.12% |
|  United Kingdom | 86.60 | 16.37 | -19.73% | -11.03% |
|  India | 43.55 | 10.17 | -59.63% | -44.73% |
| Brazil | 83.08 | 16.53 | -22.99% | -10.16% |
| South Africa | 16.91 | 8.19 | -84.33% | -55.49% |
Surfshark international speed tests connecting to multiple countries from Australia.
How Does Surfshark compare to Other Major VPNs from Australia?
On Australian servers, Surfshark put up an average performance in terms of download speeds but managed to make up for it with an excellent showing on the uploading end.
Where it really shined, though, was on the international spectrum, putting up marvellous numbers in most servers Aussies are likely to visit. It stumbled a bit on Indian and South African servers, but in our experience, the majority of VPNs struggle with those particular regions. 
All things considered, Surfshark is a well-rounded VPN service in terms of speed, with its strengths lying particularly in its performance on international servers. So if online interests require off-shore connections, then this VPN may have just what you need.
Data Privacy
A Trustworthy Policy That Could Be Bolstered With Independent Audits 
Surfshark's privacy policy is easily accessible on the bottom-right corner of their website, offering up an in-depth look at the policy spread across 13 sections.
We particularly enjoyed the fact that the most important sections of the policy were highlighted in blue, allowing you to take in the cliff-notes without having to read through the entire page.
For those who want to be thorough and read the whole thing, the policy is written in a manner that's easy to read and digest, even for users who aren't exactly tech experts.
Being based in the British Virgin Islands allows the VPN to maintain its strict "logs-free" approach, with the service vowing that they never collect "IP addresses, browsing history, session information, used bandwidth, connection time stamps, network traffic, and other similar data".

Surfshark also requests diagnostic and analytics data from their users for the purposes of improving their software, though this is completely voluntary and you can easily opt-out of it in the app settings.
While the VPN has performed (and aced) security and privacy audits as far as its browser extensions are concerned, Surfshark has yet to set up regular third-party audits for its privacy policy and app. Many of the leading VPNs have been implementing this approach and it's a great way to put their users' minds at regarding the privacy and security of the service they're utilizing.
Who Owns Surfshark & What Jurisdiction Is it Under?
Surfshark has been owned by Surfshark Ltd. since it was established in 2018. They operate out of their headquarters in the British Virgin Islands which is perfect for a VPN since the region doesn't require them to store or report any kind of data.
Furthermore, this location keeps them off of the 5 Eyes, 9 Eyes and 14 Eyes alliances, which is a collaboration between certain Western countries to share sensitive data. This means that no neighbouring governing body can request Surfshark to give up any sort of information.
Any History of Data Leaks or Violations?
Surfshark has never had any major data leaks or breaches since its inception, though it is worth noting that the VPN hasn't been around for all that long. That being said, the VPN does provide a link to their Warrant Canary results in their privacy policy page that's constantly updated to ensure that they maintain the utmost transparency towards their users. 
For those unaware, Warrant Canary is a method that service providers use to inform their subscribers of any national security letters, gag orders, warrants from government organizations, and other such requests from governing bodies that the service has received. That way, users can be kept in the loop about where the service stands in terms of privacy against certain governments as well as general legal matters.
Security Analysis: 8.9/10
Stalwart Security With Some Great Extra Features
Similar to CyberGhost, Surfshark has yet to implement independent audits for their privacy and platform, but they have made regular security audits to their browser extensions, which include Google Chrome and Mozilla Firefox.
So far, they've done a great job in terms of browser security and privacy, with no major incidents occurring since the time the VPN was established around three years ago.
 Protocols
IKEv2/IPSec
OpenVPN (TCP/UDP)
WireGuard
Shadowsocks
 Security
DNS Leak Blocking
WebRTC Leak Blocking
VPN Kill Switch
 Encryption
 AES-256
 Advanced features
Double VPN
Smart DNS
SOCKS
Split Tunneling
Camouflage Mode
NoBorders Mode
CleanWeb
Surfshark's security standards and protocols.
While it certainly is great that Surfshark hasn't run into any serious privacy issues since it was created, we'd have preferred it if they submitted themselves to regular independent audits as far as their software and privacy policy are concerned. Not that their word can't be trusted, but it seems only fair that their users' minds should be constantly kept at ease.
Highest Encryption Standards
As with all successful VPNs nowadays, Surfshark utilizes AES-256 specification encryption,  which is the safest and most advanced form of encryption we have today. The "256" in its name refers to the 256-bit key that's used to encrypt your information, meaning the key itself is 256 characters long.
This makes it all but impossible for anyone but yourself to access your data. AES-256 is the same kind of encryption being used by even the most advanced governments, militaries, and companies in the world, so you know that its privacy and security are guaranteed.
Four VPN Protocols
Surfshark offers four different protocols to ensure your online anonymity and security, two of which are VPN constants that are expected in pretty much every service, while the other two are less widespread but every bit as useful depending on the activities you plan to do and the region you're in. 
IKEv2/IPSec
This is one of the most common protocols in VPNs today and is also often the fastest kind. It generally performs best when connected to the server nearest to you, but in our tests, it was able to maintain great speeds even when choosing servers that are further away.

This is the protocol of choice when using mobile devices, as it comes with an auto-connect feature that eliminates the threat of data leaks when switching from mobile data to Wi-Fi connections. Surfshark offers this protocol to Windows, iOS, Android, macOS, and Fire OS operating systems through their respective companion apps.
OpenVPN (TCP/UDP)
Another frequently found VPN protocol but one that has more of an emphasis on security than most. Due to it being open-source in nature, this protocol is constantly being refined and improved, which is why it comes highly recommended by security experts in the VPN field.

OpenVPN comes into different versions, TCP and UDP. UDP is the faster of the two, making it the more ideal choice for video streaming or online gaming. TCP, on the other hand, is often slower but generally more stable.

OpenVPN is generally slower than IKEv2/IPSec and is usually the protocol to go with if you need that extra bit of security. Either way, OpenVPN protocols worked well with Surfshark, even though there was a noticeable yet expected decrease in speed when used. It's available to the same platforms as IKEv2/IPSec but with the addition of Linus systems as well.
WireGuard
This is sort of like the middle ground between IKEv2/IPSec and OpenVPN, offering some extra security without the notable hit in speed. During our testing, we found that our speeds were slightly slower than what we got with IKEv2/IPSec but it was still significantly faster than when we used OpenVPN.

We recommend this protocol for general use like if you're planning on streaming shows, playing games, or just surfing the web. You can use WireGuard with Windows, Android, iOS, and macOS.
Shadowsocks
This is one of the rarer protocols you're likely to come across and it's an encrypted proxy that's mostly used to bypass internet blocks in countries that are known to have a high level of censorship. This includes China, Turkey, and various countries in the middle-east.

Shadowsocks isn't as secure as other protocols, since it's limited to encrypting only browser activities in Windows and Mac devices. That said, you should still use other protocols if you're not located in a high-censorship country, and even if you are, you're better off with OpenVPN.

In case OpenVPN can't get through the country's internet block, that's the time we recommend going with Shadowsocks. This protocol is available on both Windows and Android, though you can configure it manually if you're using a Mac or iOS device.
DoubleVPN
This is a cool feature that allows you to send your internet traffic through two servers instead of just one and it's also known as "MultiHop Servers". While it isn't a particularly helpful feature for the average user, it could come in handy for people who are extra careful with their privacy or if you're using the internet in a high-censorship country that's known for its vigilant surveillance.
Be warned, however, that your internet speeds will take a significant hit, which is to be expected since your traffic has to travel through two different servers in separate locations.
Split Tunnelling
Split Tunnelling lets you choose which websites or programs you allow through your VPN connection and is also called "Whitelisting". This comes in especially handy when you need to access secure sites without having to drop your VPN completely – particularly those that don't work properly with VPNs, such as online banking, for example. This feature only works with Windows and Android devices.
Kill Switch
Just like most VPNs, Surfshark has an automated kill switch feature that immediately shuts off your internet in case the VPN disconnects out of nowhere. This prevents any of your data from being leaked while you get the VPN up and running again.
The cool part is that Surfshark makes this feature even easier to access than most. All you have to do is click a little arrow icon above the server you're connected to and you'll see a kill switch toggle button that you can use to enable or disable the option at any time.
Camouflage Mode
Another useful feature for people who live in high-censorship countries, Camouflage Mode masks your VPN connection by making it appear as normal traffic. That way, both your ISP and government won't be able to tell that you're using a VPN and they won't be able to monitor your traffic either. It's also a great way to get around firewalls when using public Wi-Fi, as it'll allow you to bypass blocks for specific sites.
NoBorders Mode
Here's another feature that was designed specifically for use in countries with advanced internet restrictions. Using NoBorders Mode, you can detect any systems that are being used to block VPNs on your network and then you'll be given a list of the optimal servers to use given the restriction level of your location.
It's easy enough to activate the feature on Windows, Mac, and iOS devices, but it gets a bit trickier if you're on Android. You'd have to navigate to the "Advanced Settings" section of your Surfshark app, then tap and hold the "Protocol" option until the NoBorders setting appears. 
CleanWeb
Surfshark's version of your standard adware/malware blocker. CleanWeb worked surprisingly well at blocking ads on video streaming sites, like YouTube and Twitch, and it did a great job of preventing you from accessing harmful sites that are likely to contain malware or phishing scams.
Access in Heavily Censored Countries
 Perfect For Countries With Heavy Internet Restriction.
One of the main reasons people use VPNs is to bypass internet restrictions in countries that implement strict censorship laws. The good news is that Surfshark seems to be specifically developed to help out people residing in such countries. 
China
China is now known for its "Great Firewall" which almost completely blocks out traffic seemingly coming from a VPN connection. Luckily enough, we've found that Surfshark is one of the best VPNs at bypassing this firewall, though you may have to set up a manual connection if you ever run into trouble.
Turkey
While not necessarily illegal, the use of VPNs in Turkey has been restricted since 2016 as part of the country's alleged crackdown on global terrorism. Most VPNs have trouble bypassing the anti-VPN protocols placed on the country's network, but Surfshark isn't one of them.
United Arab Emirates
Another country that has banned VPN activity since 2012 is the UAE. Aside from telco companies, no one is allowed to utilize VPNs, which is a bummer since the country has also blocked most VoIP services as well. Surfshark, however, can bypass the UAE's restrictions just fine. And the same goes for its fellow middle-eastern country, Saudi Arabia.
Features That Help Surfshark Bypass Restrictions
Surfshark's NoBorders feature can help you detect the VPN-blocking systems placed on the country's network. Then, it lets you choose from a list of the best servers available considering the restrictions.
The VPN's Camouflage Mode will keep the fact that you're using a VPN under wraps by disguising your internet activity like it was coming from normal traffic. That way, the government can't restrict you from using a VPN connection. 
To top it all off, you can use the Shadowsocks protocol in case OpenVPN is having trouble bypassing the restrictions. Out of all the VPNs we've tried, this may be the best for using living in internet-restricted countries.
Server Network
More Than 3,200 Servers WorldWide
Surfshark boasts 3,200 servers across 65 countries, which may not seem much next to the 35,900 servers Private Internet Access has under its belt or CyberGhost's 6,900, but it's still more than enough for users all over the world. Actually, Surfshark manages to beat out the excellent ExpressVPN (3,000) when it comes to this category, meaning it's no slouch at all.
Country-wise, Surfshark doesn't beak the top 3 either, with it being able to connect to servers from 65 countries. Again, this is not all a small number, as it beats out some notable names in the VPN industry, such as NordVPN (60), IPVanish (57), and Windscribe Premium (63). Plus, Surfshark has servers in countries Australians are most likely to connect to, including the UK, India, and the US.
All Surfshark server locations
City-level Server Locations
While it doesn't offer as large a number of city-level servers as some of the other leading VPNs in the market, Surfshark does have a decent amount of servers in the locations that matter, both in Australia and abroad. 
| | |
| --- | --- |
| Country | City |
| Australia | Sydney, Melbourne, Brisbane, Perth, Adelaide |
| United Kingdom | London, Manchester, Glasgow |
| France | Paris, Marseille, Bordeaux |
| USA | 24 including LA, New York, San Francisco, Chicago |
| India | Mumbai, Chennai, Indore |
A good selection of city-level servers
offered by Surfshark.
Server Types
Surfshark has both physical and virtual servers, with some notable physical ones being located in heavily censored countries, such as Turkey and Russia. This is perfect for residents of those areas since they won't have to connect to servers located abroad and lose a lot of internet speed in the process.
Device Compatibility
Highly Compatible With The Majority of Devices.
Surfshark runs perfectly on all the popular platforms, such as Windows, macOS, Linux, Android, iOS, and Linux. It also works exceedingly well with most internet-capable video game consoles, Smart TVs, and routers.
Though it is worth noting that you'll have to install the VPN on your router manually which can be a tedious process and you won't be able to utilize some of Surfshark's best features, so we don't exactly recommend it.
One thing we particularly loved about this VPN is that you can connect an unlimited number of devices to it with a single subscription. Most VPN services limit you to just 6 or fewer.
Surfshark Apps
| | |
| --- | --- |
| Windows |   Yes |
|  Mac |   Yes |
|  iOS |   Yes |
|  Android |   Yes |
|  Linux |   Yes |
| Chrome OS | No |
|  Router |   Yes |
| Amazon Fire Stick | No |
Surfshark Apps.
For Windows, macOS, and Linux machines, you can download the setup file for the application from the Surfshark website whether or not you've already subscribed to the service. As for Android or iOS users, you'll have to grab the app from Google Play and the Apple App Store respectively.
Protecting Devices Without an App.
Through its Smart DNS feature, you'll be able to use the VPN with devices that don't offer native VPN support. That way, you'll be able to get through geo-blocks on your video game consoles, smart TVs, and other capable devices. Here are some devices you can use with Surfshark:
Game Consoles
Chromebooks
Smart TVs
Apple TV
Raspberry Pi
Roku
Fire TV
Browser Extensions
Surfshark features browser extensions for both Chrome and Firefox, both of which can be easily downloaded from Web Store and Add-On Store respectively. Just like most browser extensions for VPN services, this one is like a watered-down version of the app, as it only encrypts the activities performed within the browser itself and it doesn't include any of the app's extra bells and whistles. It's also worth noting that the extensions come in 9 different languages.
Customer Support
Customer Support: 8.7/10
Top-tier Customer Care.
Our experience with Surfshark's customer service was superb on account of their quick turnaround time and their ability to answer any questions we threw their way. Resources were also exceedingly easy to look up on their website and there's even a blog that you can check out where they post some interesting and useful articles.
| | |
| --- | --- |
|  Live Chat (human representative) |  Yes – very good |
| Chat Bot | Basic |
|  Phone | No |
| Email | Yes |
| Online Resources |  Yes – excellent |
Different methods of customer service.
Live Chat (ChatBot)
Surfshark's chatbot (if you can call it that) is sort of like CyberGhost's one in the sense that it doesn't ask you questions to get to the bottom of your issue or query. It's basically a search bar that pops out once you click the "Support" button on the bottom-right corner of the Surfshark webpage. From there, you can search terms in the textbox and you'll get the results in the space below it.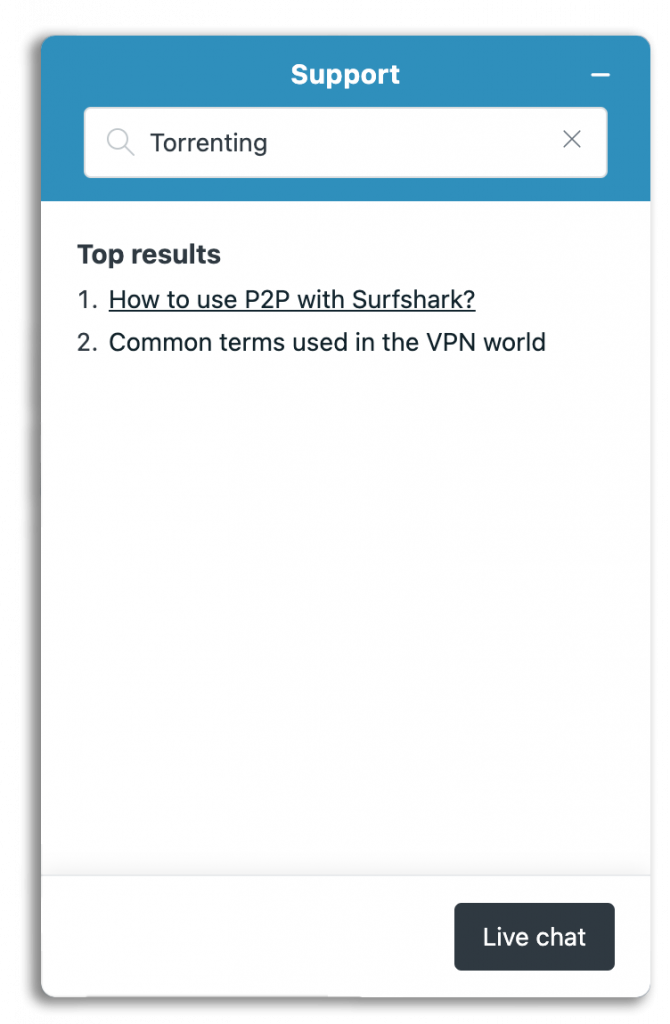 Live Chat (Human Representative)
Clicking the "Live chat" button after bringing up the "Support" box quickly connects you to a live rep who'll answer your concern within a couple of minutes. The responses feel genuinely human and the support team does a good job of giving a comprehensive answer even towards more detailed queries. Furthermore, live chat is available 24/7 and you can request assistance in three different languages: English, German, and French.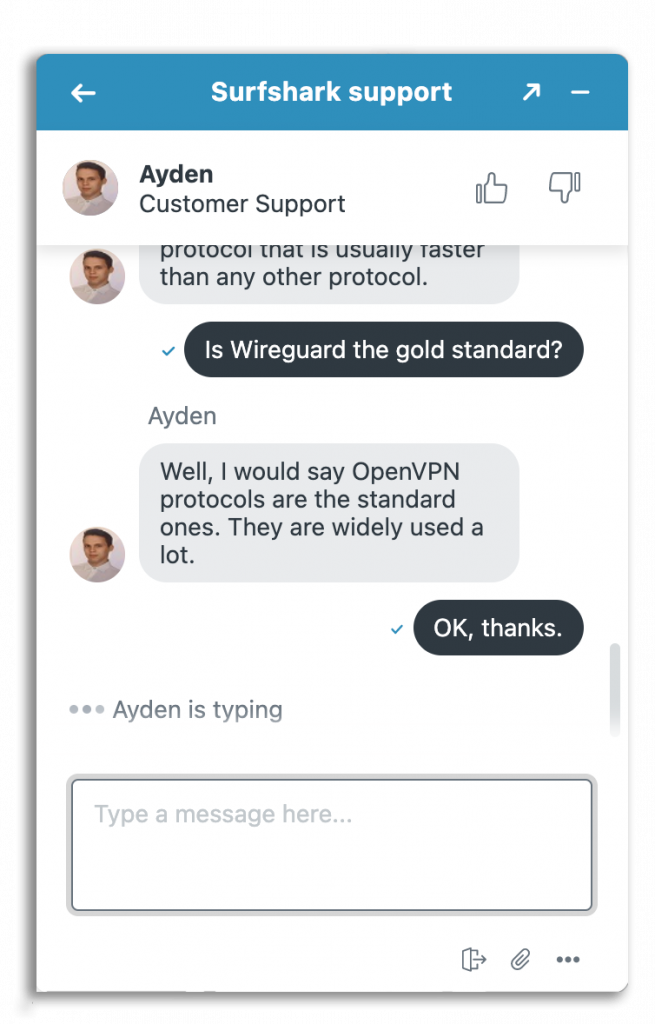 For any issues they can't figure out on the chat and need more time to investigate, you'll get an email from the team with guidelines on what you need to do and what to expect. Following that, you'll usually receive the answer to your question within a few hours.
The Verdict
Surshark is an Excellent VPN That Beats Censorship.
All things considered, Surfshark proved itself as an excellent VPN service that can hold its own against the frontrunners in the industry. It may not have the server count and global reach that some of the other VPNs boast, but it does include some remarkable extra features, exceptional speeds, solid geo-block bypassing capabilities, and a flawless track record. 
Its highlight features are its NoBorders and Camouflage mode, which can help you connect to the best servers in highly restricted countries and even mask internet traffic so it doesn't look like you're using a VPN. These two features will prove to be invaluable for users who want to use the internet in countries with heavy censorship protocols, like China and Turkey. You can also connect as many devices to the VPN as you want with just one subscription which is awesome.
Surfshark is not without its faults, however, as there are a lot of other VPNs out there with a more global reach and a more reliable network of servers. Their privacy policy and software are also in need of a regular independent audit, which is hopefully in the pipeline for the near future.
Despite the minor drawbacks, Surfshark is a great overall VPN that pulls ahead of the pack when it comes to accessing the internet anonymously and securely in heavily censored countries.
Surfshark Subscription Packages
Just like many other VPN services out there, Surfshark suffers from an expensive monthly subscription that becomes significantly cheaper the longer your subscription package is.
If you don't mind committing to a long-term program, Surfshark's 2-year plan is definitely the way to go, as it's quite a bit cheaper than what you'd shell out for ExpressVPN or NordVPN. You can also try the VPN out for a full month free of charge, which is a lot more courteous than some of the other VPNs out there

US $2.49/month (with an extra 2 months free). | Save 81%
30-day money-back guarantee.

30-day money-back guarantee.
30-day money-back guarantee.
Payment Options
Surfshark offers a wide variety of payment methods for subscribing depending on the location you're in. Australian users can pay via:
Credit and Debit cards
A more convenient payment method that's accepted all over the world. It's also, unfortunately, one of the least secure since it's easy to trace and prone to theft.

Paypal
Paypal is one of the safer modes of payment around thanks to its encrypted nature and they're known to be pretty comprehensive when it comes to their refund process.

Google Pay
Google Pay is a convenient way of making payments since it's easy to set up on your smartphone and it includes multiple layers of security to keep your mind at ease.

Amazon Pay
This payment method is one of the easiest to use but the backend of Amazon Pay tends to be finicky and is quick to restrict accounts if they see anything suspicious going on.

Cryptocurrency
One of the most secure online payments around, crypto payments are decentralized by nature, making them completely anonymous. They're also incredibly fast and usually incur lower fees.

Regional Payment Methods
In addition to the aforementioned payment methods, Surfshark also offers regional payment methods depending on the country you're from, such as Dragonpay and Alipay.

VPN Pro Compared to Other High-rated VPNs
Lowest Monthly Price
Logging Policy
Download SPeed
US NEtflix