Astrill VPN Review Summary
Astrill VPN likes to act as though it sits among VPN royalty, charging deluxe fees for its supposedly high-end services. While it does have some commendable traits, like its impressive upload and download speeds in local servers and its excellent restrictions-bypassing capabilities, these upsides just aren't enough to lift this VPN service up from the tarpit of faults it suffers from.

Not only does it fail to consistently protect your internet privacy – a sin among VPNs – but it also gives you a hard time when looking for a server that's good for streaming and its UI is about as newbie-friendly as advanced calculus. Its server count and country availability aren't anything to write home about either. With all that in mind, Astrill VPN is just a tough VPN service to recommend.
Positives
Impressive speeds
Good Australian speeds
Negatives
Poor security track record
Expensive
Is Astrill VPN a suitable VPN service for Australians?
Astrill VPN Review Intro.
Astrill VPN sells itself as a premium VPN service that's both speedy and exceedingly easy to use. Well, it seems to have earned its right to boast, given how it's been around for more than a decade now and you don't stay afloat that long without having something to bring to the table. 
It excels at bypassing firewalls – including China's most notorious – and it does a fairly good job getting past geo-blocks to grant you access to those sweet sweet streaming sites. It also seems to have a beefier security system than most, giving you a wider range of choices for encryption protocols and some solid safety features to keep you and your device secure. Is Astrill VPN really as premium as it claims to be? More importantly, is it truly worth the premium price tag? That's what we're here to figure out, in this Astrill VPN review.
Sound amazing so far? Sure. But Astrill VPN does stumble majorly in some areas. For one thing, its speeds were pretty erratic, with local servers giving you amazing speeds while some of the international ones were painfully slow. And while it is great at getting past geo-restrictions, finding the right servers for the job can prove to be time-consuming and quite the pain.
Moreover, Astrill VPN isn't nearly as user-friendly as it makes itself out to be, as its promise of being "easy-to-use" quickly unravels once you hit the overly fussy UI. But if you know your way around VPNs, you'll find that it has an impressive level of depth to work with and some flexible features you can customize your way.
Astrill's servers are spread across 57 countries, which is a tad on the fewer side compared to some of the other VPN services out there, including CyberGhost (91), ExpressVPN (94), and, of course, HideMyAss (190). On the plus side, it does beat out ProtonVPN's 55, so there's that. 
Speed-wise, Astrill VPN clocks in at a lackluster 80Mbps, putting it dead-last in the list of all the VPNs we've reviewed so far. It lags behind IPVanish (84 Mbps) and Surfshark (85 Mbps), two of the slower entries on our list, and it's miles behind some of the bigger names, like NordVPN (93 Mbps). Don't let Astrill's speed discourage you just yet, as its speed on its specific servers proved to be very different.
This VPN has a pretty serious privacy policy that's thoroughly explained in eight parts and several subsections. However, it's worth noting that while Astrill claims to be log-free, it does temporarily save certain pieces of information about your connection, some of which seemed rather alarming. We also ran into some issues when trying to procure said data for ourselves. 
That being said, it comes as no surprise that this VPN has yet to implement regular third-party audits, given how it still needs to clean up its act as far as its logging is concerned. We also ran into several privacy-related issues which we'll discuss a little further down the review.
Key Stats:
Some worrying security details.
Astrill VPN's best characteristics are its restriction bypassing capabilities, ability to access streaming platforms, and impressive security system. Here are the VPNs key stats in a nutshell:
Logging Policy
Some user logs  
Location
Seychelles (Privacy Haven)  
Security Incidents
Some
No. of Servers
300+
No. of IP Addresses
300+
Countries
57 
Supported VPN Protocol
IIKEv2/IPSec
L2TP/IPSec
OpenVPN (TCP/UDP)
PPTP
SSTP
Torrenting
Unlimited
Access International Media
Yes
AstrillVPN Specs.
Streaming:
Competent At Bypass Geo-Blocks, But Finding A Server is a Hassle.
With the rise of streaming platforms came a notable increase in VPN popularity, given that a lot of people have to use VPNs in order to either unlock country-specific content or to access platforms that are only available in certain regions. Astrill VPN is actually very much capable of accessing just about every streaming platform you have in mind, which is undoubtedly a great ability to have for a service. 
The problem is, figuring out how to unblock each platform can be an absolute slog, with Netflix and Disney+ being especially cumbersome. Astrill VPN does you no favours when it comes to helping you find the right servers and protocols to start watching on your favourite sites. 
Finding a suitable Netflix server basically boiled down to trial and error, as we sifted through the entire list of servers fingers crossed and hoping for luck. Disney+ was even worse, as we spent over an hour looking for a working server only to find out that there was only one. A single server. Calling it a needle in a haystack would be an understatement. 
Does Astrill VPN Work With Popular Streaming Services Accessed from Australia?
The difficulty of access aside, Astrill VPN really is capable of accessing whatever streaming site you throw at it, even from Australia. Here's the list of streaming platforms we were eventually able to unblock:
Netflix
Hulu
ESPN
Disney+
Amazon Prime Video
HBO Max
BBC iPlayer
Astrill VPN is able to grant you access to some big names, even those that most VPNs have a really tough time getting through, like Netflix, BBC iPlayer, and Amazon Prime Video. Unfortunately, aside from the annoying hit or miss process of finding a working server for the specific platform you're trying to access, there's also the matter of figuring out which protocol to use which makes all the difference in the world. In our experience, you'd have the best luck if you stick with OpenWeb.
The VPNs ability to access pretty much any streaming site only sounds good on paper, with the reality of the matter being that the entire process is an inefficient hassle. Why put yourself through the agony when there are other perfectly capable VPN servers that can do the same without making you want to tear your hair out.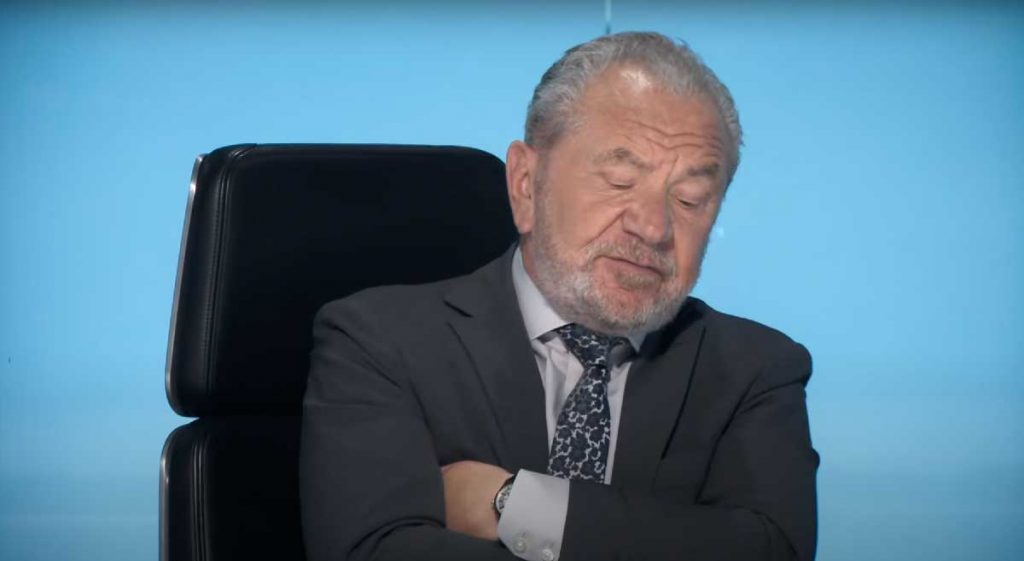 Torrenting:
A Solid Torrenting VPN, Held Back by a Clunky Set-Up Process.
Torrenting with Astrill VPN is sort of a mixed bag. It performs decently enough but you're going to have to jump through a few hoops to make it happen. First off, the servers that are optimized for peer-to-peer activities are inaccessible using the VPNs best protocol for torrenting – OpenWeb.
Moreover, the service has a few issues with data privacy, making torrenting a risky business if you're banking heavily on anonymity. You'll also need to set up port forwarding if you want torrent at all, which is another hit in terms of security. On the plus side, you can offset some of this by connecting to a SOCKS5 proxy to give you a bit of a security boost.
Fortunately, Astrill VPN does exceptionally well when it comes to torrenting bitrate, clocking in an average of 13.1 MiB/s during our rounds of testing. That's easily among the best bitrates we've ever recorded on our VPN reviews.

In contrast, it was a tiny bit behind ProtonVPN (13.2 MiB/s) which holds the top spot on our list, and it tied Surfshark (13.1 MiB/s) for second place. The service managed to beat out some excellent VPNs quite convincingly in this area, including Expressvpn (11.8 MiBs/), NordVPN (12.5 MiB/) and CyberGhost (11.8 MiB/s).
Despite Astrill VPN performing very well as far as bitrates are concerned, it's really hard to recommend the service for torrenting given its iffy privacy, restrictive nature, and unfriendly setup process. You'd be better off finding yourself a VPN that does all the heavy lifting for you.
Speed:
Erratic Performance That Excels When You Keep It Local.
Speed-wise, Astrill VPN could be best described as erratic. On one hand, it racked up some extremely good upload and download speeds when connected to local servers, as well as a few others. On the other hand, its performance was dismal when it came to some of the servers that are often frequented by Australian residents. 
Local Speed Test Results
Our testing on Australian servers gave us some pretty wild results, with our download and upload speeds actually seeing an increase in performance compared to when our VPN was switched off. Downloads saw a 2% boost in speed while upload speeds were increased by 3.21%. 
Getting an increase in speeds when connecting to a VPN server – even local ones – is unprecedented during our rounds of testing, making Astrill VPN the only one so far to do so. Even the best VPNs showed a noticeable speed reduction when connected to Australian servers, including NordVPN (4.71%) and CyberGhost (7.17%). 


If you live in Australia and speed is your primary characteristic when shopping for a VPN, then there's nothing out there that can beat Astrill VPN. Not only are its download speeds incredible but it has equally impressive upload speeds to boot.
| | | |
| --- | --- | --- |
|  VPN |  Download (Mbps) |  Upload (Mbps) |
| No VPN | 107.95 | 18.34 |
| Astrill VPN | 111.05 | 18.93 |
| % Difference | -2.87% | 3.27% |
Speed difference: upload/download when on and off Astrill VPN in Australia, with the percentage difference.
International Speed Test Results
Astrill VPN continued to show spectacular upload and download speeds when we tried it out on the US and UK servers. In fact, it ranks number one in our books when it comes to upload and download speeds in a US server, and number two for download speeds in a UK server – both of which are spectacular feats. 
| | | | | |
| --- | --- | --- | --- | --- |
| Country |  Download (Mbps) |  Upload (Mbps) | % Difference (Download) | % Difference (Upload) |
|  USA | 108.5 | 18.06 | -23.26% | -64.51% |
|  United Kingdom | 87.93 | 16.46 | -75.63% | -55.86% |
|  India | 27.7 | 5.05 | -86.59% | -72.90% |
| Brazil | 21.02 | 16.76 | -86.35% | -22.51% |
| South Africa | 16.92 | 16.36 | -93.77% | -64.62% |
AstrillVPN Premium international speed tests connecting to multiple countries from Australia.
Unfortunately, the VPN dropped the ball when we tested it with other server locations that are popular with Australians, including India, South Africa, and Brazil. The numbers in these servers took a severe dip, with the downloads in South Africa and uploads in India being particularly bad.
How Does Astrill VPN compare to Other Major VPNs from Australia?
Astrill performed marvellously on Australian servers, beating out far more popular VPN servers to take the top spot for both download and upload speed performance. After all, being the only VPN service to increase your internet speed when connecting to a server is a lofty achievement. It still did really well on some international servers, particularly the US and UK, but others saw a pretty heavy drop in performance.
If you're planning to do most of your downloading or uploading on Australian servers and you don't mind limiting your international business to the US and UK, then you just can't beat what Astrill VPN has to offer. But if your heart was set on servers in India, Brazil, or South Africa, then you'll probably walk away disappointed.
Data Privacy:
Stores More Information Than We'd Like.
Astrill VPN clearly explains early on in their privacy policy that its rules are split into two parts – one pertaining to the service itself, and the other when accessing the VPN's website. As with most VPN services, Astrill imposes a strict "no logs" rule, but that's not to say that it doesn't store any information whatsoever.
Actually, this VPN saves more information than most, including the length of time your connection has been up, the type of device you're using with the VPN, the bandwidth utilized during the connection, the country you're accessing the VPN from, and the version of Astrill that you're using. 
This information is only stored temporarily in order to put a cap on the number of devices you're using with a single account. The data spans your previous 20 logins and should be erased when the service isn't used for a whole month.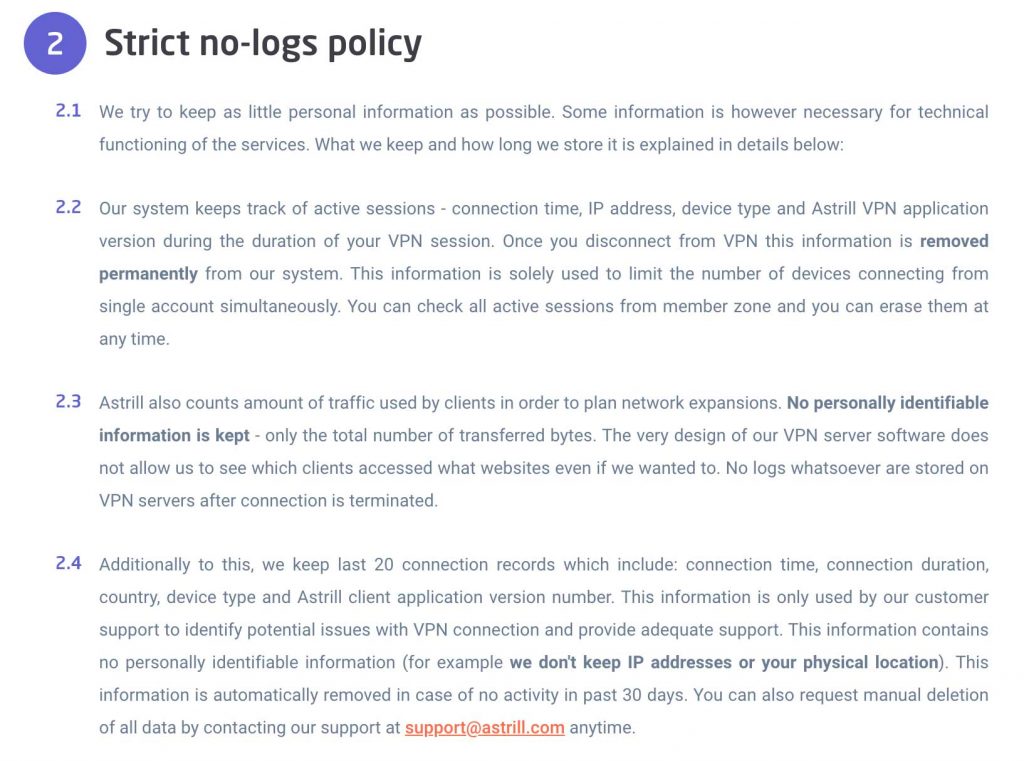 That's not the only information it stores either, as Astrill stores another set of data when your VPN is switched on, such as time spent connected, the device you're using, and even your IP address. That last one is particularly concerning, even if Astrill claims that the info is wiped right after you disconnect from the VPN.
There is a way to download the VPN's logs as a .zip file, but it's a finicky process that's more likely to end in failure than it is to succeed. For the most part, trying to access the logs ends in them magically disappearing before you get the chance.
With the list of concerns we have about Astrill's privacy policy, we found it unsurprising that the VPN has yet to implement third-party auditing in this area. If there's any VPN out there that can use a good audit, it's definitely this one.
Who Owns Astrill VPN & Where Is it Located?
Astrill VPN is owned by the parent company Astrill VPN Corp. and was founded 12 years ago in 2009. It's located in an archipelago in East Africa that's outside the jurisdiction of the 14-Eyes Alliance – a group of countries that have banded together to share surveillance information with one another when necessary. 
That being said, Seychelles does not require companies to provide info to the government and any requests for data made by international bodies can be denied by the Data Protection Commissioner.
Any History of Data Leaks or Violations?
Here's where Astrill gets a little shady. Apparently, the VPN doesn't allow you to use any IP leak testing tools aside from its own. In our experience, this has been the only VPN so far that has a rule like this. It'll block the majority of online testing sites – even the extremely popular ones – a practice no other VPN we've tested has done.
Furthermore, we managed to find a few leak testing sites that Astrill was unable to block and the test results showed that the VPN failed to maintain our anonymity. Quite badly, might I add. IP addresses, internet service providers, even our physical location was compromised. Definitely not something you want to hear from an app that's supposed to keep you safe.
Security Analysis:
Great On Paper, Bad In Practice.
At a glance, Astrill VPN's security system looks pretty darn solid. It has a wide range of protocols to choose from, tons of security features, and a few nice extras thrown in for good measure. 
 Protocols
IKEv2/IPSec
OpenVPN (TCP/UDP)
WireGuard
L2TP/IPSec
 PPTP
 SSTP
 OpenWeb
 Security
DNS Leak Blocking
IPV6 Leak Blocking
Supports TCP Port 443
VPN Kill Switch
WebRTC Leak Blocking
First-party DNS
 Encryption
AES-256
 Advanced features
Ad Blocker
SOCKS5
Split Tunneling
Stealth VPN
Astrill VPN's security standards and protocols.
The Best Encryption Around
Astrill employs AES-256 – the toughest kind of encryption currently available around the world. It gets its name from the 256-bit encryption key it uses to protect your information, making all your data pretty much impervious to whatever kind of external attack. All the largest companies government bodies utilize this kind of encryption.
Seven Types of Protocols
Most VPNs feature two, three, or sometimes even four types of encryption protocols to choose from. Astrill goes a few steps further and offers seven, giving you a wider selection to meet your needs.
IKEv2/IPSec
This is a standard encryption protocol among all VPNs and one of the most used. It's usually the fastest of the bunch, though it's recommended that you connect to a server nearest to you if you want to fully maximize it. It offers an auto-connect feature for smartphones that prevents data from leaking when you switch over connections from mobile data to Wi-Fi.
L2TP/IPSec
This protocol is one of the more secure ones around and it's both stable and highly compatible with various platforms. On the flip side, it suffers notably in the speed department and features very limited port selection which may lead to being blocked if used behind a NAT firewall.
OpenVPN (TCP/UDP)
OpenVPN is an open-source protocol that's often regarded as one of the most secure. This is due to the constant improvements being made by developers, causing it to be heavily favoured by the majority of security experts. It comes in two versions, TCP and UDP. TCP focuses more on stability but sacrifices speed as a result. UDP, on the other hand, is the speedier one. Either way, OpenVPN is a lot slower than IKEv2/IPSec, but the tradeoff in improved security makes it a great pick if you'd like to focus on safety.
PPTP
PPTP is one of the fastest protocols around but also happens to be one of the least secure. It's exceedingly easy to set up and compatible with most platforms, but firewalls often get the better of it. If you want to go all-in on speed and don't particularly need added security or the ability to bypass any restrictions, then it's worth giving PPTP a try. Otherwise, you're probably better off choosing something else.
OpenWeb
OpenWeb is a protocol based on OpenVPN's TCP version that's extremely lightweight and allows for quick switching between servers minus the lag time when the VPN reconnects. It's particularly good at bypassing restrictions in countries with heavy censorship.
Wireguard
Sample contentWireguard acts as the perfect middle point between IKEv2/IPSec and OpenVPN, offering a decent amount of speed while still providing an ample level of security. It's not quite as fast as IKEv2/IPSec but it certainly leaves OpenVPN in the dust.
Ad Blocker
Astrill has its own ad blocker feature that's built into the VPN software but, to be honest, it's nowhere near as good as some of the other ad blocker programs that are available for download. Astrill VPN's version pretty much lets most ads stroll on through like it wasn't even trying.
Split Tunnelling
Using split tunnelling, you can allow specifically chosen programs to bypass your VPN connection and connect using your actual IP address. This is great for navigating certain apps or websites that require a regular connection to function, like the ones used for online banking, without having to drop out of your VPN connection every time you want to access them.
VPN Kill Switch
In case you're paranoid about your VPN failing in the middle of your internet sessions, kill switches are around to put your mind at ease. Whenever your VPN fails, the kill switch ensures that your connection remains halted until the VPN comes back online. That way, you can prevent accidental data leaks.
Access in Heavily Censored Countries:
One Of The Better VPNs At Bypassing Censorship Restrictions.
The ability to bypass country restrictions is one of the more sought-after features of VPNs and is what makes them so popular in countries with high levels of internet censorship. Perhaps Astrill VPN's most attractive aspect is its ability to effectively bypass even heavier restrictions in countries that are known for having high levels of censorship.
China
China has become somewhat of a nemesis for VPN services on account of their infamous "Great Firewall" that has tested and bested many a famous VPN. Astrill VPN is one of the few servers fully capable of breaking through the restrictions and it does so thanks to its very capable Stealth VPN feature. 
It also has a special website that can be accessed by Chinese residents and even boasts a.onion domain for those who know how to access it. The significance of this being that most VPN websites are blocked towards those living in the country, so these are the only ways for such a user to download and install the service. 
Russia
Stealth VPN isn't only effective for China either, as it works fantastically when bypassing Russian restrictions as well – another country that's become a menace for VPN services in recent years. One more thing that Russians might enjoy is the fact that Astrill has servers within Russia itself, as well as surrounding Eastern European countries. This means that you'll not only be able to get through restrictions, but your internet performance will be solid to boot.
The reason Windscribe is able to get through these restrictions so effectively is due in large part to its Stealth VPN mode. It's a way of hiding your VPN connection by covering it with SSL encryption, allowing it to bypass restrictions that other VPNs would otherwise have trouble with.
Server Network:
A Relatively Small Network With a Decent Number of City-Level Servers.
Astrill doesn't do too well when it comes to server count, boasting just 300+ servers across the globe. That's definitely one of the smaller numbers we've encountered on our VPN reviewing journey. In comparison, the holder of the top spot in this area – Private Internet Access – has an insanely high 35,900 servers under its belt, while some of the other popular VPNs, like CyberGhost (6,900) and NordVPN (5,343), leave Astrill in the dust.
In fact, Astrill has the second-fewest servers in any VPN we've reviewed, second only to PrivateVPN with 200+. It doesn't do that much better in worldwide presence either, with it being available in 57 countries in total. A lot of VPNs pull way ahead of it in this category, such as ExpressVPN (94) and CyberGhost (91). It does, however, happen to tie with IPVanish and narrowly beat out ProtonVPN Premium (55).
All Astrill VPN's server locations
City-level Server Locations
This VPN has a total of 107 city-level servers all in all, which isn't a particularly high number but a serviceable one nonetheless. They do have a pretty strong presence in the US though, with them having servers in more than 25 cities.
| | |
| --- | --- |
| Country | City |
| Australia | Sydney, Casula |
| Germany | Frankfurt, Koeln, Dusseldorf, Hanau Am Main |
| France | Paris, Strasbourg, Reims, Roubaix |
| USA | LA, Dallas, New York, Fremont, Seattle, Denver, San Jose, + many many more |
| India | Chennai, Mumbai, Hyderabad |
| Canada | Saint-quentin, Toronto, Ontario, Beauharnois |
| UK | Maidenhead, London, Manchester, Gloucester |
Astrill VPN's City-level Server Locations
Server Types
Astrill proudly advertises that all of their servers are physical, which is definitely something you'd want to let people know. After all, physical servers are known for their reliability, efficiency, and accessibility. 
Device and Router Compatibility:
Highly Compatible with Almost Any Device That Supports An Internet Connection.
Windscribe VPN has a native application for the vast majority of commonly used devices and operating systems.
Astrill VPN Apps
| | |
| --- | --- |
| Windows |   Yes |
|  Mac |   Yes |
|  iOS |   Yes |
|  Android |   Yes |
|  Linux |   Yes |
| Chrome OS | No |
|  Router |   Yes |
| Amazon Fire Stick | No |
Astrill VPN Apps
Compatibility is another one of Astrill's strong suits. It's readily compatible with just about anything you throw at it, including Windows, iOS, Android, and various kinds of Linux platforms. Downloading the client is as easy as heading over to the website and scrolling all the way to the bottom of the page. There you'll find downloads for several different platforms, as well as routers.
Protecting Devices Without an App
Have a few devices that do not natively support VPN services? Not a problem. You can set up the VPN directly on your router so that all the devices connected to it can enjoy the VPN's features regardless of whether or not they offer native support. Astrill's website even has a tutorial video on how you can get it done.
Browser Extensions
Unlike most VPN services, Astrill VPN doesn't offer browser extensions of any kind.
Customer Support:
Live Chat Leaves a Lot To Be Desired.
Astrill offers 24/7 chat support with a live representative and they answer swifter than most. Unfortunately, they weren't as helpful or knowledgeable as you'd like. The VPN also offers an email feature that seems to be a lot better.
| | |
| --- | --- |
|  Live Chat (human representative) |  Yes – Mediocre |
| Chat Bot | No |
|  Phone | No |
| Email | Yes |
| Online Resources |  Yes – excellent |
Different methods of Contacting Astrill VPN Support Team
Live Chat (Human Representative)
Astrill's live chat wasn't nearly as up to par as some of the other customer support services we've encountered, often ending in being unable to answer our questions directly or giving blunt responses in an attempt to seemingly get rid of us. The reps seem robotic and disinterested, making you want to keep the interaction as short as possible.
Email
We enjoyed emailing the support team a lot more since we didn't have to deal with a lacklustre rep and the answers we got were generally comprehensive and the fixes were more likely to work. The responses were usually quick as well, with the replies coming in under an hour.
The Verdict:
An Expensive VPN Service That Fails To Deliver.
Astrill VPN certainly has its high points. Its speeds are actually quite good depending on the location of the servers you connect to and it has a security profile that looks fantastic – on paper, that is. It's also exceedingly good at bypassing country restrictions, as it's even capable of getting through China's hated "Great Firewall". 
Unfortunately, its faults greatly outweigh its strengths. Our chief concern is privacy, given how we experience several information leaks when we used a leak test on the VPN. That alone is enough to send any user screaming in the other direction. Then there's the lousy live chat, iffy logs policy, and the fact that it's so tiresome to find a server that can bypass blocks in order to stream content.
That being said, it's very difficult to recommend Astrill VPN given its insanely high price tag and the sheer number of better VPN services out there. Whether it's overall speed, security, features, or user-friendliness, there's a better choice on the market for nearly every category.
Astrill VPN Access Subscription Packages

US $10.00/month. Save 50%. Billed Every 12 Months.

US $15.00/month. Save 25%. Billed Every 6 Months.

Payment Options
Credit and Debit cards
A no-fuss payment method. Just pull the card out of your wallet, enter the digits, and confirm. It's convenient, sure, but it's also quite risky on account of how easy it is to trace and how prone it is towards theft.

Paypal
Paypal is an extremely popular payment method all over the world, offering quick and reliable service with a nice layer of security on account of their solid encryption. 

Bitcoin
Cryptocurrencies are quickly becoming more widespread as a payment method, thanks to their anonymity, speed of transfer, and low fees. Their value fluctuates relentlessly, though.
Other Methods
Aside from the aforementioned payment methods, Astrill VPN also accepts Perfect Money, Monero, WebMoney, and bank transfers, though the availability of these methods will likely depend on your region.


Astrill VPN Review
US $10.00/month
US $20.00/month