CyberGhost Review Summary
CyberGhost is a tried and tested VPN service that's been around since the early 2000s, offering users some of the best upload and download speeds we've had the pleasure of trying out for ourselves. With 7,300 servers under its belt in 91 locations across the globe, you'll be able to bypass geo-blocks for most media streaming platforms and its excellent security system ensures the utmost anonymity and security in everything you do on the web. 
 
CyberGhost sports local servers in two major Australian cities – Melbourne and Sydney – which isn't nearly as notable as ExpressVPN's five but remains pretty impressive in its own right. That being said, CyberGhost maintained faster speeds on its Australian servers than ExpressVPN despite its inferior number of servers. The VPN's only major drawbacks are its lack of independent auditing to back up its privacy policy, as well as its fairly expensive 1-month plan. Oh, and let's not forget the lackluster 24-hour trial period that just comes off as stingy. 
 
User-friendliness and Accessibility
9.1
Positives
Fast Local Speeds
Good Australian Server Network
Good for Torrenting
Fairly-priced
Negatives
Unblocks Limited Streaming Platforms
Cannot Bypass Censorship
Is CyberGhost a Good VPN for Australians?
CyberGhost Review Introduction
CyberGhost is one of the frontrunners in the VPN game – and for good reason. Boasting impressive speeds, a multitude of servers, and all the right features – including some interesting add-ons – this VPN service has no problem giving some of the biggest names in the industry a run for their money.
The question is, are you prepared to commit to a long-time subscription? With this service boasting one of the heftiest monthly subscription price tags around yet offering a lacklustre trial package, going all-in might feel like a big leap for some. But does it earn its keep? Well, stick around and find out, in this CyberGhost review.
Similar to ExpressVPN, CyberGhost provides an extremely well-rounded offering, allowing you to bypass the geo-restrictions of most streaming sites while throwing in tons of interesting features. It may fall behind the bigger names in terms of privacy options but its catchy UI is both easy to use and even easier to look at.
It has servers located in an impressive 91 countries, which may not be nearly as much as HideMyAss (190) but it's only a step behind ExpressVPN (94) and thoroughly trounces NordVPN (60). During our tests, CyberGhost clocked in at an average speed of 89Mbps, putting it on par with the excellent ExpressVPN – one of the faster services we've had the opportunity of trying out. 
CyberGhost does a great of explaining its degree of privacy, promising its users from the get-go of a strictly no logs policy. It would have been better, however, had the service provider decided to allow for independent audits of this policy to allow the user further peace of mind and a better idea of how the privacy system works. Moreover, this VPN has maintained a strong security record, with no major breaches in its history.
Key Stats:
All the Bells and Whistles You Need in a VPN.
CyberGhost has cemented its place among the leaders of the VPN market on account of its minimal speed reduction, solid security measures, and intuitive UI design. To add to that, it also comes with a bunch of nifty extra features to make your life that much easier. Here are some of its specs that are worth talking about:
Logging Policy
No Logs
Location
Romania (EU Member)
Security Incidents
No
No. of Servers
7,300+
No. of IP Addresses
More than 7,300
Countries
91
Supported VPN Protocol
IKEv2/IPSec
OpenVPN (TCP/UDP)
WireGuard
Torrenting
Permitted
Access International Media
Yes
CyberGhost VPN's Specs.
CyberGhost has excellent specs that tick every box a market-leading VPN should tick. It uses some of the best VPN protocols, has an excellent server network, and a lo-logs policy.
Streaming
More Access to Streaming Platforms Than You Could Need.
For fans of streaming sites, CyberGhost can help you unblock most of the heavy-hitters, including Netflix, Disney+, and Amazon Prime, but it does seem to struggle with accessing BBC iPlayer, alongside most VPNs.
There's a bit of a caveat when bypassing Netflix restrictions, however, since we had the most success accessing the streaming service when connecting a US-based server – namely the one in New York City. This means that this VPN is a little more limited than others in terms of Netflix content more often than not.
Access 6 International Netflix Libraries:
Our testing has shown that CyberGhost can unblock six international Netflix libraries from the following countries:
United States
Britain
German
Italian
Japan
Cyberghost was able to unblock US Netflix with ease. All that was required was to connect to a US server and then visit the Netflix site. We tested it on CyberGhost's New York server and it worked like a treat.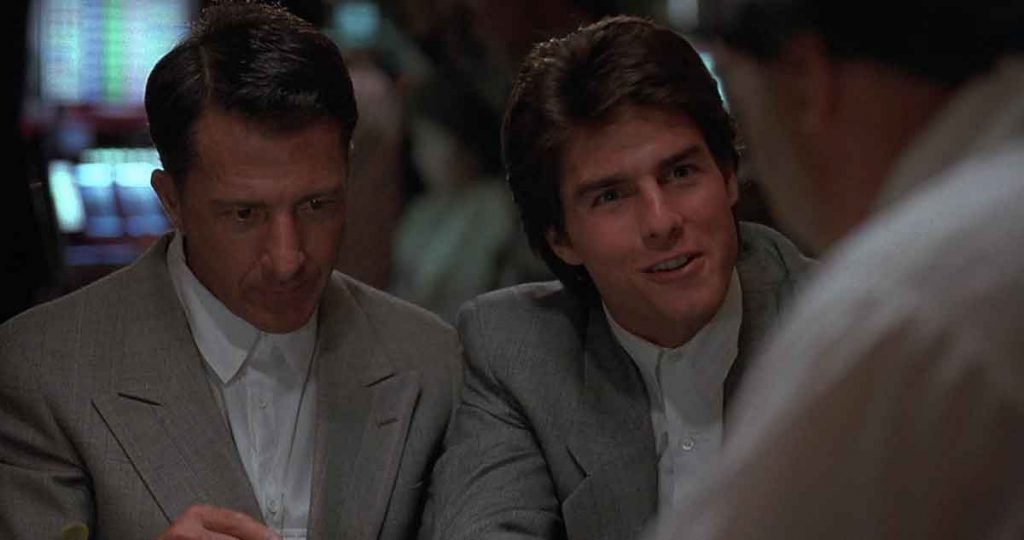 Cyberghost also offer streaming-specific servers that frequently use different IPs to help circumvent VPN blocks deployed by streaming platforms. We also tested these servers and found that they did an excellent job unblcking a plethor of streaming services from around the globe.
Does CyberGhost Work With Popular Streaming Services Accessed from Australia?
Throughout the duration of our testing, CyberGhost managed to unblock 40 different streaming services across more than 50 different servers. Here are some of the more popular ones:
Crunchyroll
Comedy Central
Amazon Prime Video
HBO Max/Now
Disney+
ESPN
Fox Sports
HULU
Does CyberGhost Unblock BBC iPlayer?
No. Our testing has concluded that CyberGhostr can unblock iPlayer, but it does it so inconsistently that it is completely unreliable. iPlayer is notoriously difficult to unblock consistently as the BBC protect their library of content. It is in their best interest as they sell the rights to streaming services like Britbox, which is available in Australia.
However, If you want a VPN that can reliably unblock iPlayers content library then use NordVPN. Read our NordVPN review for more information.
As you can see, CyberGhost allows access to a lot of international streaming services, more so than most VPNs on the market. Its optimized server is capable of getting through some pretty pesky restrictions, easily bypassing that of Amazon Prime Video – a service known for having a pretty tough block to crack. BBC iPlayer is the only major platform currrently eluding CyberGhost.
Torrenting: 9.4
Speedy downloads that are secure and anonymous.
CyberGhost makes a strong case for being one of the better VPNs for torrenting, as it includes specialized torrenting servers in more than 60 different countries. These servers were specifically designed for P2P file-sharing at blazing fast speeds, while still upholding a high standard for privacy and security. Finding these servers is an absolute breeze and requires little more than just clicking on the "For Torrenting" tab on the UI.
Similar to ExpressVPN, CyberGhost clocked in an average bitrate of 11.8 MiB/s, making it a notch slower than NordVPN but still one of the faster VPNs in the business. It also maintains a high level of security, with no IP leaks at any point and a built-in kill switch for the rare case that the service falters.

For those who enjoy seeding for other people (props to you, my friend), CyberGhost, unfortunately, doesn't allow for any kind of port forwarding aside from adding it directly through your router's software. This is because the service believes port forwarding, in general, can be detrimental to your overall security.
Speed: 9.1
Impressive Speeds both on International and Australian Servers.
Throughout our thorough test runs, CyberGhost proved to be one of the fastest VPNs we've ever used, often beating out the exceptional NordVPN in a number of different country servers. You'll only see the slightest drop in upload or download speed whether you're connecting to a local Australian server or most international ones. It even manages to maintain excellent speeds on Indian servers which we found most VPNs have a hard time doing.
Local Speed Test Results
For Australians who looking are looking for solid privacy solutions without taking a noticeable hit in connection speed, CyberGhost does the job better than most. You'll hardly feel the dip in download speed when connecting to a local Australian server and, unlike ExpressVPN and NordVPN, the upload speed remains stellar as well.
During our tests, CyberGhost showed a mere 7.17% dip in download speed and an impressive 5.82% decrease in upload speed which is significantly better than BetterVPN – a service that we thought did really well.
Internet Speed Test (No VPN):

Local Internet Speed Test (CyberGhost Sydney Server):

Whether it's streaming ultra-high quality content or uploading massive file batches, CyberGhost maintains the bulk of your internet capability all throughout.
| | | |
| --- | --- | --- |
|  VPN |  Download (Mbps) |  Upload(Mbps) |
| No VPN | 107.26 | 18.56 |
| CyberGhost | 99.57 | 17.48 |
| % Difference | -7.17% | -5.82% |
Speed difference: upload/download when on and off CyberGhost in Australa, with the percentage difference.
International Speed Test Results
This VPN retains its excellent speeds even when connecting to international servers from Australia. Here are the results when we tried connecting to some of the more commonly visited servers:
| | | | | |
| --- | --- | --- | --- | --- |
| Country |  Download (Mbps) |  Upload (Mbps) | % Difference (Download) | % Difference (Upload) |
|  USA | 95.31 | 12.78 | -11.14% | -31.14% |
|  United Kingdon | 73.02 | 18.10 | -31.92% | -2.47% |
|  India | 90.18 | 16.32 | -15.92% | -12.07% |
| Brazil | 87.32 | 17.46 | -18.59% | -5.92% |
| South Africa | 49.08 | 16.96 | -54.24% | -8.62% |
IPVanish international speed tests connecting to multiple countries from Australia.
Compared to most VPNs we test, CyberGhost showed some of the least reduction in upload and download speeds when connecting to international servers popular among Australian residents. It beat out ExpressVPN in pretty much every server and even trumped NordVPN in some countries. It's particularly great at maintaining most of your upload speeds no matter which international server you connect to.
How Does VPN pro Compare to Other Major VPNs from Australia?
All things considered, CyberGhost maintains fantastic speeds across most of the popular international servers, keeping its average speed loss well below 10% with the exception of South Africa. 
You can tell from the chart that CyberGhost easily pulls ahead when pitted against some of the leading VPNs in the market, outperforming the likes of ExpressVPN, NordVPN, IP Vanish, and Windscribe Premium VPN.
Data Privacy
A No-Log Policy but Lacking a 3rd-Party Audit
CyberGhost has gone to great lengths to ensure that users are well aware of its strict "No logs" policy. But unlike most VPNs that offer walls of text that can be tough to wrap your head around, these guys decided that it would be best to focus on the things that their VPN DOESN'T do.
This includes statements that discuss how CyberGhost does not monitor traffic data of any kind nor do they store information regarding your connection logs. They've even gone as far as spelling out certain aspects of the policy in layman's terms so that even users who are less tech-savvy users can understand what to expect from the VPN service.
Moreover, they've even included a transparency report where factors like DMCA and police matters are discussed. Supposedly, since CyberGhost is based in Bucharest, they are no local laws that oblige them to store any kind of data, allowing them to make good on their promise of "no logs'.
While that all sounds fine and dandy on paper, at the end of the day it's all information coming from CyberGhost themselves with no veritable way for the average user to figure out how much of it is really true. Unlike ExpressVPN who had its policy audited by the third-party PricewaterhouseCoopers (PWC), CyberGhost has commissioned no such audits.
While we've run a battery of tests without running into any privacy issues, a third-party audit should become standard procedure for VPNs to put their users' minds at ease.
As with all VPN services, some data is required to deliver the service. See below for what data IPVanish does collect from its users.
Personal Data
The following information is collected in order to take payment, administer the account and maintain the VPN service:

– Name, Email Address, Username, and payment info.
– Contact form fillouts.
– IP Address (captured and stored anonymously)
– Country of Origin

None of the above info is recorded in association with any browsing activity.
Aggregated Data
To help maintain and improve the VPN servvice, CyberGhost collects aggregate usage data from their users. This data is no way tied to the individual and is instread anonymised and aggregated across different sets of CyberGhost users.


The data that CyberGhost collects is typical of all VPN services. Some data must be collected simply to deliver the service. More data is required to help improve and maintain the service. No specifics about browsing activities or IP addressed are collected or stored.
Who Owns CyberGhost & What Jurisdiction Is it Under?
CyberGhost was originally founded by Rober Knapp in 2004 and was acquired by Kape Technologies PLC around 13 years later in 2017. Its headquarters is based in Bucharest, Romania, with Knapp still listed as its co-founder to this day. Other notable members of the team include Chief Technology Officer Timo Beyel, Head of Software Development Patrick Arns, and Head of Operations Radu Armaziu.
According to the information stated on the transparency reports page, since CyberGhost is Bucharest-based, they're under no obligation from Romanian law to store any kind of connection logs. This renders them unable to comply with requests from authorities and other companies, even those that are considered legally binding.
Any History of Data Leaks or Violations?
So far, there have been no recorded cases of leaks or privacy infractions from CyberGhost.
The only incident worth mentioning is a leak from a couple of years ago by Typeform – the company CyberGhost hired to their user surveys. Fourteen account usernames were leaked, though no password information was leaked along with it. This is a testament to the VPN's practices in terms of privacy, as no important personal information was leaked since none of it is saved.
Security Analysis: 8.9/10
Premium Security You Can Trust.
CyberGhost may not have been independently audited for security since 2012, but the company has made sure to perform regular thorough testing on its safety processes since then. 
 Protocols
IKEv2/IPSec
OpenVPN (TCP/UDP)
WireGuard
 Security
DNS Leak Blocking
First-party DNS
IPV6 Leak Blocking
VPN Kill Switch
 Encryption
 AES-256
 Advanced features
Ad Blocker
Dedicated IP
Split Tunneling
TOR via VPN Server
CyberGhost's security standards and protocols.
While its lack of incidents suggests that the VPN's security is rock-solid, we'd prefer that the service subject itself to frequent third-party audits, particularly when it comes to server security. 
Military-grade Encryption Standards
Just like most successful VPN services, CyberGhost utilizes the highest level of encryption currently available, which is AES-256. This is the same level of encryption used by the vast majority of large-scale companies with a particular need for optimal information security, including leaders in tech and finance and even the army.
What 256-bit means is that the key that encrypts your data is 256 characters long, making it all but impenetrable even for a fleet of the most advanced supercomputers around.
Three Different VPN Protocols
CyberGhost makes use of some of the advanced protocols in the industry, which include IKEv2/IPSec, OpenVPN (TCP/UDP), and WireGuard. While the software automatically picks the best protocol for your given activities, you're perfectly capable of manually selecting which protocol you'd prefer.
IKEv2/IPSec
IKEv2/IPSec: This will likely be the fastest protocol for most and the perfect choice for users who utilize VPNs on their iOS smartphones. We say that because of its built-in function that makes it capable of connecting automatically, allowing your phone to remain secure even when you swap connections from mobile data to Wi-Fi. Regrettably, this feature is not available for Linux or Android users and can only be used if you're sporting Windows, iOS, or Mac.
OpenVPN
One of the safer and more popular protocols that security experts recommend since it's constantly being updated on account of its open-source nature. The downside is you should be ready to take a noticeable hit in terms of speed, as this OpenVPN is known to be a fair bit slower than most.

If you're doing work that requires a bit more security, then this protocol's for you. Bear in mind, however, that Mac users will have to install OpenVPN themselves and, unlike IKEv2/IPSec, it's not available on iOS phones.
WireGuard
This will likely be the protocol of choice for more casual users since it provides an excellent balance between both security and speed. It may not be quite as speedy as IKEv2/IPSec, but it's certainly a lot faster than OpenVPN. In case you're just planning on some casual streaming, gaming, or video meets, WireGuard will probably be your best bet.
Split Tunneling
Split Tunneling is a nifty feature that allows you to dictate which of your traffic you direct through your VPN and which should use your standard internet connection. This allows you to continue doing activities that need anonymity and restriction bypassing features such as media streaming, while simultaneously accomplishing tasks that require your real IP address like online banking. It's worth noting, however, that this feature is only for Windows and Android users.
NoSpy Servers
NoSpy takes VPN security to the next level by basing its servers in the private data centre that's located right in CyberGhost's homeland of Romania. Nobody but the folks over at CyberGhost can touch them, making it perfect for activities that require extra security, such as some heavy torrenting. The downside is, you'll have to be on their 1-year subscription plan or longer if you're looking to use these servers.
App Protection
This is a really cool feature that lets you create a list of programs that automatically fire up and connect to CyberGhost upon launch. It's an exceedingly innovative idea that more VPN services should adopt, allowing you to assign specifically risky apps or ones that require different geolocations to the list, like torrenting clients and Netflix, for example.
Ad-blocker
While CyberGhost does include its own built-in ad-blocker function, it doesn't work nearly as well as it should. It may swat the occasionally pop-up here and there, but it's likely to let most of them through. Moreover, during our tests, Twitch and YouTube ads still found their way through which was a bummer.
There's no harm in keeping this feature on for a bit of added security from unwanted ads and malware, but you're better off looking for more dedicated software that does a way better job.
Wi-Fi Security
Whether you're using the desktop app or you're going mobile, CyberGhost can be set up on your device so that it launches automatically whenever you connect to untrusted Wi-Fi. This is especially useful for people who travel a lot and need to connect to public Wi-Fi often. It's also nice to know that you don't have to worry about forgetting to launch your VPN each time.
HTTPS Protection
Another cool feature that ensures you always connect to the safest version of the website you're trying to visit, which is the one with the "HTTPS" prefix. Sites that begin with "HTTPS" are far more secure than the "HTTP" alternative, as the information in these sites is inherently encrypted.
Access in Heavily Censored Countries
 Not The Best Choice for Countries that Ban VPNs.
While CyberGhost functions just fine in the vast majority of countries, there are a few exceptions. Due to intense censorship, certain countries make it a point to block VPN services or deem them illegal and prosecutable by law. Others just make them so difficult to utilize that it's no longer worth the hassle.
China
At the forefront of internet censorship sits the Chinese government, as their "Great Firewall" completely restricts most forms of VPN traffic. Just like most VPN services, CyberGhost is unable to bypass this, though it does include a few serves that can get through to some Chinese sites. For users who reside in China, however, they're fresh out of luck. Only a handful of VPN services have been able to circumvent China's ban, and CyberGhost isn't one of them.
Read our Express VPN review for more information on bypassin the Great Firewall of China.
Turkey
In their alleged fight against terrorism, the Turkish government has continued to crack down on various VPN services and social media platforms. Most VPNs have been blocked while others are usable but doing so is considered a fairly risky endeavour. CyberGhost seems to function quite well on mobile but the desktop version has proved to be quite finicky. Either way, use a VPN at your own risk.
United Arab Emirates
So long as you're not a corporate or financial entity, VPNs have been completely blocked by the monarchy since 2012. The reason for the block revolved around telecommunication violations, as users would utilize VPNs so they can use VoIP (Voice over Internet Protocol) services like Viber, Whatsapp, or Skype. This, of course, did not sit well with telecom companies, since they were being completely left out of the mix.
Being caught using a VPN for suspicion means can lead to imprisonment and a fine of up to Dhs 2,000,000 which is nearly $750,000 AUD. Another middle-eastern country that's known for blocking VPNs is Saudi Arabia.
Server Network
7,300 Server Locations Across the Globe
CyberGhost boasts one of the most impressive server frameworks for any VPN service we've ever tested, offering up more than 7,300 servers spread across 91 countries. That easily beats out NordVPN's already impressive 5,300+ servers in 60 countries. In terms of server number, CyberGhost actually ranks 2nd on our list, trailing only behind Private Internet Access which sports an insane 35,900 servers. While this won't mean much to the average user, it's an impressive number nonetheless.
most
As for the number of countries it has servers in, CyberGhost takes the 3rd spot, with HideMyAss (190) taking the crown and ExpressVPN (94) coming in at a distant second. That being said, it's not like you're going to make use of most of those countries and CyberGhost has servers in the ones Australians are most likely to visit, like UK, USA, and India.
All CyberGhost server locations
City-level Server Locations
Australian users will be glad to know that CyberGhost has a fantastic network of city-level servers both locally and internationally, the latter of which includes a lot of the cities that Australian residents utilize VPNs in order to visit. This is perfect for people who want protected access to websites hosted in specific cities.
Dissapointingly, CyberGhost only has city-level servers in two Australian cities; Melbourne and Sydney.
| | | |
| --- | --- | --- |
| Country | City | No. of Servers |
| Australia | Sydney, Melbourne | 239 |
| United Kingdom | Berkshire, London, Manchester | 674 |
| France | Paris, Strasbourg | 687 |
| USA | 12 including LA, New York, San Francisco, Las Vegas | 1217 |
| India | Mumbai | 32 |
| Canada | Montreal, Toronto, Vancouver | 306 |
A good selection of city-level servers
offered by CyberGhost.
Device Compatibility
Perfectly Compatible With Most Devices.
CyberGhost works flawlessly with most mainstream operating systems, including Windows, macOS, Linux, Android, and iOS. It also works great with most devices, such as Smart TVs and the majority of routers. 
You can connect up to 7 devices with every subscription of CyberGhost, which is one extra device more than you get out of NordVPN and a generous number overall, ensuring that all the devices in your home are well-protected.
If you want to get crafty, you can set up the VPN service on your router, allowing you to secure all the devices that connect without having to use more than one of the allowed devices in your subscription.
CyberGhost Apps
| | |
| --- | --- |
| Windows |   Yes |
|  Mac |   Yes |
|  iOS |   Yes |
|  Android |   Yes |
|  Linux |   Yes |
| Chrome OS | Yes |
|  Router |   Yes |
| Amazon Fire Stick | No |
CyberGhost Apps.
For desktop computers, you can download the client setup file directly from CyberGhost's official website whether or not you've already purchased a subscription. For smartphone users, you'll need to grab the app from either the Apple App Store or Google Play for the iOS or Android versions.
Compatible with DD-WRT, TomatoUSB and Merlin Routers
CyberGhost has one the best support for using a VPN on a router and upports a wide range of different router types including the following:
Raspberry Pi
VU+ Solo Routers
Synology NAS
DD-WRT
TomatoUSB
Merlin
The benefits of using a VPN on your home router is that it protects every device on the network. This is helpful if you want to protect everything at home without having to buy more than one subscription.
Visit the CyberGhost website for helpful guides on how to apply the VPN to the different routers.
Protecting Devices Without an App
It's understood that not all devices include native VPN support, but that doesn't mean you can't still utilize your VPN service of choice on said device. Using Smart DNS, you can bypass geo-restrictions on your console or Smart TV. Here are some of the devices CyberGhost supports:
AppleTV
Nintendo Switch
Smart TVs
Raspberry Pi
Fire TV
Playstation 4/5
Xbox Consoles
Chromebooks
Roku
You can visit the CyberGhost website for in-depth "how-to" guides on setting up your VPN with your favourite devices.
Browser Extensions
CyberGhost comes with browser extensions for both Chrome and Firefox, both of which can be downloaded for free like you would any other add-on. Be warned, however, that the extension versions don't include a kill switch and you can only choose from 8 available servers.
Furthermore, they only encrypt whatever activities you perform within the browser, leaving other programs vulnerable. This is on account of the extensions utilizing proxy servers as opposed to an actual VPN.
Customer Support: 8.7/10
Steller Service and Prompt Responses.
CyberGhost offers up some exceptional customer service thanks to their speedy response times and capable representatives. Information on the website is also quite easy to find and includes helpful advice on a variety of questions.
| | |
| --- | --- |
|  Live Chat (human representative) |  Yes – very good |
| Chat Bot | Basic |
|  Phone | No |
| Email | Yes |
| Online Resources |  Yes – excellent |
Different methods of customer service.
Live Chat (ChatBot)
The CyberGhost website includes an easily accessible "Support" button on the bottom-right corner of the page which brings up a textbox when clicked. It's not exactly a chatbot per se but rather a search bar that retrieves information relative to whatever is keyed in. It's fairly good at showing useful articles on the website, though it isn't as specific as a full-blown chatbox.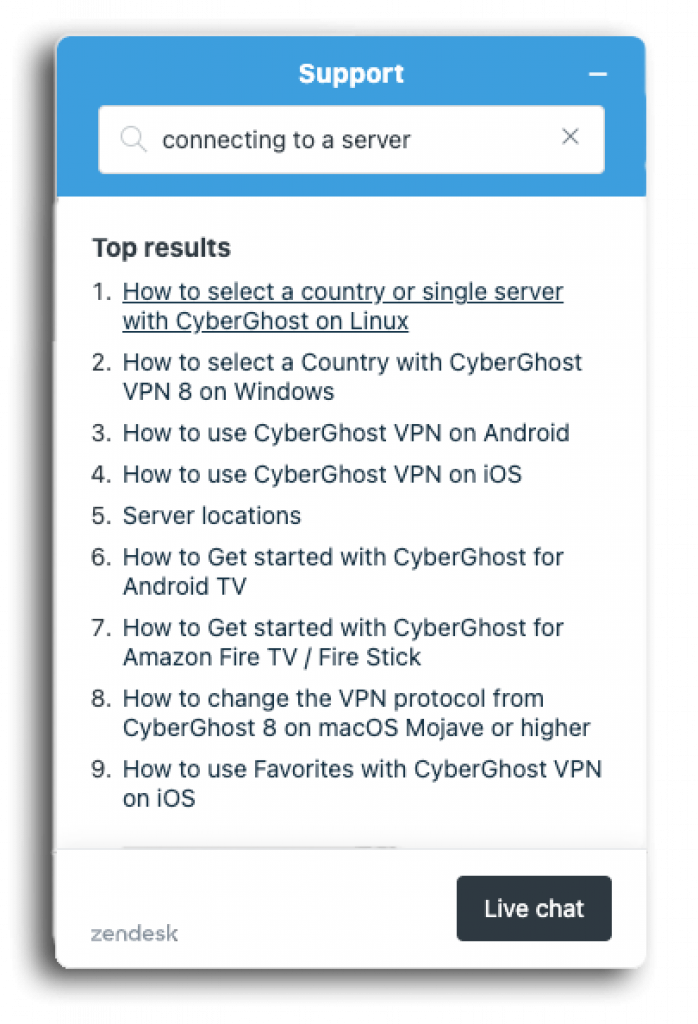 Live Chat (Human Representative)
Clicking the "Live chat" button after bringing up the "Support" box quickly connects you to a live rep who'll answer your concern within a couple of minutes. The responses feel genuinely human and the support team does a good job of giving a comprehensive answer even towards more detailed queries. Furthermore, live chat is available 24/7 and you can request assistance in three different languages: English, German, and French.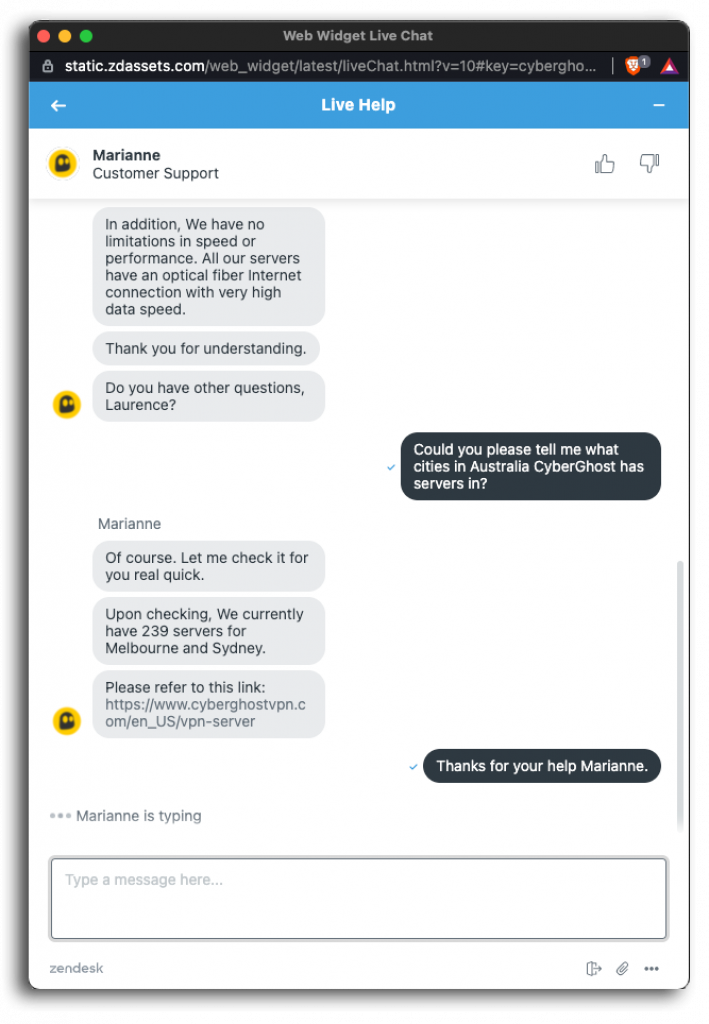 For any issues they can't figure out on the chat and need more time to investigate, you'll get an email from the team with guidelines on what you need to do and what to expect. Following that, you'll usually receive the answer to your question within a few hours.
Online Documentation
CyberGhost has some of the best guides out there. They have guides for almost everything you would ever needs, and all of them are clearly explained.
Email Support
The email support is very good, just like the live chat. Emails are very informative and quick.
The Verdict
A Top-Notch Pick For Aussie Users.
All things considered, CyberGhost is one of the better VPNs we've had the opportunity of testing, whether you're an Australian user or otherwise. 
Between its exceptional speeds, stalwart security features, attractive AI, and near-spotless track record, using the VPN couldn't be easier and more efficient, allowing you to go about your streaming and web surfing with your mind at ease knowing that everything you're doing is completely secure and untraceable.
While its privacy policy is thorough, easy to digest, and fully details the company's commitment to a "no logs" system, we do wish that CyberGhost would follow the lead of some of the other frontrunners in the VPN industry and finally implement a regular third-party audit to add a bit more credibility to the walls of policy-related text. The 24-hour trial period is also a bit of a bummer since other VPN services feature up to a 30-day free testing period.
Misstep aside, CyberGhost's phenomenal speeds throughout the impressive list of countries it has servers in makes it a winning pick for users who love nothing more than streaming media content from various platforms without a hitch.
For Australian users who are in the market for a good mix of security, style, and speed, you can't go wrong with CyberGhost.
IPVanish Subscription Packages
CyberGhost's subscription packages are rather lopsided, with the monthly subscription being a fair bit more expensive than most leading VPN services. Luckily enough the 2-year plan offers some massive savings, making it significantly cheaper than both NordVPN and ExpressVPN. Plus, they throw in an extra two months for free which is always welcome. 
To top it all off, CyberGhost features a lengthy 45-day full-refund period which is half a month more than most VPNs care to give.

$2.25/month (with an extra 2 months free). | Save 83%
30-day money-back guarantee.

US $6.39/month. Save 50.81%
30-day money-back guarantee.
Disclaimer text….
Payment Options
CyberGhost offers a wide variety of payment methods for subscribing depending on the location you're in. Australian users can pay via:
Credit/Debit Cards
While this is one of the more convenient ways of paying for your service, it's also one of the least secure since it wouldn't take much effort to trace the payment back to you.
International Wire Transfers
This method is a bit safer than using a credit or debit card but they can still be traced and refunds can sometimes be a pain to process.
Paypal
Probably the most secure (but not anonymous) and convenient option on this list, as Paypal has its own layer of encryption when it comes to your financial information and the company has a decent track record of helping you get your money back in case of unauthorized or hacked transactions.
CyberGhost's 45-day money-back guarantee certainly is impressive, but monthly subscribers ought to know that that kind of guarantee length is only for users who subscribe for 6 months and above. For those who pay by the month, the refundable period is shortened to 14 days which is still pretty great considering.
VPN Pro Compared to Other High-rated VPNs
Lowest Monthly Price
Logging Policy
Download SPeed
US NEtflix