IPVanish Review Summary
IPVanish ticks many boxes for Australian VPN users. It offers top-tier security features and privacy, great connection speeds locally in Australia, and exceptional customer care.

However, if you want a VPN to unlock streaming platforms, you're better off looking elsewhere. It struggled to unblock anything other than US Netflix and couldn't unblock Amazon Prime Video or BBC iPlayer.

To balance this, IPVanish has some of the best customer support, including phone support, and is priced towards the lower end of the market, while still providing leading security.

We would recommend IPVanish to Australians who are security focussed but still want to enjoy fast, local speeds.
User-friendliness and Accessibility
9.1
Positives
Fast Local Speeds
Good Australian Server Network
Good for Torrenting
Fairly-priced
Negatives
Unblocks Limited Streaming Platforms
Cannot Bypass Censorship
Should IPVanish Be Considered by Australians?
IPVanish Review Introduction
After conducting the testing and analysis across IPVanish's VPN apps it certainly performs on the security and privacy front, with excellent protocols and security features. It maintains good local speeds in Australia from all of the Australian servers, with the only disappointment being the torrenting speed.
It's very disappointing from a streaming perspective since it only unlocks US Netflix and no other major streaming services. This could be an absolute turnoff if you're looking for the best VPN for streaming, but if you're looking for a VPN suited to privacy and security, IPVanish is certainly worth considering.
Its 1,400 strong server network is entirely owned, rather than renting them, which many VPN providers do, but 1400 is less than the likes of NordVPN, ExpressVPN, and CyberGhost. However, they do offer 40,000 shared IPs, greatly expanding the service offering.
Unfortunately, IPVanish is unable to operate in highly censored countries like China, Turkey, and the UAE.
Overall, IPVanish is an excellent VPN for users who want a secure and private connection in their local country. It's great for Australians who want to maintain fast speeds without 3rd parties tracking the usage.
Key Stats:
There's a lot of good stuff under the hood!
ExpressVPN is a well-designed and technologically sound VPN service that utilises top-of-the-line security protocols and business structure to deliver a fast, private, and secure service. Below are some of the impressive specs worth highlighting.
Logging Policy
No Logs
Location
US (Member of Five-Eyes)
Security Incidents
No
No. of Servers
1,400
No. of IP Addresses
40,000
Countries
57
Supported VPN Protocol
IKEv2/IPSec
L2TP/IPSec
OpenVPN (TCP/UDP)
PPTP
Torrenting
Unlimited
Access International Media
Only Netflix US
 
 
 
 
IPVanish VPN's Specs
Streaming
Unlock Netflix US
IPVanish is not a good choice if you want to unlock access to international media libraries. Our tests have shown that IPVanish only unlocks Netflix in two additional regions, the US and Japan. This puts IPvanish way down the list compared to other VPNs.
Access 2 International Netflix Libraries:
Our tests conclude that Express can access the following international Netflix libraries from Australia:
IPVanish was able to unblock US Netflix on the vast majority of the US servers provided. Its speeds were acceptable with no noticeable difference from watching Australian Netflix without a VPN.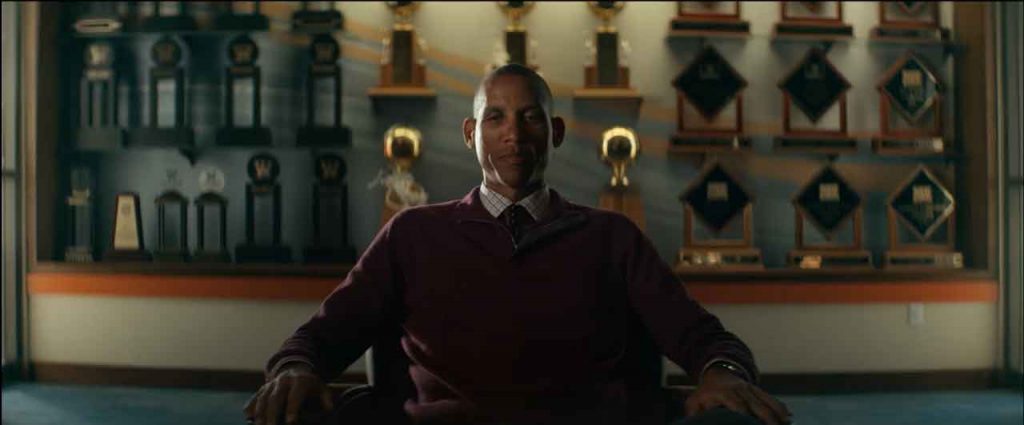 Does ExpressVPN Work With Popular Streaming Services Accessed from Australia?
The short answer is no.
We attempted to access dozens of streaming services including BBC iPlayer, Prime Video, and HBO, with no success at all. However, it must be noted that IPVanish did inconsistently unlock Disney+, but not to a point where could say it's reliable.
If you want a reliable VPN that works with BBC iPlayer then you should give our NordVPN review a read.
Overall, we cannot recommend IPVanish for streaming purposes. It simply doesn't unblock enough international media libraries, and even struggles to unblock US Netflix.
Torrenting: 9.4
Fast, Secure, Private.
IPVanish may be a bad VPN for streaming but it is an excellent VPN for torrenting. Its service is incredibly secure and private, with additional security features for greater level protection beyond most other VPNs.
IPVanish isn't the faster VPN from our tests, but it's still an acceptable average speed that is capable of downloading a feature-length film in minutes. Most users won't really miss the extra speed offered by the likes of ExpressVPN, but will enjoy the extra protection.

When you combine the random IP feature with a no-logs policy, it's hard to find a more secure VPN for torrenting.
IPVanish has all of the standard features you would expect from a leading VPN but also has some extra bits not commonly offered. For example, there is an option to randomly change the IP address at set times to add an extra layer of anonymity.
Speed: 9.1
Very fast in Australia and on International Servers.
Our VPN speed tests conclude that IPVanish is a good choice for those looking to maintain a high-speed, but VPN-protected internet connection, especially locally here in Australia.
Local Speed Test Results
IPVanish delivered consistently in regards to both upload and download speed. In addition, it was one of the few VPNs that could deliver good speeds while also keeping the latency incredibly low at just 4ms.
IPVanish is a good choice for gaming due to its low latency, which is important in certain types of games like first-person shooters.
Comparing the connection speed on and off of IPVanish we can see that there was a 23% reduction in download speed from 107.99 Mbps with no VPN to 83.15 Mbps connected to the IPVanish Sydney server. As for upload, this is where IPvanish excels with just a 3.4% reduction from 18.49 Mbps to 17.8 Mbps. This makes it the 2nd fastest VPN for uploading on a local server, just behind Astrill VPN.
Internet Speed Test (No VPN):

Local Internet Speed Test (IPVanish Sydney Server):

The local speeds delivered through IPVanish are excellent and more than capable of streaming HD content, downloading large files, or even uploading large amounts of data, which is uncommon among VPNs.
| | | |
| --- | --- | --- |
|  VPN |  Download (Mbps) |  Upload(Mbps) |
| No VPN | 107.99 | 18.49 |
| IPVanish | 83.15 | 17.8 |
| % Difference | -23% | -3.4% |
Speed difference: upload/download when on and off IPVanish, with the percentage difference.
International Speed Test Results
IPVanish doesn't excel nearly as much with long-distance connections to international servers, but still delivers some of the better speeds we've measured. The table below details the measured speed when connecting to an international VPN server from Australia.
| | | | | |
| --- | --- | --- | --- | --- |
| Country |  Download (Mbps) |  Upload (Mbps) | % Difference (Download) | % Difference (Upload) |
|  USA | 44.05 | 10.9 | -59.21% | -41.05% |
|  United Kingdon |  30.89 | 16.19 | -71.40% | -12.44% |
|  India | 43.78 | 11.34 | -59.46% | -38.67% |
| Brazil | 13.24 | 8.19 | -87.74% | -55.71% |
| South Africa | 37.30 | 9.91 | -65.46% | -46.40% |
IPVanish international speed tests connecting to multiple countries from Australia.
IPVanish performs reasonably well when connected to long-range, international servers. Although downloads speeds are significantly lower than local connections the speeds are still acceptable in all of the countries tested except for Brazil.
Upload speeds are less affected but still show a noticeable decline, except for when connected to UK servers. However, it must be noted that IPvanish is one of the slower VPNs across the board when compared to the top-tier VPNs like NordVPN, ExpressVPN, and Surfshark.
How Does VPN pro Compare to Other Major VPNs from Australia?
Overall this VPN has excellent speeds across a range of distant international servers. Iy's better than every other VPN and has an average speed loss of just 25%. Overall this VPN has excellent speeds across a range of distant international servers. IT's better than every other VPN and has an average speed loss of just 25%.
Overall this VPN has excellent speeds across a range of distant international servers. Iy's better than every other VPN and has an average speed loss of just 25%. Overall this VPN has excellent speeds across a range of distant international servers. IT's better than every other VPN and has an average speed loss of just 25%.
Overall this VPN has excellent speeds across a range of distant international servers. Iy's better than every other VPN and has an average speed loss of just 25%. Overall this VPN has excellent speeds across a range of distant international servers. IT's better than every other VPN and has an average speed loss of just 25%.
Data Privacy: 8.8/10
A no-log policy but US-based.
IPVanish has a no-logs policy, meaning no customer browsing data is stored. This means no records of anything you do while connected through the IPVanish VPN are recorded.
All good VPNs have a no-logs policy and we would not recommend any VPN without this policy.
Ultimately, data privacy is the primary purpose of using a VPN for most people, and have records of that data stored somewhere is a big no-no.
Unlike ExpressVPN and NordVPN, there have been no 3rd-party audits to assess the validity of their claim, so we must take their word for it.

As with all VPN services, some data is required to deliver the service. See below for what data IPVanish does collect from its users.
Personal Information
In order to take payment, set up accounts and deliver the service, IPVanish collects the absolute minimum personal information required. None of this information is re-sold or rented to 3rd parties.
Aggregated Apps and VPN Connection Summary Statistics
In order to maintain and improve the quality of the VPN service, IPVanissh collects aggregated data from users. This means no data is collected at the individual level, instead, all data is anonymized and aggregated into one data set.
Emails
IPVanish stores a record of the following email correspondence:u003cbru003eu003cbru003e- Account activation emailu003cbru003e- Payment warning and failureu003cbru003e- Account cancellationsu003cbru003e- Account terminationsu003cbru003e- Password resetu003cbru003e- Customer Supportu003cbru003e- Promotional emails
IPVanish does offer customers a data privacy advantage over the major VPNs because there no device data is logged. The result of this is not just better data privacy but also no enforced limits on the number of devices that can be connected simultaneously. Typically VPN service providers enforce a limit of 5 devices logged in at any one time.
However, we would encourage IPVanish to undergo a 3rd-party audit to confirm the privacy policy like NordVPN.
Who Owns IPVanish & What Jurisdiction Is it Under?
IPVanish was acquired in 2017 by Stackpath from the founding company Mudhook Media – part of the Highwinds Network Group. Stackpath then sold IPVanish to the current owners J2 Global in 2019.
Each of those companies is registered and operates from the United States, which is a part of the intelligence-sharing arrangement called the Five-Eyes. This includes the US, UK, Canada, Australia, and New Zealand.
In theory, IPVanish could be compelled by law to hand over customer records, but thanks to their no-log policy, there is nothing of any meaningful value to hand over to authorities.
Any History of Data Leaks or Violations?
However, in contradiction with the above section, under Highwinds Network Group ownership, IPVanish was in fact collecting customer logs and shared some of that data with the FBI. This was in absolute contradiction with their privacy policy at the time and rightly did a lot of damage to the company's reputation.
The current owners have an excellent reputation and are trusted pretty much industry-wide but there will always be a question mark until a 3rd-party audit has been completed and passed.
Security Analysis: 8.9/10
Excellent Security Infrastructure.
IPVanish has one of the strongest security profiles of any VPN. It has operates with market-leading VPN protocols like OpenVPN and uses AES-256 encryption. This makes connections through their VPN essentially impossible to intercept.
 Protocols
IKEv2/IPSec
L2TP/IPSec
OpenVPN (TCP/UDP)
PPTP
 Security
DNS Leak Blocking
First-party DNS
IPV6 Leak Blocking
Supports TCP Port 443
VPN Kill Switch
 Encryption
 AES-256
 Advanced features
IP Randomiser
SOCKS5
Split Tunneling
VanishIP's security standards and protocols.
Military-grade Encryption Standards
The AES-256 encryption standard is the highest encryption standard is a cornerstone of modern digital infrastructure. Almost all sensitive data is encrypted using this algorithm and is utilised by the military, financial institutions, and governments globally.
Four Different VPN Protocols
VPN protocols dictate how data is handled between your device and the VPN server. IPVanish uses the latest and most secure VPN protocols to deliver a secure and fast connection across all devices.
IKEv2
IKEv2 is responsible for how IP packets are encrypted through the IPSec framework. Generally, this VPN protocol is used mainly on mobile devices and will maintain an encrypted and secure connection even when switching from a Wi-fi connection to a cellular connection. u003cbru003eu003cbru003eThis means if you're Wi-fi drops out and the phone automatically switches to a Telstra 5G connection, you're still protected from ISPs and other unwanted eyes.
OpenVPN
OpenVPN is considered the gold standard when it comes to VPN protocols. It's fast, secure, and best of all open-source. The open-source nature of OpenVPN provides absolute confidence from the community knowing that there are no malicious pieces of code or backdoor exploits.u003cbru003e
PPTP
PPTP is an outdated but reliable VPN protocol with security flaws. It's typically only ever used on older devices that aren't supported by newer protocols. It does have its place due to how speedy it is, but should ever be used as a last resort if you have any privacy conerns.
L2TP
L2TP is an improved version of PPTP that removes the many security vulnerabilities found in PPTP. Again, it is suited towards mobile devices but should only be used in cases where OpenVPN cannot.
IP & DNS Leak Test
Out of the box, the IP was protected but the DNS was leaking and showing the ISP. To resolve this we spoke to their customer support team who very quickly gave us the solution. It didn't take long, but it must be noted that in this case, the DNS info was leaking when using IPVanish out-of-the-box.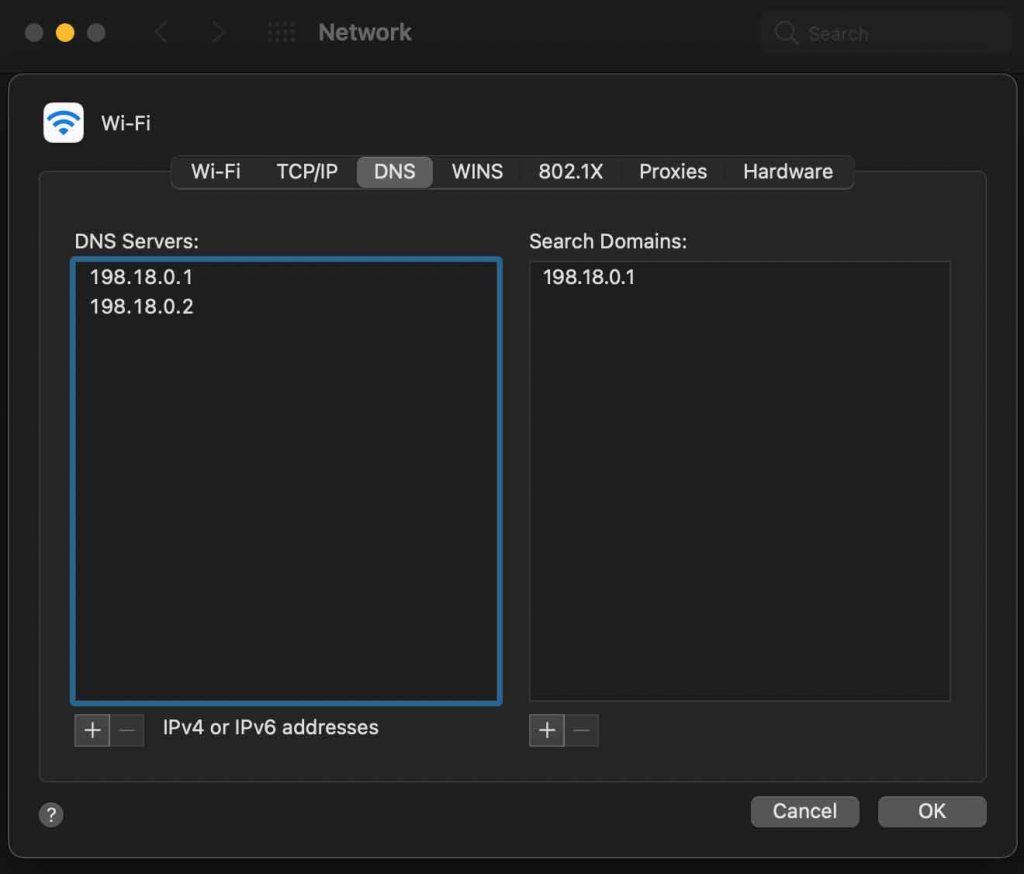 IPs however, were not leaking out of the box and instead displayed information relating to the connected server in San Jose.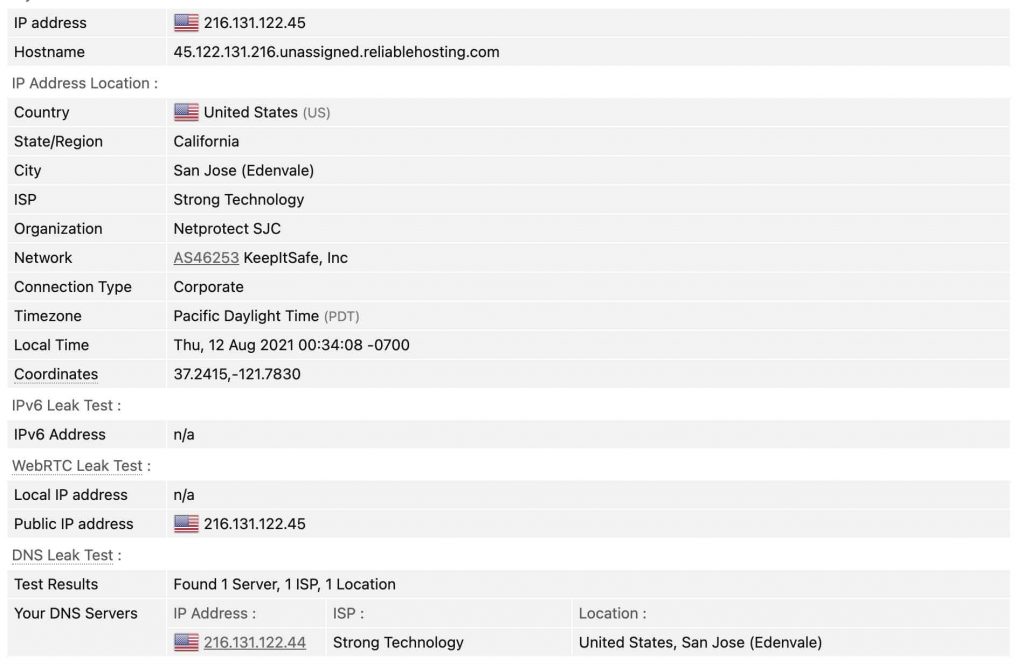 Kill Switch
A kill switch will protect your IP from becoming visible if the IPVanish VPN for some reason stops working or disconnects. The kill switch does this by killing the internet connection altogether.
This feature is not activated by default and can be activated on Windows, Mac, Android, and iOS devices by checking the IPVanish settings.
Split Tunnelling
Split tunneling allows IPvanish users to decide which traffic is tunneled through the VPN connection, and which traffic is not. In practice, this means you can select which apps should be forced to use the VPN connection and which apps don't. This is useful for certain apps, like banking apps which sometimes require your real IP to function correctly.
Currently, this is only available on Android devices.
SOCKS5 Web Proxy
A SOCKS5 web proxy is an excellent security protocol for P2P connections like VOIP and torrenting. While using this protocol and data packets from the source connection are then rerouted through to a server which then changes the IP. This improves data privacy during P2P activities.
Access in Heavily Censored Countries
IPVanish is terrible for censorship.
Unlike the majority of other premium VPNs, IPVanish cannot bypass any censorship in any heavily censored countries. Even the Scramble VPN Traffic feature, the built-in obfuscation tool, couldn't bypass any of the restrictions.
If you do need to bypass censorship you should consider ExpressVPN, which is able to bypass censorship in all countries. Read our ExpressVPN review to learn more about it.
IPVanish is upfront about some of the restrictions imposed on them and states that they are "forbidden to do business in":
Cuba
Iran
Myanmar
North Korea
Sudan
Syria
The IPVanish domain is completely blocked in the following countries:
United Arab Emirates
Saudi Arabia
China
Qatar
Kazakhstan
Server Network
A Self-owned Network of 1,400 Servers.
IPVanish is of the few VPN service provider who owns their entire network of servers. Ownership of their network ensures that they are in complete control and no 3rd party interference is possible.
This 1,400 strong network is spread across 57 countries, 77 cities, and 40,000 share IP Addresses. This is a vast network of IPs beaten only by VyprVPN.
There is very strong server coverage in the US (1169), and Europe (521) and acceptable server coverage here in Australia (53). There are servers in all other major regions but not as comprehensively as the US and Europe.
City-level Server Locations
IPVanish has excellent city-level server coverage in Australia, with servers in all major cities except for Canberra. This is a good Australian network of servers, beating ExpressVPN which has no Adelaide servers.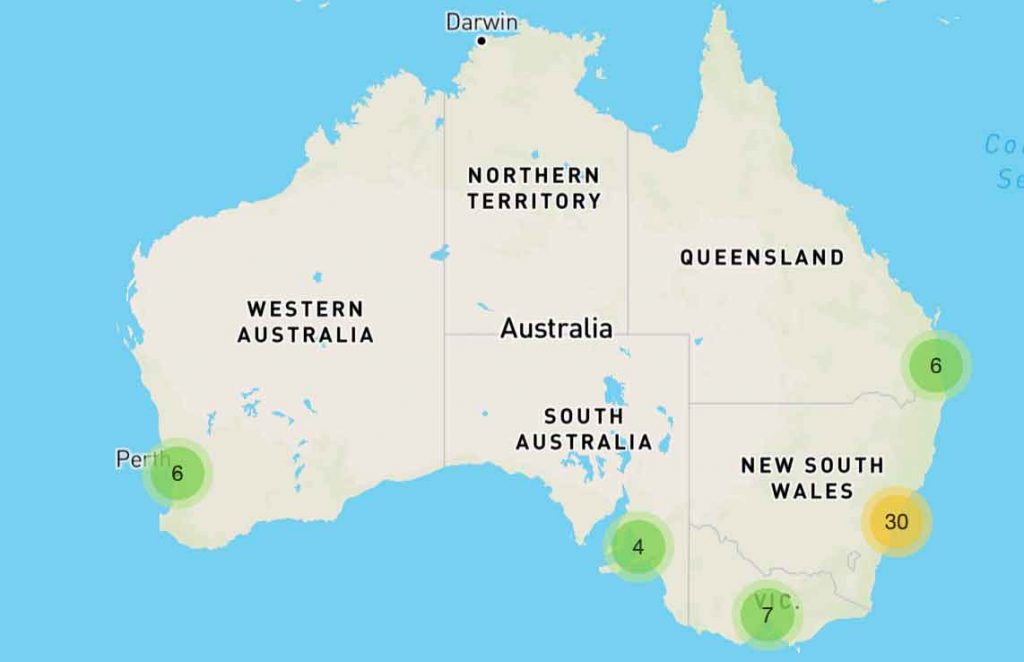 IPVanish has a strong server network in popular countries with access to Australia, some of which are detailed below.
| | |
| --- | --- |
| Country | City |
| Australia | Sydney, Melbourne, Brisbane, Perth, Adelaide |
| United Kingdom | Manchester, Birmingham, London, Maidenhead |
| France | Paris, Bordeaux, Marseille |
| USA | 20 including LA, New York, San Francisco, Houston |
| India | New Delhi, Mumbai |
| Canada | Montreal, Toronto, Vancouver |
A strong selection of city-level servers.
It's very easy to choose a specific server through IPVanish. Simply open the application, select the preferred country and then choose on the city-level server options.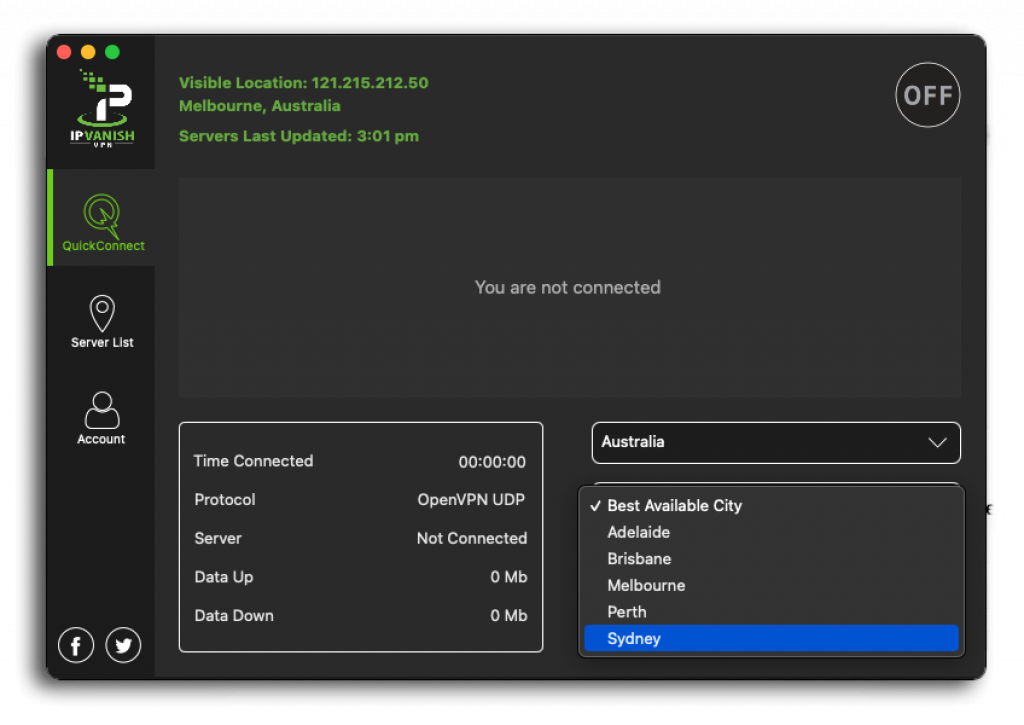 Device Compatibility: 9.1/10
Almost Full Compatibility
IPVanish offers a wide suite of applications across almost all major operating systems and devices. Every app that we tested we considered easy to set up, install, and uninstall.
IPVanish Apps
| | |
| --- | --- |
| Windows | Yes |
|  Mac | Yes |
|  iOS | Yes |
|  Android | Yes |
|  Linux | Yes |
| Chrome OS | Yes |
|  Router | Yes |
| Amazon Fire Stick | Yes |
IPVanish Apps.
Unlike almost every other VPN provider, IPVanish does not limit the number of devices that can simultaneously use the service on one subscription. This is because they do not track any device information for better privacy. This means in theory you can apply IPVanish to all of your devices without the need to apply it to the router. Most VPN providers limit the maximum number of devices to 5.
It must be noted that IPVanish is one of the only VPNs with a dedicated app for Amazon Fire TV.
Compatible with DD-WRT Routers
IPVanish is compatible with the below routers. However, please note that it is not simple to set up for the average person:
Asus
Belkin
Buffalo
D-Link
Cisco
If you do choose to set up IPVanish on a router you can apply the VPN's setting to devices that aren't su[pported by any applications, like a game console or smart home devices.
Protecting Devices Without an App
IPVanish does not have native support for the following types of devices, but they can be secured indirectly by adding IPVanish to a router. Unfortunately, there is no Smart DNS for Apple TV, Playstation, or Xbox.
AppleTV
Nintendo Switch
Smart TVs
Raspberry Pie
Playstation
Xbox
Chromecast
No Browser Extensions
IPVanish has not developed any browser extensions for their VPN service. Currently, the majority of VPN extensions arent as functional as a dedicated app due to them functioning as a proxy rather than a fully-fledged VPN. This is changing though and there is certainly demand for them with the likes of NordVPN having over 1 million downloads.
Customer Support: 8.7/10
Informed Customer Service
IPVanish offers excellent all-around customer service to customers, including phone support.
| | |
| --- | --- |
|  Live Chat (human representative) |  Yes – very good |
| Chat Bot | Yes |
|  Phone | Yes |
| Email | Yes |
| Online Resources |  Yes – very good |
Different methods of customer service.
Live Chat (ChatBot)
The IPVanish chatbot is responsive, offers good basic information, and will quickly put you through to a real representative with a simple request or press of a button.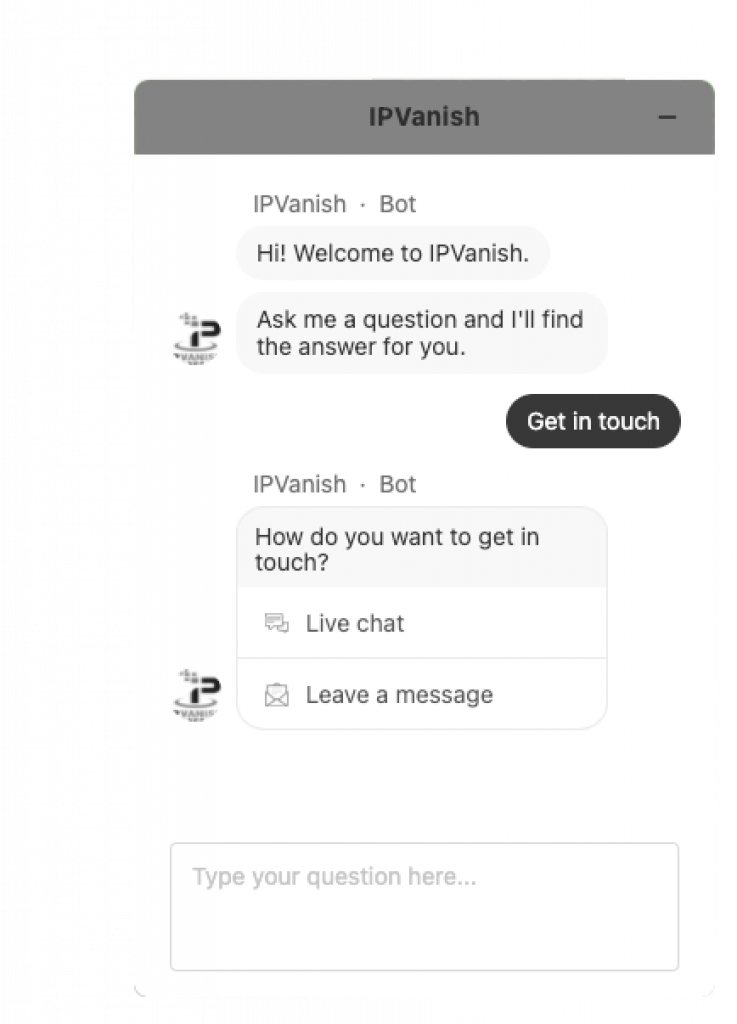 Live Chat (Human Representative)
To speak with one of IPVanish'es helpful customer support staff, simply go to the IPVanish site and click "live chat" on the top navigation menu. This will open the chatbox and direct you to start a conversation with the representative.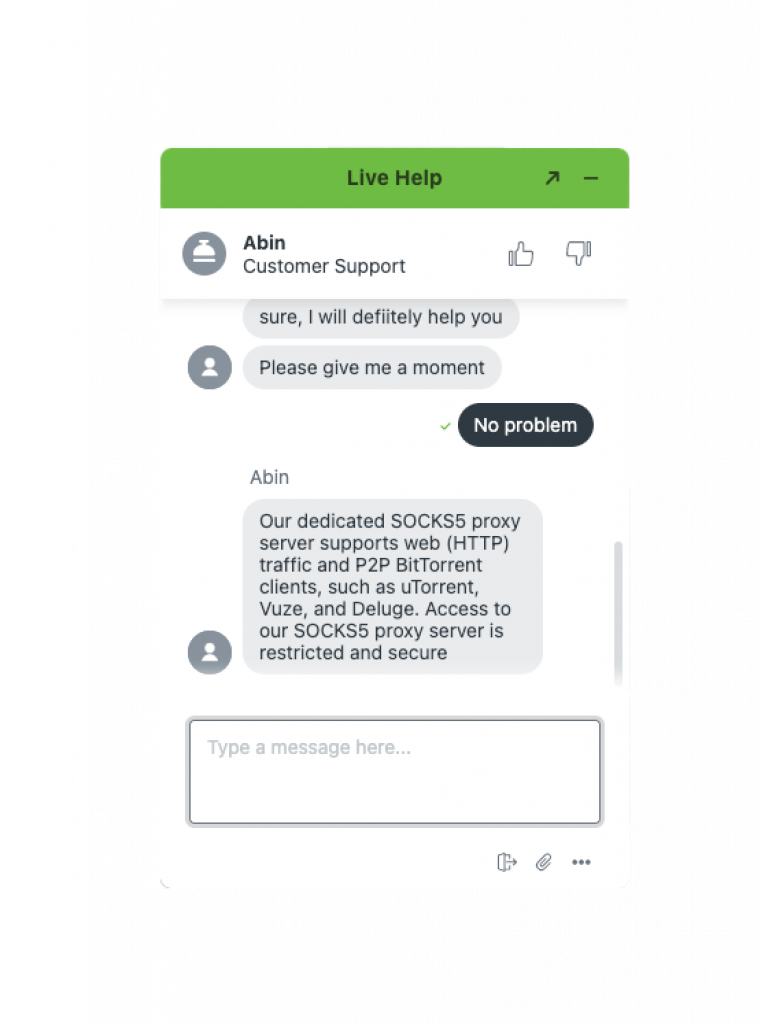 Online Documentation
In addition to excellent customer chat support, there is a large amount of detailed and well-structured supporting documents on the IPVanish website. These documents do a good job of answering common questions and solving common issues.
Phone Support
Surprisingly, IPVanish does offer phone support from 9 am – 5 pm on weekdays. This is incredibly rare and isn't offered by any other major VPN provider.
Email Support
Email support is fine, with responses being received in no more than 24 hours and often much quicker.
The Verdict
IPVanish is a good choice for security-focused Aussies.
Our tests have shown that IPVanish performs excellently on the security and privacy front but lacks greatly in the streaming department. It's still an excellent VPN that has many upsides like telephoner support, a native app for Amazon Fire TV, an unlimited number of devices, great local speeds, and low latency.
However, it cannot consistently unlock international streaming services and was leaking the DNS straight out of the box. According to IPVanish, the leak was likely due to my router setup but this issue was not present when testing other VPNs.
Overall, this IPVanish is a solid VPN that is primarily let down by its inability to unblock streaming platforms. Despite that IPVanish offers excellent security features and a fast local connection in Australia.
IPVanish Subscription Packages
IPVanish only offers two separate VPN packages – a monthly package at US$10.99 / month and a yearly package which works out to be US$3.75 / month. Both offer reasonable value for money and sit in the mid-range price category.
There is a third option for those who would like to opt-in for the file backup service, but there are just two packages for just the VPN product.
IPVanish provides a 30-day money-back guarantee on all subscriptions.

US $3.75 / month | Save 66%
30-day money-back guarantee.

30-day money-back guarantee.
Payment Options
IPVanish accepts a limited number of payment options. A notable exception is cryptocurrencies which would allow an anonymous purchase.
Credit Cards
Debit Cards
Paypal
IPVanish has no questions asked 30-day money-back guarantee programs as well as a 7-day free trial on iOS devices. This is about average although the trial is limited to just iOS devices is a bit of a downer.
VPN Pro Compared to Other High-rated VPNs
Lowest Monthly Price
Logging Policy
Download SPeed
US NEtflix